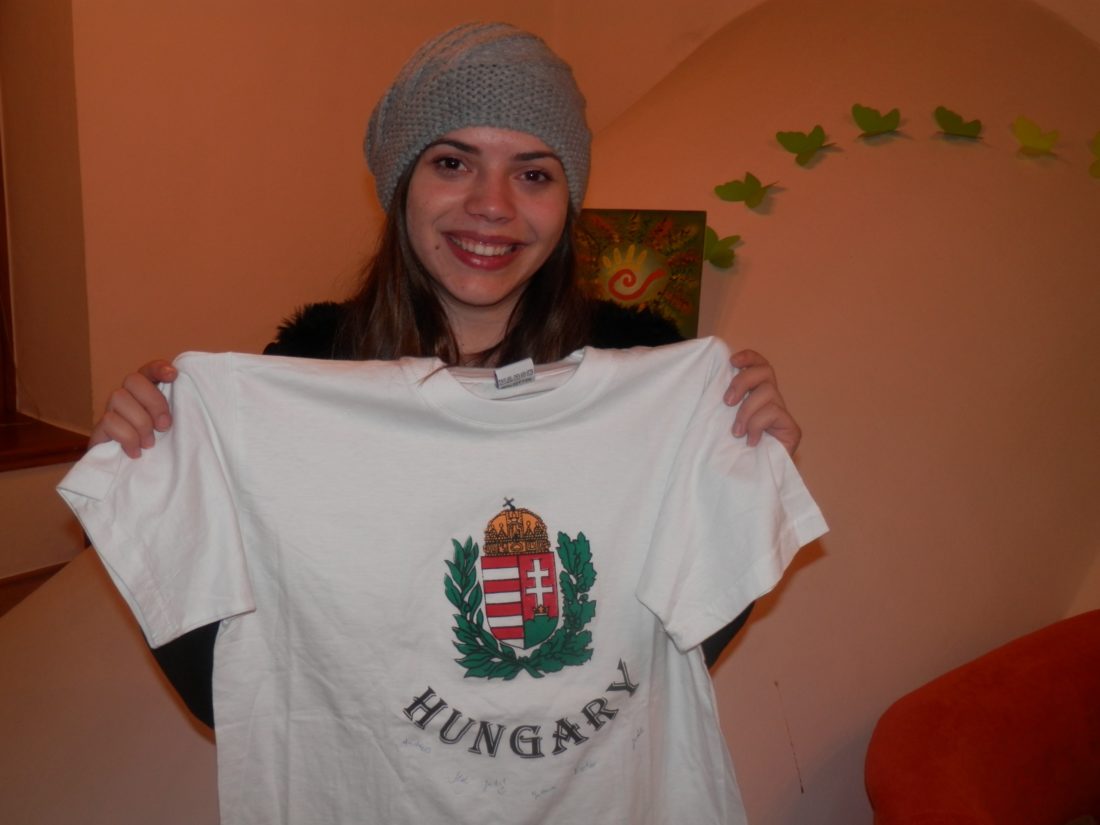 Farewell from Jászberény
Today it was sadly my last day here in Jászberény (25th January). I woke up and had this lovely girls coming to the accommodation having me a souvenir to remember of them.
It was a lovely photo of us together and a nice coffee cup. After that we went to the back side of my accommodation to built a snowman, it was so much fun, I have never built one before, I loved it and I took several pictures. In the afternoon, I had lunch at the Foundation with Judit, and she stared to explain to me how the exams was going to happen. I really enjoyed it, I have always been at the other side, I was the one taking the exams and now I could help people and be "the teacher". We had 3 more teachers with us, and it was also so nice to see some of the kids, My friend is called Gabi her English improved, since I have got here, I feel like I could be helpfully, and that makes me really happy. At the end of the day, all the mentors asked me to come in to the room, and they had a souvenir for me, to thank me, but it is really me, who has to say thank you for everything! I really appreciated the whole day that I have been at the Foundation, and what a lovely place with lovely kids, I will for sure miss those days when I come back home. Tomorrow I start the day in another town, I am glad I will still be at the Foundation, eventhough I will miss all the people and kids I have met here. Thank you guys, so much, and like I say, köszönöm 🙂
Pamela AIESEC volunteer from Brazil
Outrageous, astonishing, deep, exotic, creative representation, composure, depressing effect, anxiety, strange, scary, contrasting, searching for path, shrill colors, extermist, schematic.These were our first feelings about the El Khazovszkij exhibition (22nd January). In the Hungarian National Gallery whe had the opportunity to see the 20th-21th century's famous, and unmercifully honest artist's life work. In her art she tried to find the beauty of the human body, her performances on the scene, her pictures and statues tells us the same, that's maybe because of her tribute to the ancient greek arts. She was also active as an actress, a scupltor and painter. Kazlovszkij's strange art had different effects on everybody, but we agreed on that she reached her goal and she made someting lasting.
Today we start about 8 am again (21st January). But first we went to this another city called Szolnok it takes about 45 min from here. I had 3 different lesson. And also it was in a Secondary school. The first lesson was in this class, with teenager, they were again about 17 years old, we did not have to much time, and I did not show my presentation, because we did not have a PPT there, but we talked a lot, and they ask me things about Brazil, and about myself, I got impressed with this girl, that really asked me a lot of things, and it looked like she would love to come to Brazil, the way she was impressed with things. After, I went to the second lesson, and we talked again, and their teacher really enjoyed having me there, I really got a good impression of here. At the last lesson, with this teenager, I did my presentation, with the PPT, and showed them about the Brazilian Culture, about our food, our climate, what we usually do, and again talked about myself. They were a little bit shy at the begging, like most of them usually are, but the asked a lot of things. It was nice. Ildikó and I, came back to the city after that, and spend our way in the car, talking about my life in Brazil, it was also very nice. Once we got here, I went to lunch, they ad Lasagne, today, I really love it haha. And I gave to this girls a little souvenir form Brazil, that I brought with me to them. They seems really liked it, I also had a Brazilian flag with me, so they could sign it, and I will take back home with me to always remember them.
20th January: This Wednesday, I went to the Secondary School, really close to the Foundation, and had this P lesson with those kids. It was a lot of fun, but also really hard to understand what they were doing for playing, the games look a lot different from Brazils, I am luck they try to help me all the time, and also to translate everything the teacher was saying. Still at the same day, I went out for lunch, with some of the girls from the Foundation, we do that with often at this restaurant, and I enjoyed a lot, because I loved those girls. We came back to the Foundation, and I met up with another kids, to go to a dance class. I was not expecting that, I knew some of the kids like to dance, but not that they really liked it, I am a BIG fun of dance, and I just had a lot of fun there. It was a great way to finish the day!!
The oral exam of the Foundation's language competition is near so it was a great practise for us to spend some time with Pamela. On Tuesday, 19th January after finishing school we met her at the Community House of Jászberény. First we had a chat, after that we played board games and finally we went to play bowling. She played really well.
We laughed a lot and explained everything in English to each other. None of us is a professional player so there were no use in planning the way of the ball as it sometimes took unexpected turns. Sometimes we didn't get any points but sometimes we managed to knock down all of the bowling pins. After the game we ate some cake at a local confectionery. It was a good feeling that we could talk about almost anything in English. We not only had a great day but we practised the language as well!
Dávid Nagy, Roland Bolyós Jászság 1
19th January: This Tuesday, I woke up about 8 am, and at 9:30, we started my first lesson at the Secondary School. This Secondary school is really next to the Foundation, and I get really impressed how nice the building looks good from outside and also from the inside. The Brazilian, building from the Secondary school, looks totally different, usually our building does not look good at all. Well, at this nice Secondary School, like I was saying, I talked to those kids and also with the teenager. At this first class, where I did a presentation about Brazil, showing them my language, my culture, and also a few things about myself, I was dealing with some teenager that was about 17 year olds. They were to shy at the beginning, but when I started to push them to ask, and make some jokes, they fell more comfortable, and they start to speak to me. After this lesson, I had another lesson, but with kids that were about 14 years old. It was nice to see how they all want to participated. Usually the kids that are about 14 years old, are less shy then the older one, and they really enjoy it and participated. That made me feel really happy, and made me get a good impression of them. After it, I had another Lesson, again with the teenager (about 17/18 years old). At the middle of the presentation, I noticed they were to focus on something else, and I asked them , what were they focus on, if they were going to have tan exam ( I have been in a Secondary school, haha so I know how it it) and said they were going to take an History Exam, so that was when I changed everything we were doing, I stopped  the presentation, and I decided to practice their English in another way: talking about History, another their exams. I really think they liked, because they start asking me more things, also about the Brazilian History. After that, we went out to have lunch, with this kids that I usually go, and that I liked very much. We also did go for bowling, it was a lot of fun, I was kind of good, but I haven't been playing for a long time.
Carnival in the Sas Centre: On Saturday (16 January) group 3 of Jászság and our volunteer, Pamela from Brazil had another exciting day. We visited the Sas Centre near Jászberény where we could watch wildlife birds and could make bird feeder and bird bread. We had a lot of fun as we were doing the DIY, even Pamela was happy to help us. We watch a short film about the preservation of wildlife, especially of eagles and of course we couldn't miss out the play house. The atmosphere and time we spent there was really good.
After lunch, we listened Pamela's presentation on Brazil and about her travels. It was really interesting to learn about a far away country. We got answers to our questions in English, of course.
Kitti Kispál Jászság 3.
On 13 January I had the chance to go to a classical concert in MUPA which has a fantastic concert hall in Budapest.Kalafszky Adriána who is supported by the Foundation was singing there on stage, she sang way to good! She sang the sopran solo in Purcell The Fairy Queen. I was really impressed!! I had such a good time.  After the concert we went by driving to see Budapest it is an amazing city and what an amazing people I had the pleasure to spend this evening with. I am really happy to have this opportunity and I really wish more kids from the Foundation experince it because it was definitely unbelievable.
Today (11th January) was my first day at the Foundation. I went out for lunch with a few kids, how lovely kids they were! 🙂 They showed me all around in their schools, we played ping-pong for the day, and they were so kind. You should definitely see them helping me to buy my own food at the restaurant even though they are learning English still, they try their best to talk to me, and I shall not even ask for help, it's so amazing!
Later on I also enjoyed having English class at level B2 that was another group of older kids. We start the class with a "getting to know Pam", where they practiced their English asking me things about Brazil and also about me.
I forgot to mention that my day started with a little present from Lili, this lovely girl made me so happy reminding me of the yesterday's ice skating. I had from her some little things which being put together would make a big one. It was lovely to hear someone knocking the door, just to see whether I was fine. She kindly invented me to go to her dance class. Of course I said yes, I could not say no as I love dancing!!! I am so contemplated with everything. My day just went well so much, thank you!!!
Pamela, AIESEC volunteer from Brazil
On 10th of January we made a very special trip with our new friend, Pam. Firstly we went to the nearest little restaurant to have lunch. While eating we talked about interesting things. She talked about the town, where she was born; Sao Paulo. Now she is studying on an island, called Florianapolis. She wants to become an engineer. Our friend Bence joined us later.  After that we went to a brand new ice court to have skate with Ms Ildi and our friend Józsi. Pamela tried skating for the second time, she was quite clever because she did not even fell on ice! Well done Pamela!
Vig David Jászság 3.