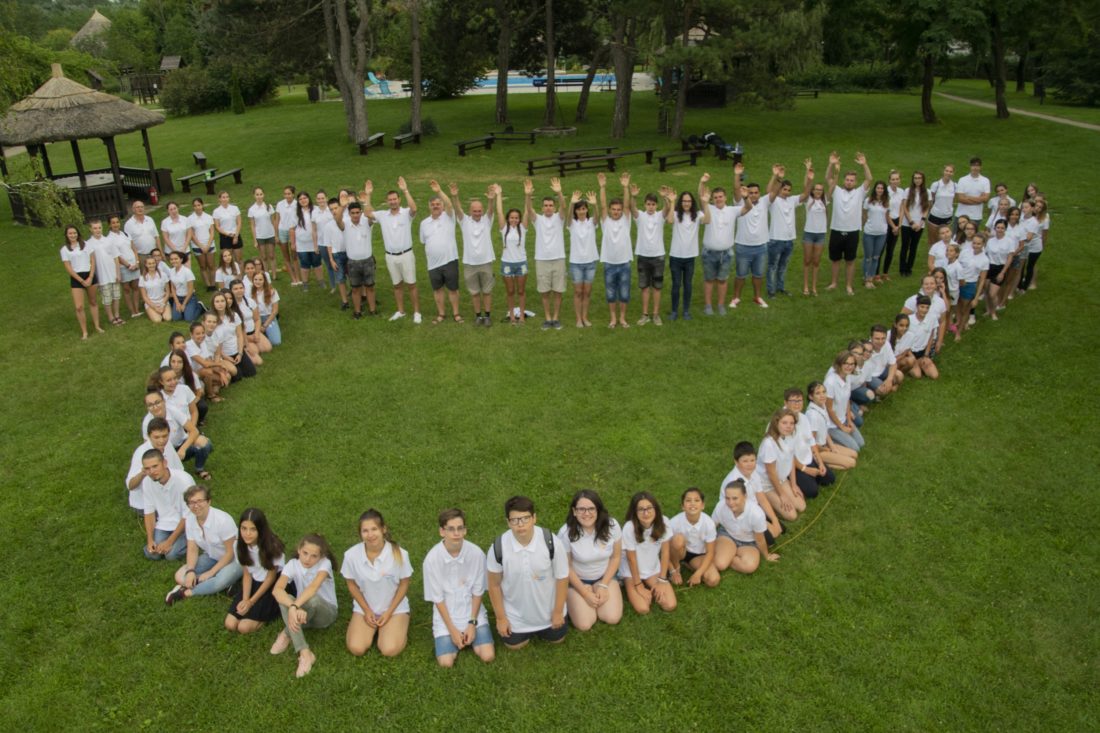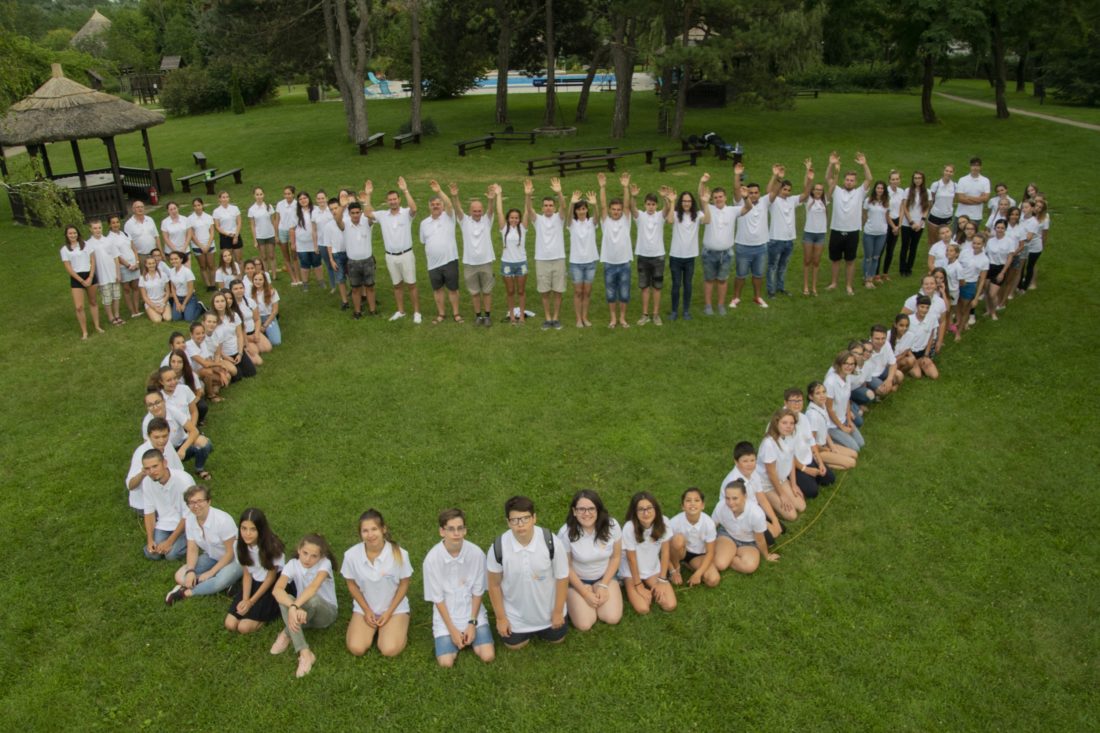 2.Full-art camp- Bird project
1st day
Building groups: After arriving into our hotel, we started the camp right away with games to get to know each other. Then everyone had to write down his or her expectation of the following days.
Creative writing section: The beginning of the story was given but otherwise there were no limits. The only sure thing was the main subject of the stories, which is also the motto of the whole camp: the crow.
The children could work freely because for writing freedom is important. One should not forget that it is not easy to create a story together with other people. We are really looking forward reading the end result.
Nature Photography section: Today, after our arrival, we quickly discussed our goals for this week and began to search for suitable places in the nature to take good photos. The little lake was perfect. To attract as many birds as possible, we built a drinking spot for them and placed some branches they could sit on. We also placed a camera and are now waiting impatiently for dawn to see how many birds have visited the place we built for them.
Painting section: In this section it was shown to the children how to use and draw with aquarelle painting.
Pictures of birds were painted with enthusiasm and joy.
Felt section: Firstly, we all made a draft. Secondly, we filled it with felt. In the afternoon, many interested children from other sections came to try it themselves too.
Graphic design section: Today we carried the computers into the room and talked about our tasks of the following week. Right afterwards, we tried to visualize our sketches, drawn by hand, on the computer.
Art photography section: Because of the bird being our main subject, we took a look at the use of the bird-eye-view in photography.
Handwork section: To braid and knit creatively with the help different techniques- that is the main goal of this section. On our first day we arranged and sorted the materials and learned the basic of knitting.
Acting section: Our aim is to interpret the Hungarian fairytale ,,Ludas Matyi'' and make a film out of it.
We decided to add some extra scenes to the history. Today few takes were already filmed.
Chamber music section: First of all, we wanted to get to know the style of the children playing their instruments. We can happily say that everyone has huge talent. We divided into groups of three people to have a look at the songs we are planning to play this week.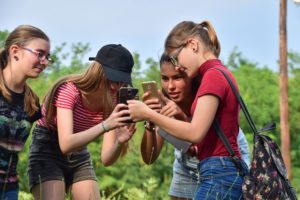 2nd day
Creative writing section: Today we finished our work of yesterday. While rotating steadily, we began to work on a new story. The motive of the bird accompanied us through every story.
Nature Photography section:
Wednesday was the day of macro-photography in the nature photography section.
After lunch we explored the beautiful landscape of Sarlospuszta by car and observed the birds who live there.
Painting section: Our day was full of work and challenges. In spite of the heat, all the children managed to function. They discovered new techniques and started to paint birds more precisely than the previously.
We are certain that the results of this hard work are going to be terrific.
Felt section: Slowly but steadily our pictures got ready. Everyone worked with huge patience and concentration. Even after dinner some children continued working in their free-time.
Graphic design section: We finished the drawing of the birds and began to think about the use of graphic design in this task. Finally, we drew the conclusion that we could create profiles of several birds and write down their characteristics. The final result was a book about birds.
Art photography section: On this day we wanted to take a look on the motto of the bird from a different angle. We wanted to discover the motive of birds in nature. We made use of a little paper bird's shade in nature (for example behind a leaf).
Handwork section: We formed birds out of wool, made collars in different colors with different techniques. We worked throughout the whole day but time went by so fast.
Acting section: Tons of work were finished by the children today. We discussed some new episodes of our fairytale in small groups. After distributing the roles, we began to shoot the original film. Most of the takes took place outside and the burning sun did let us sweat. But everyone fulfilled his or her role bravely.
Chamber music section: We wanted to focus on the individual talent of each child. Therefore, we formed small groups and prepared for our concert on Thursday. Everyone was more open than yesterday, which made making music easier and more fun. Some teachers of other sections came to visit us and danced and sang with us.
3 rd day
Creative writing section:
Today, we fully focused on our work. We talked about literature and writing.
In the afternoon everyone got an individual task to fullfill, on which we are going to have a look tomorrow.
Nature Photography section:
The camera and its function were introduced by Anna Benczur. We also learned about photo editing programs and everyone tried to make use out of them. Finally, the edited photos were exhibited.
Painting section:
The group was able to paint on canvas with acryl paint and draw down their imaginations.
Mixing colors was really fun and some people even continued painting after dinner in their free-time.
Felt section:
We finished the pictures of the birds. The new task was to paint the felts and also our apron.
We used tons of soap water!
Graphic design section:
Small changes were made in the book of birds, which we began yesterday. After that, we analyzed a symbol of a well-known brand and found out which elements it consists of. With this knowledge every child created his or her own symbol.
Art photography section:
Today was a productive day! We put together several photographs to create a whole new one.
We also made an animation of a well-known title of a Hungarian book.
Handwork section:
Baking was our passion on this day. But not baking pastry. We made figures out of a special material, which hardens when it is being baked. We formed flowers, suns and of course birds.
Acting section:
It was a really exciting day! In the morning we shot the last takes of our film. Many children from other sections helped us. There were so many sceneries for our film, it is hard to even remember.
We started editing our film and finally WE FINISHED IT! Needless to say that happiness was in the air.
Chamber music section:
We played all the songs for tonight's goodbye concert. Afterwards we worked in small groups on improvements. We also helped out in the drama section, which was nearby. That was really an interesting and new experience.
In the afternoon we played the songs. Everyone is really excited for the concert in the evening.