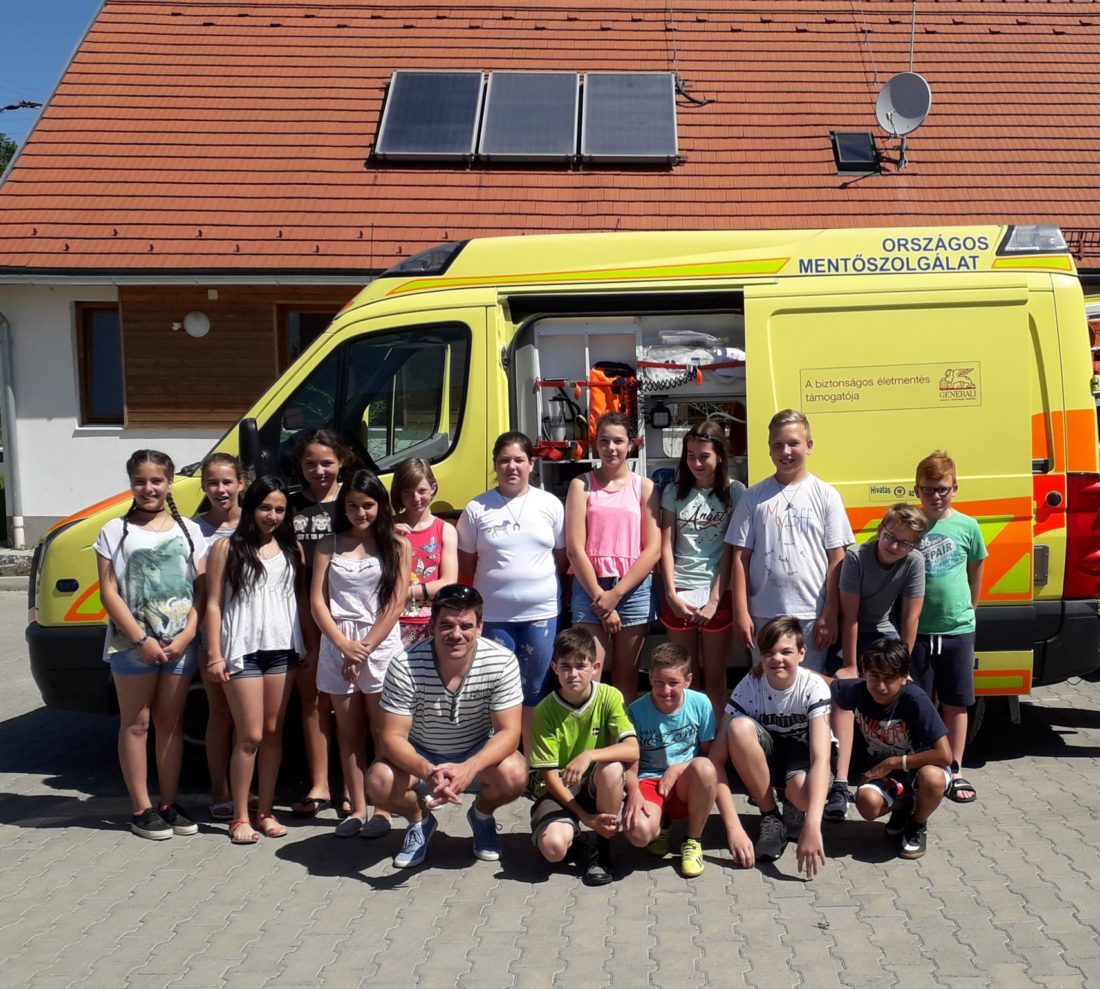 Health camp in Nagybajom
5th day
We began today by visiting the emergency ambulance station in Böhönye, where we had he opportunity to look at an ambulance from the inside. We even got to try the sirens! As a morning snack we had a lovely bowl of fruit cereal. During the day we learned a lot about a healthy lifestyle from mentor-helper Szandi Kovács and Miss Tündi. We experienced what cupping is like, we tried elastic therapeutic tapes and we learned about bandages. At the end of the day, the two groups (namely "Vitamin B" and "Oxygen) presented their group work which they completed during the week. We got to spend an amazing week together and want to thank everyone who was involved!
"I really enjoyed myself, I learned without effort during the week." – Ármin Kuckó
"We had on opportunity to relax and spend time together in a healthy way." – Roland Pfeffer
"Our team is named Oxygen because it's impossible to live without us!" – Vanessza Kovács
"I received a lot of useful new knowledge." – Martin Bek
"All I can say is thank you!" – Milán Vajda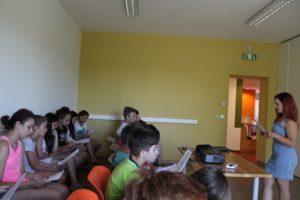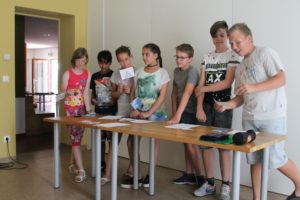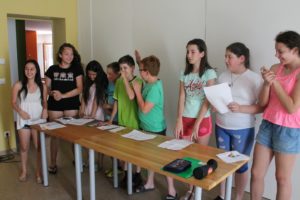 The Summer Health Camp began on the 24th of June for the youngest group in Nagybajom, where the children learned in a playful way about the importance of a healthy diet and plenty of physical exercise. We made fruit and vegetable salads which could be enjoyed with different dressings and on Friday the morning snack was a delicious muesli cereal.
The children were also given a group task during the week, which concluded with them presenting what they learned during the week on its last day. They also learned about different folk health traditions and their positive effects on Friday, as well as how massages can benefit one's health. Last but not least the group thanked their mentor, Andris, for his hard work during the year with a custom shirt made for him.
I am grateful to have been a part of the children's summer camp once again, I really enjoyed myself.
Tünde V. Horváth, volunteer (Nagybajom)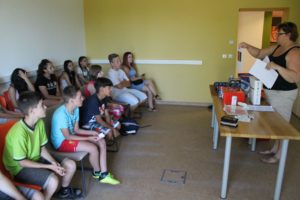 4th day
Today we received a lot of theoretical knowledge. We were visited by Major Ferenc Zoltán Lóki of the Hungarian Defence Force from Kaposvár, who talked to us about military health practices, the different levels of injuries and how they need to be treated and he showed us the basics of first aid. Later we enjoyed the vegetable salad prepared for us by Miss Tündi, which was very refrehsing on this hot summer day.
Early afternoon detective Adrián Gyurka, from the Somogy County Police Department visited us and informed us about drug prevention and gave us useful advice. We learned a lot of new things today for which we want to thank everyone involved!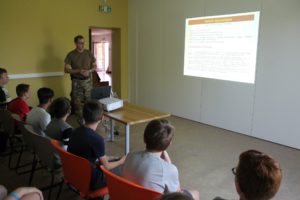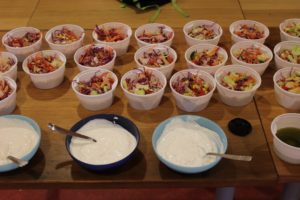 3th day
Today was our last day at the swimming pools, so we made sure to make good use of our time. We held a swimming competition and some of us practiced jumping head first into the water. Later, the groups had a meeting to discuss how much material they managed to gather for the group project, to make sure they will be done by Friday. After lunch we discussed the effects of sport on our health with our mentor, Andris, which will surely make all of appreciate sports more. Tomorrow we will be visited by associates of the Hungarian Defence Force and the police, which we are eagerly looking forward to.
Boglárka Szalai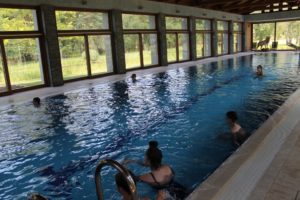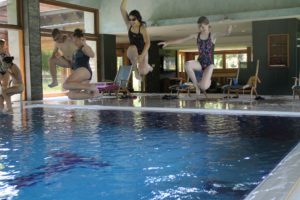 2nd day
We spent the whole forenoon period in the pool. We played water games today, and compared to yesterday, more people decided to take a dip in the big pool. While bathing, Tündi, our volunteer,  with the help of the small mentors, prepared a very delicious fruit salad for us. It was very tasty and cool in the heat. While we were eating, Krisztián (one of the small mentors) talked about the basics of healthy eating, that our mentor completed with many interesting information. We got to know the role of proteins, carbohydrates and fats in our diet, and the importance of eating regularly and healthily. Even our body mass index was calculated. After lunch, we ate ice cream, we chose rather fruity flavors. It was a great day today!
Petra Völfinger, NB2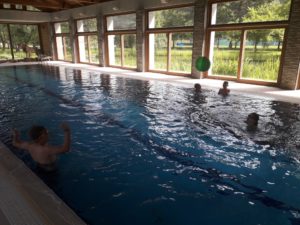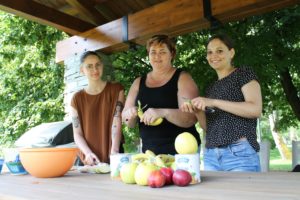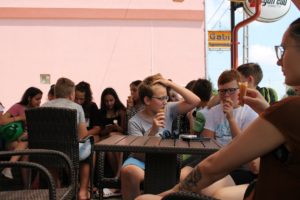 Today the Health Camp has started in Nagybajom. We set off early in the morning and we put on our swimming suits, and plashed in the pool. Some in the large pool, many in the smaller pool practiced the lessons learned during the swimming lesson. There was also the opportunity to take a dip in the warmer jacuzzi. During the day, we talked about the basic pillars of a healthy lifestyle, such as nutrition, spiritual balance, and the role of sports. In connection, we have been given a task that we are working on in a group project during the week to present on Friday. We felt good, we look forward to tomorrow's opportunity!
Milán Vajda, Nb2