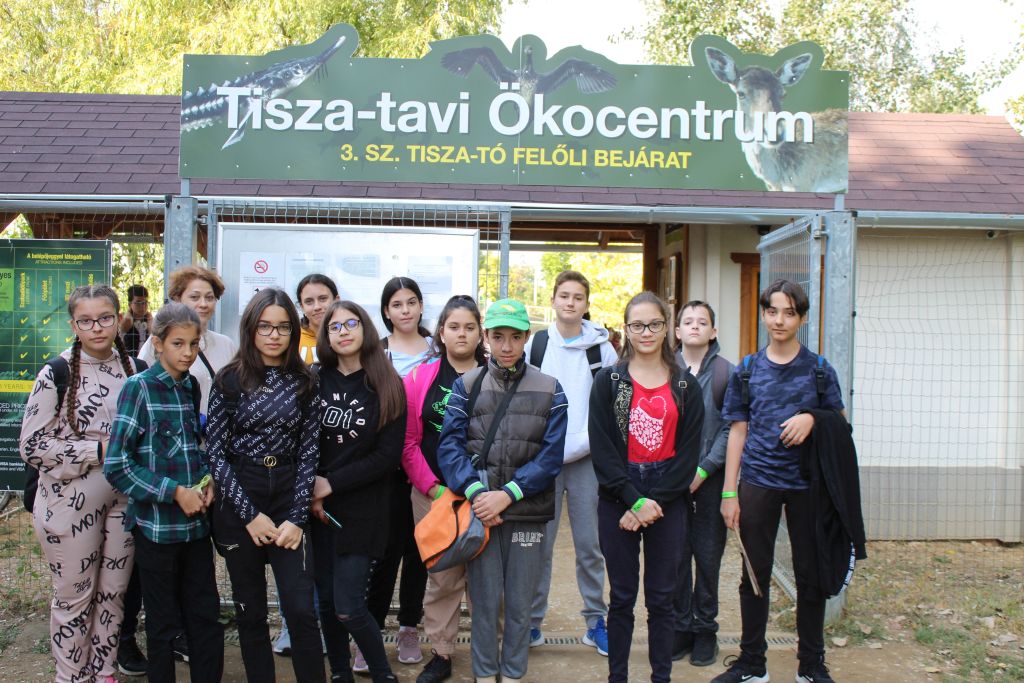 Adventures in October
"The Jászság Group 4, led by mentor Andrea Hábenciusné Balla, took part in a study trip on October 2 – we embarked on an exploratory journey as part of the environmental awareness project. Bence Sós from Jászság group 3 came with us as a helper. Our first destination was the Lake Tisza Ecocentre in Poroszló. When we arrived, we were greeted by an imposing sight of the building. The pleasant weather and the warming sunshine attractively invited you to the playground, where children could try out skill games.
Inside the building, accompanied by our guide, we walked through the underwater and water surface areas, where we could see exotic, special, rare and protected species of aquatic animals and plants. At the exhibitions we got to know different fish species (herbivore, predator), amphibians (frogs, gliders, snakes), quadrupeds (otters), reptiles (turtles), nocturnal animals.
After that, a movie was on the table. The 3D nature film presented Lake Tisza and its surroundings, our migratory and wintering animals, plants and other interesting knowledge about the aquatic world. Then, in a room equipped with interactive tools, we explored, read, learned about the aquatic world ourselves.
After lunch, we visited the lookout at the top of the building, from where a sight of a fabulous landscape unfolded before our eyes. The building, as a curiosity, was built to be in the shape of a bird from above. At the front, at the entrance, is the shape of the "beak," the "head," behind the "body," to the right and left, the "wings," and then the "tail". We continued our walk with a special 45-minute boat tour, during which our guide told us about the wildlife and curiosities of the Tisza. We had a close-to-nature experience.
There was also a zoo in the park of the Ecocentre, we could see deer, deer, waterfowl and feed the pelicans up close. Then we walked to Lake Tutajos, where we were greeted by a great water playground. Of course, every child tried some part of it, most of them paddled on wooden rafts, which we all really liked.
After that, we visited the Agricultural Machine Museum in Mezőkövesd (which you can read more about here: https://www.magyarkincsek.hu/kulonleges-latnivalok/gepmuzeum/). This museum is a unique open-air museum in Hungary, founded by a married couple – János Hajdu Ráfis and his wife. Over the years, many people have helped us with donations and tools so that we can now see thousands of memories in an area of ​​10,000 m2. It has the largest machine wonders, tools, ornaments and equipment in Europe.
Most of the more than 100-year-old iron monsters and machines (also brought here from England) are still operational today. With the help of our guide, we were able to experience this as well, as he launched a 117-year-old locomotive for us, which had a huge amount of smoke and sound effects. It was also a special experience that Lili and Angi were also able to try out an old forklift that was professionally driven and controlled in the museum yard. In addition, everyone could sit on the old farm machines, during which we could learn about its history.
The fresh air, the many walks, the millions of experiences, with the wonder of the smoke (smell) of the machines in operation, provided a lasting experience. As a farewell, we even waved to 92-year-old Aunt Marika (wife of János Hajdu Ráfis), who is very happy for all visitors. "