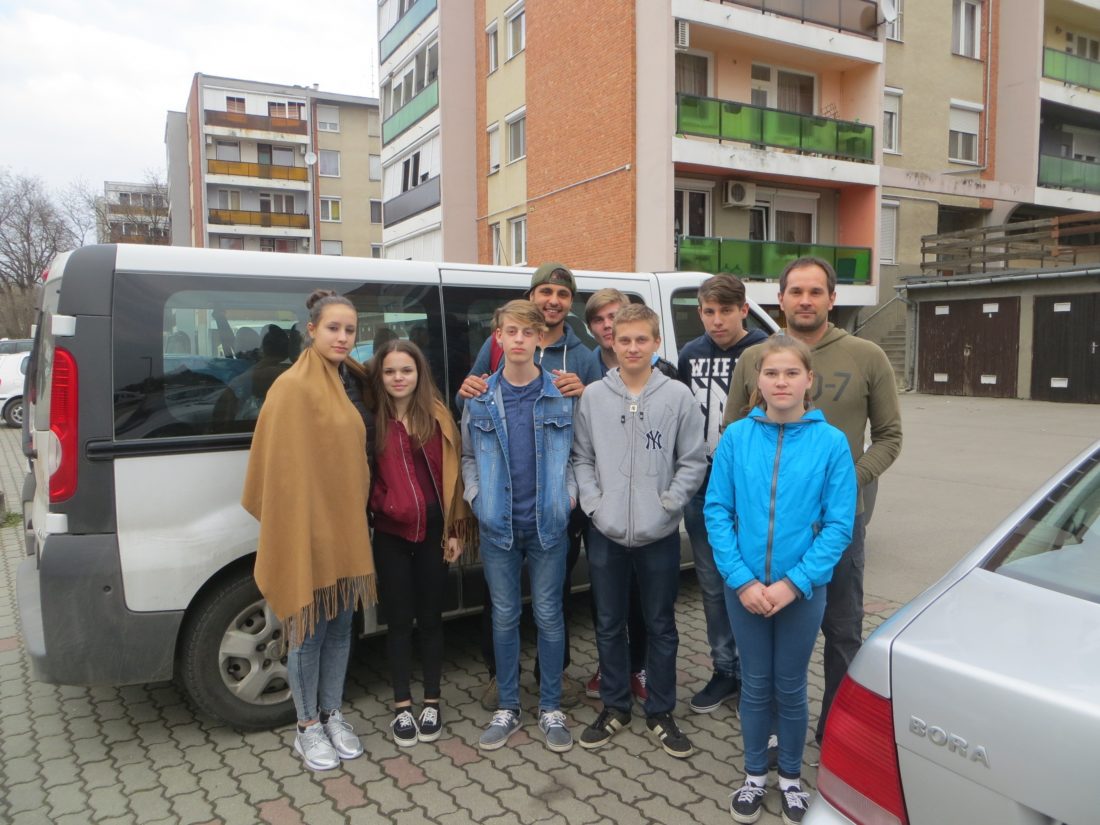 Final stop
Guillherme Borges, AIESEC volunteer from Brazil.Fortieth day – 12th March – Farewell
Thirty-ninth day – 11th March
This Saturday, my last day of the project, we woke up early to go to Mohács, where we would have a football championship of the foundation. Before leaving, one of the girls from the foundation, Evelin, came to the community house to give me a big farewell hug! I was very thankful for that. Besides, maybe I could not have a last day as good as it was today, and it's not for the football matches, but for finding many of the mentors and children who accompanied me in the three cities where I've been. For me, it was a moment where I could actually say goodbye to them. Speaking about the championship, my team lost all the matches and I had the bad luck to twist the ankle in the first moment of the first game. However, our team have evolved a lot from the first to the last game! I'm sure they will improve for the next matches too! At lunchtime, I felt a huge emptiness inside me because I knew it was the last time I saw many of those people. We said goodbye and went back to Szeged. Now it is to wait to catch the train and to continue living these last days in Europe before returning to Brazil. Thank you Csányi Foundation! For everything you've done for me. Thank you Jászberény, Pécs and Szeged (And Mohács too, because you received me three times). I will be back to visit you as soon as possible!
Thirty-eighth day – 10th March
Today was my last day at school, in Szeged. As always, a farewell day for me is a sad day. When I went to school, I had two classes in the first two periods – which were excellent – and then I would have an interview in the afternoon. Before leaving, in the morning, I got a gift from the teachers in thanks to the days we spent together… It was really cool! In addition, we combine to keep in touch, after all, the world goes round, does not it? I gave a brief visit at the community house and then went to lunch … Then I went to do the interview with the students and in 20 minutes I was ready to go. It was really fun, too! I returned to the community house, prepared the afternoon class and went to play soccer with the kids. So I had my last class with group 3 and probably the last class in the foundation. I can already say that it was worth everything I spent here. We have, officially, my last day … I do not even know what to expect.

Thirty-seventh day – 9th March
Today was the day of waking up early and going to Budapest, where the mentors would attend their monthly meeting. It was very nice to meet the staff of Mohács, Jászberény and Pécs, who, along with Szeged's mentors, were the ones I had the most time with. Arriving there, I was directed to Starbucks where I was supposed to meet one of the AIESEC representatives. That was great! How I missed meeting someone who belongs to my organization! We had a coffee and then we took a walk around the city. Nothing much, just a walk, talk and a new Hungarian friendship. After that, I took a walk alone in the region where I was and I visited a kind of public market, but I guess I'll never understand exactly what that was. So I took the bus and went back to the foundation's headquarters. Arriving there, I still had to wait a few minutes until the end of the meeting, and finally we took the way back to Szeged. I'm already living my last days in Hungary… I'm getting a bit nostalgic.
Thirty-sixth day – 8th March
Today the morning started a little later in school, The first class was only at 10:00, so I could rest a little longer. I had 3 classes at school and I had the pleasure of meeting one of the sisters, who was very happy with my presence and who knew my city because of the Catholic education network. She was very interested when I said that I had also studied in a Catholic school. My main participation today was in a classroom with 3 students, in which the three are very ashamed. However, they started to participate a lot in class and it was gratifying to see that they were losing the fear of talking to me in English to participate and question some things. It was a remarkable moment. I had the day off during the afternoon to prepare for my interview for the AIESEC team in Brazil. This is the moment when I get nervous.
Thirty-fifth day – 7th MarchToday, in the morning, there were four classes at the school. Two of them, without the accompaniment of the teachers, only me and the students and enriching discussions. All the classes were talkative and some of them were the most participative I've encountered in my last 5 weeks here. Although it has a lot of work, it is a great pleasure to prepare classes and share a little more culture and knowledge. In the afternoon, I only had one lesson in foundation with group 3, and I found it brilliant! I was a bit afraid because I had already had contact with the children and they seemed very shy with me, but during the lesson, they were interacting and being very interested. At the end of it all, he still had time to play some football with them. Too bad we will not have a meeting like this, at least not now.
Thirty-fourth day – 6th March
It was a good start to the week. First, in the morning, I attended four English classes and this time with different subjects in each of the classes. It was quite challenging to prepare and present subjects that I did not master so much, but that were in the interest of the teachers. In the afternoon, me and the boys from the foundation went to play soccer with the boys of the school, it was incredible! It was more competitive than I thought it would be and I could have a bit of fun, although I was a little afraid of hurting someone because I could not take the game so seriously. Foundation boys play well! Better than I imagined, actually! After the football, I went to the library with one of the groups and my buddies told me a lot about Hungary and about a poet (Arany János, I think). It was a fast visit, but interesting and the youngers helped me a lot to understand the meaning of the exposition there. Then we had dinner and we came back to the community house. More one day completed. Time is flying here!
Thirty-third day – 5th March
Today was kind of a "free fun day" with the people of the community house. First, we woke up early to get the children and go bowling. In the bowling, we were using three of the four tracks and it was kind of a competitive game but everyone was seeming like enjoying the time (despite of the tiredness of a Saturday morning). Then we went to buy some food for my last week here and we came back to the community house. In the afternoon I met the youngers at plaza and we went to the cinema – we watched T2 trainspotting. I have to confess that it is very difficult to focus on film when you have Hungarian subtitles on screen. After the film, I came back to the community house and I started to prepare my lessons for this week. The teachers are asking me some different presentations about Brazil!

Thirty-second day – 4th March
A different Saturday! In the morning, I had time to study and work a bit. I had lunch with the children today in the Community House and, then, I went with the youngers to a place with many different species of animals (mainly birds). In the beginning I was thinking that would be a normal visit, but the animals there were so different that I got impressed because I've never seen some of that species before (neither heard about them). We took lots of pictures and spent a good time there. Also, it was a good moment to approach some of them whom I didn't have much contact so far… They were so open with me and I was feeling comfortable with them! Then, we came back to the Community House. I was thinking about to go out tonight, however, as a good Brazilian guy, today I need to support my football team – even online. It's a derby day!

Thirty-first day – 3rd March
One more day with many activities! In the morning I participated of one class at school, then, two hours apart that I took to lunch and to prepare the afternoon classes. In the afternoon, I participated of more two classes at school and the teachers asked me to prepare some new stuff for the next week about my country, because I will visit the same groups. At school, I feel like the time when I was at school, because is a catholic school also and the traditions are similar. After the last class, I came to the community house, where I had one hour playing football with the children and, then, two hours with the youngers talking about Brazil and Hungary. For me, it was a great time, I hope for them too. And today was a beautiful day, full of sun!

Thirtieth day – 2nd March
Today was a full-day! I had three classes today, at school and one class in the community house. I started in the morning with my first class here in Szeged, and, this time, the teachers asked me to prepare something about the Brazilian educational system. During the classes, we made comparisons between Brazilian and Hungarian systems, and I think it was very productive for both sides.  Then I came back to the community house and I met a different group for a Natural Science lesson, the Group 3. Actually, the lesson is very practical and I became really interested about it and I became a bit jealous because I've never had anything like this in Brazil. After the class, we went to the river (mentors + group 3) and it was the end of the day. Actually, we still had time to play a bit of football before the children go back to their houses. Now, I need to prepare the tomorrow's classes with the teachers' needs. The experience in Szeged started really well!

Twenty-ninth day – 1st March
After two weeks in Pécs, I arrived in my last destination: Szeged. I spent my morning traveling by bus and I arrived around 13:15 in the Suncity (today without sun). In the first moment, we went lunch and buy supplies for my time here! Then, I came to the community house and we aligned the expectations and the schedule! Then, I had some time to interact with the mentors until the students arrival. We went for a WalkTour around and I was presented to some places of the city. After, we went dinner and come back to the community house. I needed to prepare a new presentation for the first day at school and I'm anxious to start here. So far, everything is great, and the mentors are also very helpful and participatives!

Twenty- eight day- 29th February
The last day has come. With it, memories and reflections are exploding in my mind. And I had a great day. I went with the children (and Patrik) to Mohács, for attending to the last day of Busójárá Festival. It was a fun and pleasurable time with the kids, and a moment to always remember. Beautiful culture. Then we came back to the community house, and, it was time to make my luggage and prepare for the next city. So far, it has been a great experience for me, and I got connected with the people and the cities I visited. I'm anxious. Let's see what Szeged reserves for me!

Twenty-seventh day – 28th February
Today I woke up in Budapest, after my arrival from London. I had to stay one night at my Brazilian friends' house. During all my stay out of Pécs, I was positively tracked by the Foundation, it was very encouraging. As always, they were able to offer a great support if I needed it. I got the train and arrived in Pécs. At my surprise I'm already familiarized with the city. I came walking from the train station to the community house (ok, it's not too far), and it was really easy to find my way back. When I arrived, Edina (my beautiful mentor) was waiting for me, then, we went with the boys to te TV Tower! Despite the fog, it was a great view: On one side, the city, the other, green fields and unexplored sites. Also, It was a reflexive moment for me, thinking about many different stuff and about how many things we need to do in our lives. Then, I went back to the community house and I was interviewed by Balász. It was fun, but really embarasing because, I don't know why, but I feel scared when I am recorded (video or audio). After that, I went for a walking in the city and I returned to community house to work a bit. Tomorrow Busójárás and after taht I am heading to Szeged.
Twenty-sixth day- 24th February
Today I got my first international haircut here. It was easier than I thought it would be, actually (I was a bit afraid of getting a haircut abroad). Challenge overcame. Then I came back to the community house and the mentors prepared a surprise for me and I received some souvenirs from Pécs! I liked the moment very much and I know that I will miss the community house, the mentos and the children here. After this moment, we went to a coffee in Kiraly Street. Amazing place with different kinds of coffees from all over the world! We spent some time there and then we came back to the house, where children and mentors from other cities arrived and was playing many musical instruments! We eat pizza and I started to arrange my bachpack, as during my weekend off, I am going to travel to London.
Twenty-fifth day – 23th February
In the morning, I went with the mentors to the Vasarely Museum! I was not with much expectation about this, and, I can say that the artworks are very impressive there. Actually, in some rooms I got a little dizzy because of the effects! Then, we went have lunch and the mentors made me try another soup here. Very good taste! In the afternoon, I went with Edina for a football training and I had the opportunity of playing a bit of football with the children… It's really funny to be Brazilian here, because everyone looks at you as you're like a Ronaldinho or a Neymar…  The training was good. Just a bit cold. After, I just came to the community house and I found out that I I only have two weeks to go before leaveing this amzing country!

Twenty-fourth day – 22th February
My first activity of the day was with the most talkative class I had since I arrived in Hungary. I can't remember their ages, but I believe they were around 12 years old, and they were very talented, participative and interested children! It was a remarkable moment to start the day. Then I went lunch and got back to the foundation house. I was studying some aspects about AIESEC – which is the organization I represent -, because at 17:00 pm I would face a interview for a role in the National Executive Board of AIESEC in Brazil. I did the interview and, then, I went to a Pub with the English teachers and some students in order to watch Juventus vs. Porto. There, I had the opportunity to taste "Pécsi Beer" for the first time and live an experience that is very different: Watching football matches in Pubs. I felt excellent, they were very attentive and we spent so much fun together!

Twenty-third day – 21th FebruaryToday during the morning, I used to organize my things, because I had the morning free. In the afternoon, I went to university with Bibi, where we attended a language class, and for me, this lesson was really interesting – much more interesting than the lessons I'm used to in Brazil. In the same way, the teacher seemed very interested in having a Brazilian student participating, which made the climate quite light for me. At the end of the lesson, we walked back to the community house, and Bibi came to explain to me a little more about the city and talk a little about herself as well as about the Hungarian people. It was very interesting this afternoon, actually. So I got into the community house and started working on my personal things. I am discovering more and more that Hungarians really love football! Today I watched the game with two of them and, tomorrow, I should watch another one. It will be my first time in a pub here in Hungary, I think.

Twenty-second day – 20th February
I did not have much time to sleep, because of the application that I ended up sending during the night. During the morning, two classes, one with the group of 14 years and the other with the group of 17. They were very different classes, however, by the mood of the classes. But, as always, it was fruitful and fun! After school, we went to buy food and supplies for my last week in the city. I used the early afternoon to rest, as I was very tired from the night before, and for the rest of the day I organized some details of my presentations and the agenda for tomorrow.
Twenty-first day- 19th FebruaryToday is exactly three weeks since I arrived in Hungary. Although today is a day off, for me, it is a day of reflection. So far: 3 weeks, 5 cities, 2 castles, 1 football game, 1 handball match, 1 basketball match, +40 participations in class, +340 students, +70 new 'facebook friends', many beautiful places and stuff like this. I'm glad to be part of it. It was three weeks that I will remember with lots of love. Thanks! About my Sunday, I will spend my day writing my application for a national executive board role at AIESEC in Brazil. I need to make a biography and a questionnaire to start the selective process! The free day is all I need to make it, so, this Sunday will be very important to me.Vigésimo Segundo Dia

Twentieth day-  18th February
This Saturday was very important for me, because it was a moment that I had to reflect a little about my experience and see some points of evolution in myself. In the morning, I had two classes, one with the 11-year-olds and the other with the 14-year-olds. With the 11 year olds, I applied a quizz of general knowledge about Brazil, and, to my surprise, they were the best group in the number of hits so far. During the afternoon, the group of the second class took me to know a little more of the places of the city. We took a tour, we went through many places and they were telling me the history of that place and, concomitantly, the history of Hungary. On the way home, I took advantage of the fact that I had plenty of free time on Saturday to finish the tasks I had to do with Brazil.

Nineteenth Day – 17th February
The morning today was free and I had the opportunity met Robin, an American girl who is a volunteer here for another organization too. The first part of the day was with her, getting to know each other and then having lunch. She took me to know a bit more about this part of the city and then I came back to the foundation. In the afternoon, I went with the boys of csányi to the University of Pécs, which, they told me, is the oldest university in Hungary and the 28th of the world. They showed me some places inside and around the campus. In the buildings I visited, I became surprised with the inside's modern visual – maybe because in Brazil the oldest universities really looks like old and poorly maintained, inside and outside. After, we visited the knowledge centre, Zsolnay Cultural Quarter and, in the end, we went for a high place – which I can't remember the name – that I had the opportunity to see Pécs from a different perspective. It was a really interesting day for me, and I can't accept that I would never know about this places if I were not been here living this experience in Hungary!

Eighteenth day – 16th February
My first class today started about 12:50 with a huge group of amazing children! In this class the teacher started with a big surprise for me: A little boy who can speak in portuguese! His mother came from Brazil and lives here nowadays with his Hungarian father, so, he is a very talented child who can speak english, portuguese and Hungarian. It was very shocking for me to speak with a Hungarian boy in Portuguese. Certainly, it was a moment that I couldn't expect. After this moment of speaking in portuguese, we had the english class and the children were so participative and kind! Again, it was a pleasure being here and feel helpful. During the afternoon, I went with Dora to her college. She showed me some places and we talked about the differences and similarities between Brazilian and Hungarian colleges. In addition, we joined in a deep discussion about the social problems we face in our countries. It was really good conversation! Then we just went for a walk around the university. I took the moment for getting to know a bit more about the city, so I went to the shopping (arkád) and then I came back to the community house. After 18:00, the weather became really cold again. I need to get used
Seventeenth day – 15th FebruaryToday in the morning I had the chance of organize my work stuff. I needed to make some changes in my presentations and I used the time for working a bit. In the afternoon, I had the opportunity of met a talented group of youngers! They were just 14 years-old and were talking with a good vocabulary and good expressions knowledge. We had a good conversation time and we found some characteristics in common between us, which made easier our approach! In addition, the boys of this group are, so far, the most talkative youngers I met here. I also had the opportunity to simulate an English exam with another guy who will take the exam soon. It was a good experience for me to understand a bit about the legislation and educational system here, besides of being a conversation exam, so, it was good for both of us. Actually, the way for joining college, for example, is very different if you compare with Brazil, so, each day I think I can learn a bit more about Hungary and its differences. In the end, I received my next days' schedule, and I'm anxious for the next steps here and what is waiting for me.
Sixteenth day – 14th February
Today, I had work for all day long! In the morning, the mentors and I went to the school and I participated in four classes, with different kind of students (from a class with 11 years old students to a classe with 17 years old students, for example). The classes were very cool! With 11-years-old children I made a Quiz and they were very participative and kindful! With the other classes, I made my normal presentation about myself and about brazil, and we generated good talks about the subjects I brought. In addtition, today's teacher was very participative, seeming like interested in the presentations too. In the afternoon, I went for the community house and I had one class with the 11-years-old children from the foundation. I loved it! They were very interested in understand more about the "foreigner guy" and they made lots of questions! It's great to see the differences between the english classes here and in Brazil (besides that, of course, the differences between our life styles). After the class, I went with Tamas (the english teacher) to participate in his English class in other language course, and we pretend that I was a new Hungarian student there – but the disguise did not last long. It was fun! There I talked with the students about some aspects of my country! I hope they had a good time with me. So, it was a full of work day… But I am enjoying this. They know that can count on me for any needs.
Fifteenth day – 13th FebruaryMy first day in Pecs. I had a free day, actually, to get adapted with the city and with the community house. So far, I can see there is a huge difference between Pécs and Jászberény – I'm talking about the extension of the cities. In the morning I went for a walk nearby the foundation. We bought food and the mentors showed me some places of the city where I can go when I want. Also, we bought my bus ticket for the week. In the afternoon, I stayed at the community house working with my brazilian projects. The weather is fine here – we had sun all day long! Also, I will stay in the community house, it's very comfortable for me! Really anxious for my first day of work. Maybe this city can be my second great surprise like Jászberény was!
Fourteenth day – 12th FebruaryToday, actually, was a change day. In the morning, I was organizing my luggage and ensuring that everything was ok in my accommodation. Then, I went to the train station with Tamás and Viki. In my last moments in Jászberény, I could realize that it was maybe the last time I would see that place. I brought great memories from there with me. Great learnings, also. And I really hope that I had let something in people I've met there. In my way to Pécs, I was trying to learn some words and numbers "in Magyar" – with my teacher, Viki! However, it's language is still illogical for me (and beautiful)! When I arrived in Pécs, a fabulous great welcome awaited me and I easily found other helpful and tenacious people from Csányi. Now I'm in my new accommodation for the next two weeks, excited about the second part of this experience and hopefully that I can make a great contribution here!
Thirteenth day – 11th FebruaryFree morning – resting after the previous long day. Then, we went to Csányi at noon and they prepared a small surprise for me! I received a gift from the people there – A beautiful sport shirt of Hungary team (and a chocolate). They were thanking me for the last two weeks, however, it's my pleasure to live my exchange experience with that people! I'm so thankful for everything and this beginning couldn't be better for me! Not only mentors, but all people from Jászbereny will stay in my memories. After this fluffy moment, I went to play football for the first time since I arrived! What a shame we tied the match. Despite that, it was a moment that I was expecting for! And then, we went to see my first handball match! It's very different from watching on TV! The players looks like monsters! Beautiful game. It was a top experience I had for the first time here.
Twelfth day – 10th FebruaryToday I wasn't working at school in the morning: I Went to Eger! Another beautiful city with a piece of history saved. We visited the churches, the castle, the wine places and we walked a bit inside the city. Despite that I am getting used with people speaking Hungarian and I can't understand anything. It was really great to have the company of two girls from the secondary school to talk to me and to explain the insights! Thanks to Máté and Vivien (I hope your names are correct). Everyday I learn a lot about the Hungary's history and it makes me understand a bit more about people here. In the end of the day, I went to Tamás'place, we had dinner there and then we went for to the Deák Bill's rock concert. It's a different sensation when you can listen to the music sound but you can't understand the lyrics – in the entire show. So, it was good! However, I became curious about the music's' content.
Eleventh day – 9th FebruaryToday I went to Mohács, where Csányi team had its staff meeting. In addition, the new house is beautiful. Congratulations for the Foundation and for people involved! Also, I had the opportunity of met the mentors of the other cities! It's impressive how everyone is so kind and helpful in this Foundation. During the meeting, I went for a walk in Mohács with Rebeka – second Hungarian friend. Our communication took place through Google translator, and it was the funniest part of the day! She showed me a bit about their culture and about the Busójárás festival (I used the Busójárás' costume today! Cool and meaningful clothes!) In addition, sometimes I can't believe in the number of different traditions that we can find around the world. In the end, just tried to work on some Brazilian stuff. Tomorrow is my last Friday in Jászberény. Days are going fast. Guillherme, AIESEC volunteer from Brazil
Tenth day – 8th FebruaryToday was a different day. I had classes during the morning, as in the last days, and the students were very interested. In the middle of the morning, the English teachers from Lehel Vezér Gimnázium made kind of a surprise thanking me for the days we could work together. That was really awesome, because I really admire them and admire their profession. Then, I went to my last English class participation, and, in the end of the class I realized that it was probably the last time that I would go to that school. That was enough for me to understand that it was worth. When I was going lunch, one kid come to give me a hug and a "good bye". I became so emotional.
In the afternoon, I had two classes at Csányi. Great classes! It's a pleasure for me to participate and understand that I can help in some way. Also, I received a picture with the 12-years-old children and I will keep it with me. I just have to thank the people here! I will miss this place when I move! To miss it is the best way to understand it was worth it! Great experience so far! Guillherme, AIESEC volunteer from Brazil
Ninth day – 7th FebruaryI'm getting used to the cold weather here. 2 degrees in my country is very cold, and, here, is like a "hot day"! My morning was full again, today. I had first a P.E class and then I started a marathon with the teachers for participate in many English classes! It was a great day, students are feeling comfortable to ask questions and they call me on the corridors to talk. Also, teachers are supporting me and giving me autonomy to work, which is very good! In the morning I had 4 classes and in the afternoon I went to Csanyi Foundation, but I didn't have any class there. I just met the students and talked a little bit with them, and arrived on accommodation. The best part of the day was realize that students are trying their better to talk to me and speak in English, also, perceive that they are really interested about the differences between Brazil and Hungary! It gives me the desire of wake up in the next day and do everything again, and better.
Eighth day – 6th FebruaryIt's my last Monday in Jaszbéreny, I am already miss the city and the people from here. Today I had P.E class in the first period and we played volleyball, which is the second most popular sport in Brazil. For me, it was a really good beginning of week. Then I had five class appearances. It was a full morning, but I'm really enjoying the way students and teachers are teaching each other continuously and I enjoy the interest they have about my country and my journey in Hungary. After the morning, I went to accommodation and I used the time to work a little bit in some projects I have in Brazil. And, in the end of the day, I went for a folk dancing class. As a Brazilian, I'm used to watch samba, pagoda, hip-hop and stuff like that, it was very different, beautiful and cool. It's a different kind of dance and I appreciate the time I spent there watching good Hungarian dancers! It was a really awesome day, I'm glad of being here. Guillherme, AIESEC volunteer from Brazil
Seventh day – 5th FebruaryIt's already past one week since I arrived in Hungary. Let my country wasn't an easy decision. I have my family, my friends, my work and many other stuff that I can call "Mine". However, I'm impressed, because Hungary was a great decision. I'm extremely out of my comfort zone here. Everything is different. Every day is a learning day. Every person has its unique quality. And, again, I'm thankful about what I'm experiencing here. Csányi's Foundation has a great positive impact in Hungary, and I'm finding out its impact every day and has a positive effect on me a I also believe in a better future, I'm so proud of taking part in this project. It makes me feel comfortable to make more and more in my daily work, because I know that it's for a great cause and, not only me, but all mentors, teachers and supporters are always striving for excellence here. And, when I go back to Brazil, I want to say for everyone to come here and continue this job. Continue its impact. It was just only week so far, and it was amazing! Guillherme, AIESEC volunteer from Brazil
Sixth day – 4th FebruaryToday I woke up early to go to Budapest by bus. My morning and part of the afternoon was with Csányi people from Budapest – great people, in addition -, and we were working on a great video. After, I had the opportunity to visit some places of the city and I realized how awesome Budapest is. The weather is still cold for Brazilians, but it's already fine for me. Each day I can understand and learn more about the country, and I want to go back and talk to the kids about my experiences and some curiosities I perceived. So grateful, as always. Guillherme, AIESEC volunteer from Brazil
Fifth day – 3rd FebruaryIn the morning, I was with the twelve-years-old children for a Football Cup in the primary school. It was a chance for us to get in contact through sport. After the first game, we played together for a few minutes and they tried speaking in English with me, and I made them try. After, I went to school and I participated of two great English classes, with eighteen and nineteen-years-old students. The kind of questions and doubts were different at his age group. In the afternoon, I had a two hours lesson with Csányi's children. Very good … amazing. They are brilliant and very polite. In addition, everyone seemed interested in participate, and that made me feel grateful. I'm finally adapting myself to my New Life, and I can perceive that my experience has been very positive so far. It makes me feel that I need do my best, every day. Guillherme, AIESEC volunteer from Barzil
Fourth day – 2nd FebruaryI spent a great day with Gui, who is a volunteer from Brazil. We started the day with going to confectionery, where Gui could try out the Hungarian royal icing filled isler, that he finds tasty. Then, we went for a walk in the center of Jászberény, we walked along the ice-bound river too. After that, I went with him to the school, where he took a presentation about himself and him country.We visited the Jász Museum, where the symbol of Jászberény (Lehel's horn) is preserved. There not only Gui got information our history, but also me about theirs. After that we had a delicious lunch, during the lunch we talked about Brazilian and Hungarian cuisine. We finished the day with playing bowling, in favor of our new friendship we agreed with a draw result. During the day we had a pleasure conservation, we talked about ourselves, the differences between our countries, we shared our experiences with each other.Kovács Viktória Jászság 3.
Today I had a different journey. In the morning, I met Viktória – which is my new Hungarian friend – and we took a tour in Jaszbéreny on foot. It was a very good thing because, before this, I did not have the chance to walk around and get to know the city. After, I went to the school to organize my schedule with the teachers and I presented some stuff about my country and about myself for 15-years-old students. And that was my only class today. Then, I went to have lunch with Viktória and after we played bowling. The day was really good because I had the opportunity to met an adorable person and she helped me a lot with my doubts and my familiarity with the city! Guillherme, AIESEC volunteer from Brazil
Third day – 1st January
In the morning I participated of two P.E. classes with the children, and it was very good for me because was the first time I could really approach them. Before the start of the second P.E. lesson, I could play football with the kids and that was really good for our interaction. In the end of the morning, a cute thing happened: They came asking for taking pictures (selfies) with me and It made me feel really good. In the afternoon, at Foundation, I had the first class with the 11-13 years old children. They were adorable! First, we made a Get to know each other, then I presented my country and, finally, we played a quiz about Brazil! The best part of the day, for sure, was to listen, from one of them exactly this words: "I will never forget you". It made me feel proud about what I'm doing here. Guillherme, AIESEC volunteer from Brazil
Second day – 31st of JanuarySeven o'clock and it was freezing outside! Wherever I looked was white because of the snow and I realized that I was in an amazing scenario! We went to the ice skating and I was terrible in my first time of skater on ice! I was facing something extremely different of what I'm used in Brazil. The experience was great and I would like to try again, for sure, but I need to develop my ice skater skills as soon as possible! Then, I went to participate in three English Classes and I was much more confident because I did another presentation about myself and about Brazil… I felt really important for the teenagers today and they seemed to be interested in what I was talking about. In the afternoon, I finally bought a SIM for my mobile with the help of one of the mentors and now I can talk to my family in Brazil! In the afternoon, I had some hours to work on new presentations about Brazil and I had one more English Class to participate. It was very good, because I had the opportunity to develop knowledge about English with some words that I didn't know yet. It was great! And, for sure, the best part of this day was the Ice Skating! It's great to be able to do something new for the first time!
First day – 30th of JanuaryAfter my arrival, it was time for my first day! I was very tired because of the long travel; however, very motivated to participate, mainly because of the support I received from the Foundation's mentors (they are extremely dedicated and made me feel comfortable). In the morning, I went for a P.E. class and it was very different of the Brazilian P.E. classes, with many exercises and team working games, while in Brazil we are used to play Football, only. Then, I took part of my first English Class participation, and I was very nervous (really). As my Notebook has crashed, I lost my presentations and I needed to improvise everything… The teenagers were very polite and participative, and the nervousness became confidence in the end! In the afternoon, I had time to rest and buy some basic stuff and food – Once again, the Foundation's mentors were great! I was really tired because of the travel; however, it was great for me to find out that I have great people supporting me here and for met the people of the school.

Before arriving – We are happy to welcome Guillherme Borges, AIESEC volunteer from Brazil, who is going to arrive today and will stay with us for 6 weeks. His first sop is Jászberény! "I'm very excited with the opportunity I received, and I will work hard to deserve it. Will be an honor to make part of it." Guillherme, AIESEC volunteer from Brazil
Here you can read more about him