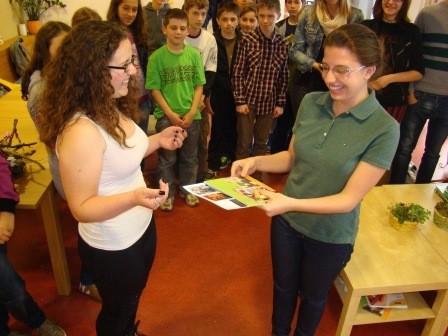 Saying Good bye
Today (26. April) was my last day at the community house in Nagybajom and I Just can't express how grateful I am for the last 3 weeks. It's been a wonderful time and I will never forget it.
It was a hard moment when we said goodbye, because I'm sure I will miss everyone! Fortunately, they gave me some treats as a thank you gesture, and I will place them together with my memories.
I really got attached to the environment and the daily life here, it was easy to feel at home. Balazs, Patrik and Szilvi were so kind and welcoming,  that I am just sorry that I have to leave so soon. All the kids were great and I know I will keep in touch with some of them even when I go back to my country. I think we could work very well together – the students, the mentors and me.
I hope I've succeed in doing my best and in fulfilling all their expectations, because for sure I have got much more than I could ever expect when I left Brazil.
Köszönöm, Nagybajom!
Alicia Rezende, AIESEC volunteer from Brazil