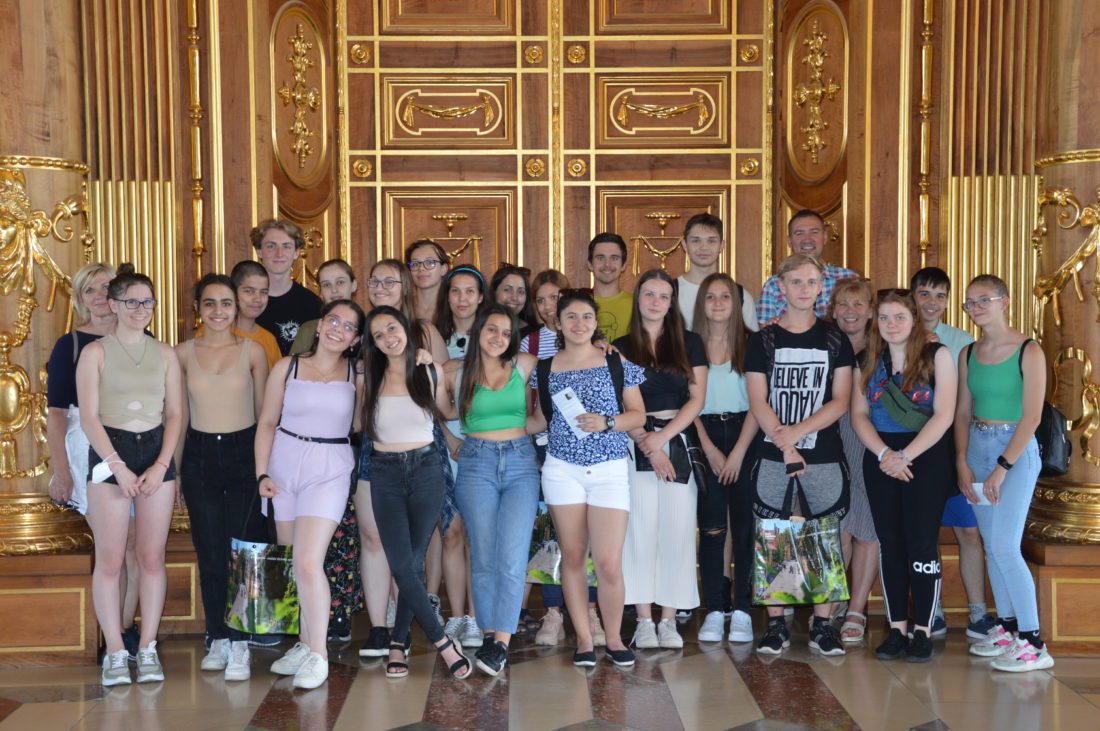 Augsburg 2022
The Foundation's most talented German learners – 21 students who successfully completed a year-long, five-round German language competition –  were invited to take part in a one-week German language course at the ADK Language School in Augsburg. It was a great adventure for all of us, as it was the first time since the pandemic turned the world upside down three years ago that we had been able to get on a plane and come back to Germany. By three o'clock on Sunday afternoon, we had arrived in Munich, from where we quickly reached Augsburg thanks to the perfect organisation. Everybody was excited about the first German lesson on Monday and about getting to know their host family and the city as well as possible.
"On Monday morning, the German lessons started at 9am and we were all very eager to get started. We were divided into two groups and started to improve our language skills under the guidance of our native German teachers. The first language lessons were already very interesting and exciting. We had lunch together and had a good chat and then played a friendly bowling match at Bob's Rock & Bowl. We spent the evening relaxing again with our host families. On Tuesday morning we had the opportunity to extend our vocabulary with interactive exercises in language lessons and even improved our grammar: we practised the past tense, or more precisely the present perfect tense. After lunch, we took a tour of the Old Town and visited the Golden Hall of the City Hall and the Fuggerei. During the tour, we learned, among other things, that Augsburg is a Roman city and that it takes its name, Augusta Windelicorum, from the Emperor Augustus. We were also told by our guide, Andrea Keller, that the Fugerei, a social institution still in operation today, was founded by Jakob Fugger to provide assistance and housing for impoverished, Catholic, Augsburg residents. After so much new knowledge, we did a little shopping in the City-Galerie shopping centre and then headed home to our host families for dinner. After a super exciting Wednesday German class, we headed to the Textile and Industry Museum. Here we got to train our creativity and screen print our own canvas bags. Once the beautiful designs were on the bags, we were shown around the museum. Our guide told us about the important role Augsburg played in the textile trade in the 1500s and how the factory still makes clothes for artists. We ended the day with a dinner in a cosy beer garden. We also learned a lot during the Thursday classes. After lunch, taking advantage of the sunny weather, we went boating in one of Augsburg's most romantic parks. We spent the evening with our host families. On Friday we had our last language lessons, at the end of which everyone got a super mini board or card game. After lunch we visited the local cathedral together and finally, we learned even more about the Fugger family and medieval trade at the Fugger & Welser Experience Museum. We ended the day with a pizza dinner together. On Saturday, we took the train to Nürnberg, where we admired the old town and explored the castle with its magnificent views over the city. We sampled local specialities in a friendly Bavarian restaurant. After a hearty lunch, we went to an open-air museum where our different senses were put to the test by the toys on display. After the train back to Augsburg we spent another lovely evening with our hosts. On Sunday, after saying goodbye to our host families, we headed together to Munich airport. After a short delay, we arrived in Budapest. We had a lot of experiences and learned a lot. Thank you very much, vielen Dank!" Mária Eszter Bogdán, Nagybajom Group 1
"I had a great time during this week. My German skills have improved a lot. The lessons were very good.  I would like to come back to this city and to this nice family again." Laura Sándor, Nagybajom Group 1
"This week was a significant one in my life, as it was a dream of mine for a long time to be able to use my German language skills in this way. I enjoyed every moment of it. I am happy to have met such a nice family and to have been part of a great community. I hope I will have the opportunity to come back to Augsburg again." Rebeka Völfinger, Nagybajom Group 1
"It was the first time I had ever been abroad and the first time I had flown. The trip remains a very good experience for me, I really enjoyed it. Within Germany we were in Augsburg, the 3rd largest city in Bavaria. We stayed with families, my host cooked great food and was very nice. We talked a lot at dinner in the evening and my language skills improved a lot. The afternoon activities were very good and varied. One day we went to Nürnberg and visited the castle. It was a long walk up to the castle, but it was worth it for the view. In the morning we went to a language school where we were taught by a native German teacher. I had a great time in class, it always went by quickly. The mentors helped us a lot, if we didn't understand something they were happy to translate, they were tireless throughout the camp. The mentors-assistans helped the mentors and always helped us. I would like to go again next year. Thank you for everything!" Ferenc Horváth, Jászság Group 3
"I really liked the language camp in Germany because I got a lot of good experiences, new friends and language skills during this week. I was 16 years old when I first got on a plane which was very exciting but also scary! Thank you very much for the opportunity to go abroad, for all the activities and the always-shining presence of the mentors!" Lídia Boglárka Juhász Jászság, Group 3
"Before the start of our big trip, everyone was fresh and excited at the airport, waiting to check in, followed shortly by the first flight for many. Upon our arrival, we were struck by the differences between Hungary and Germany, whether it was the layout of the airport and squares, the size of the sights or the cleanliness of the venues. In the evening we met the families who welcomed us with great warmth and the next day we started our one-week language course. After school, each day we had a colourful set of activities. We visited the textile museum, the town hall and went rowing on a lake as well. On Saturday we took a train to Nürnberg where we visited the castle and spent the rest of the time in an "illusion" playground. Before we went home we said goodbye to our host families and our fellow Csányi students in Budapest. Thank you to the Foundation, the mentors and mentors-assistans for all their work and for the colourful activities they offered us throughout the week." Izabella Varga, Alexandra Zsagár and Rajmund Pál, Pécs Group 2
"I had never flown before in my life, so I was nervous before the camp. After meeting the families I was very happy because they were nice and I understood them. The lessons in the morning were not stressful, so we could enjoy the afternoon activities. Sunday, the day of departure, was the day I was least looking forward to. I would like to come again next year, thank you for the experience!" Ferenc Donát Skutera, Group 3, Mohács
"When we found out that the prize for this year's German language competition was a study trip to Augsburg, we were excited to find out the results. I was delighted to see my name and those of my peers among the top performers. We were all happy and a little nervous as we prepared for a week full of activities. We had to get up a little early on the day of the trip, but it was worth the effort, because we were already looking forward to the trip with great anticipation on the bus to the airport. We were all very happy to meet at the airport. For many, this was the first time they had ever been on a plane. It was a great experience for everyone. We were also happy that the members of the Foundation were able to travel again after years of being on lockdown. We were accommodated in small groups with German families, and we grew fond of them quite quickly. On weekday mornings we went to a language school in the centre of Augsburg. In my opinion, our camp leader, Gergő, found a very good place for us to practice German in a school setting during our trip abroad. Every day I had a good experience and gained a lot of knowledge. Our teacher was very helpful and kind, and we also enjoyed the exercises in class, which were all playful and easy to understand.
Our mentors, Sasa, Erika and Gergő, and our lmentor-assistant, Eszti, made sure that we always had a choice of lunches after school. We always had a choice of several dishes. Dinner was usually provided by the host families. I really liked the fact that we often had national dishes. In the afternoons we took part in colourful activities. The first day we went bowling and played billiard. It was also a good afternoon to relax. On one occasion we went boating to a lake near Augsburg. Before the boat trip we had lunch at a restaurant near the lake. We ate local specialities. We were all happy to experiment with dishes that were a little unfamiliar to us. We got into the boats, from where we could admire a beautiful natural environment. We also had time to explore the local shops and spend our grant from the Foundation. We also really enjoyed our dinners together, where there was always time for good conversation. On Saturday we travelled to Nürnberg. I think this trip was a defining experience for everyone, as this city is a real jewel box, full of churches, towers, bridges, rivers. We learned a lot about the history of the city in the eye-catching Nürnberg Castle. Here we even went to the top of the castle's tower, and we were right to do so, as we were treated to a magnificent view. We had a great time the whole week and learned a lot about language, culture and the city. We also had a lot of fun on the guided tour, where a nice Hungarian lady, Andrea Keller, showed us around the sights of Augsburg. There is a wide range of museums here. We visited some of them and even tried our hand at textile dyeing. I gained a lot on this trip, which also helped me to improve, and I would like to return." Levente Örs Sipos, Kaposvár Group 1