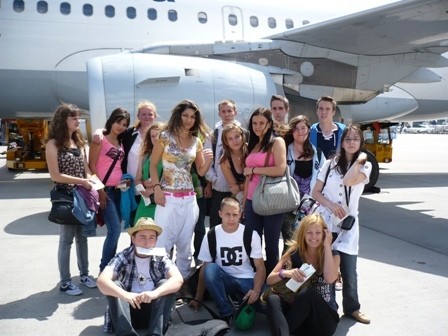 Two weeks in Augsburg
During these two weeks we closed each other into our hearts. Augsburg is a lovely and lively place.
I went to Augsburg as a volunteer on the board of Lufthansa with 16 students and two experienced mentors. My task was, beside taking care of the children, translating from Hungarian into German. I tried to do my best to make the communication easier in the formal discussions and in the everyday life too. We managed to solve all the problems almost immediately and I could make the communication easier for those who have just started to enjoy the German language. As we had our accommodation at host families, we could experience the peculiarities of the Bayern dialect too. I am very proud of the children because they could easily understand the families. Most of us made common programmes with the host families at the weekends.
I had lots of good experience during these two weeks. We were on different kind of trips (where we also learnt new interesting things too) in Munich, Nürnberg and Neuschwanstein. We came to know a little bit of the German culture, history and geography. During the free time activities the group visited the sights of Augsburg. We enjoyed the local planetarium; we searched the little town of the Fugger family which is the first social establishment in the world. We had enough time for fun too: bowling, mini-golf, boating, cinema etc. The lots of experience were in complete harmony with the lessons in the morning. For example, the students learnt about King Louie II.  and the Castle of Neuschwanstein before we visited it.
The groups were international; the Hungarian students studied together with French, Polish, Russian and Spanish children. The native speaker teachers were satisfied with our students very much. They have never met such orderly, well qualified children like the Hungarian group.
During these two weeks we closed each other into our hearts. Augsburg is a lovely and lively place. We could beat the difficulties of the travelling too, Andrea Keller; a Hungarian worker at the local Travel Information Office fortunately helped us, as we have never been to Augsburg before.
I am very happy taking part in this trip. The common experience, the laughter, the lots of hugs and kisses when saying goodbye and the hundreds of photos make this trip in Augsburg unforgettable for me!
Melinda Szerencsés, Volunteer from Jászberény