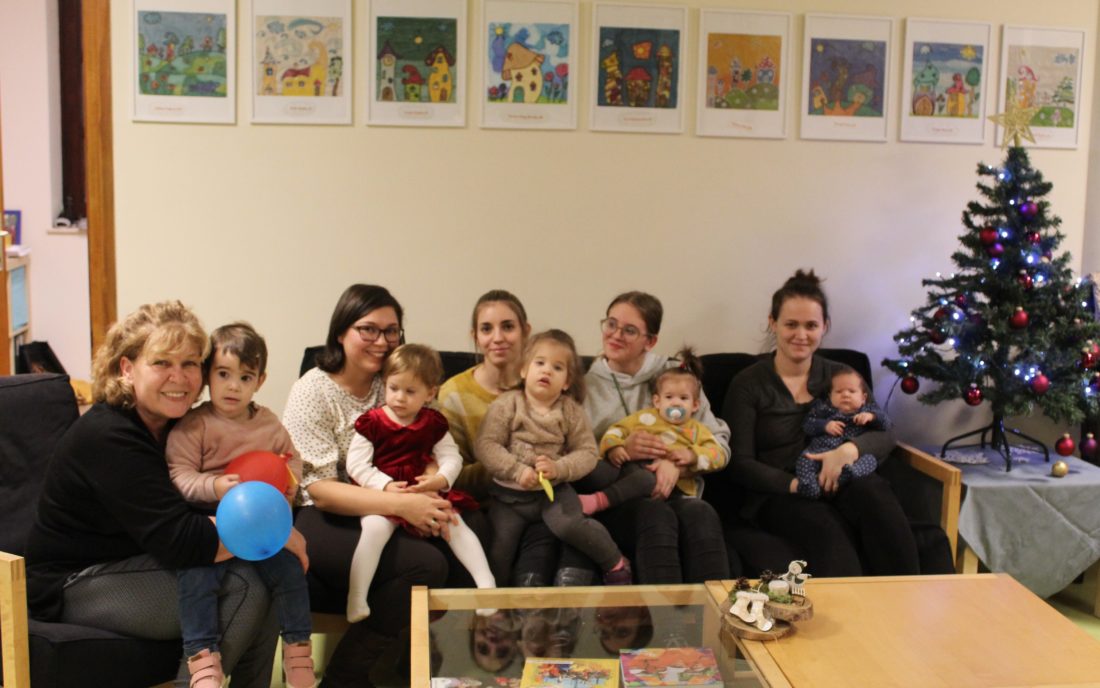 A special Santa Claus in Kaposvár
The need to meet and the joy of giving gave rise to the idea of organising a Santa Claus celebration for former Foundation members who are now mothers of young children. At the first invitation, they all said yes and came to us: Mariann Deli-Szél with her husband and daughter Nora; Alexandra Sárközi with Bithia and Liara, and Nikolett Csepeli (now officially Mrs. Márkne Mészáros) with her children Mia and two-month-old Melinda. So we celebrated the arrival of Santa Claus and the small presents together with the "Csányis-tiny -team" in our Kaposvár Community House. The members of Kaposvár Group 2, together with the students, decorated the House and prepared delicacies before the arrival of the guests. We want to create a tradition, and after the success of the first time, this is not an unattainable goal.
On 6 December we were delighted to come to Kaposvár for the "Baby-Mama Santa Claus". The little babies felt right at home, just like we did. It was good to come "home" again, everyone welcomed us with great love. After a little chat, the lovely Santa Claus arrived and presented the children with a parcel. Needless to say, we went straight to unpacking what was in the bag. While the children were playing, we had a nice long chat about our daily lives. We had a great time and it was great to see our kids making friends with the current Foundation members. It was an uplifting feeling to be welcomed by the current team. I was already very happy when Sasa, the mentor of the Kaposvár House, called me with the idea. I was excited to arrive with my family, eager to meet old friends and their children. It was a great idea from the team and we hope to create a tradition. Thank you so much for the Foundation thinking of us and bringing Santa Claus to our children, making the Advent anticipation more beautiful, and last but not least, we are grateful for the gifts.
Mariann Szél-Deli
I will always be grateful for the Foundation's support and help throughout my growing up years. Thank you for being a part of my life even beyond that, and for the joy of my children. Thank you so much, the little ones have enjoyed being with you immensely. It was great to meet my former peers and get to know their beautiful families. You certainly made our celebrations extra special!
Alexandra Sárközi
To this day, I still keep in touch with my mentor. We still follow each other's lives, we are present in each other's lives, we tell each other about the small things, the joys and the harder, more troubled days. A special joy and surprise was the Baby-Mama-Santa Claus, we were looking forward to meeting our old friends from the community centre. After all, here together, we all were: friends. Our children are almost the same age, Mia-Nóri-Bítia are two, none of them had any trouble making friends, and Liara, at one year old, quickly joined her older friends. And my little daughter Melinda, two months old, looked peaceful in my mentor's arms. And we chatted! It was an excellent relaxation. Thanks to the group members, the organisers, the Foundation and I hope we can meet again!
Mrs. Márkné Mészáros /Nikolett Csepeli/