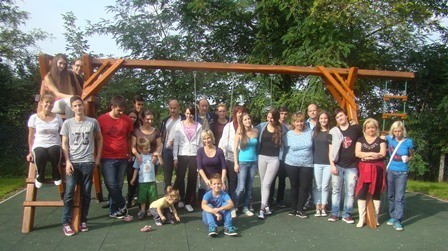 Family, autumn, sunshine
Such a great day to be together! There are ruins of an ancient abbey in the near of Kaposvár which was founded by order of Saint Benedict in 1061.
So our Family Day took place at the weekend (20. September). Pretty good location and excellent company. What do we need more … nothing really. We felt well and cooked together. Thanks for every participant! We are great friends knowing each other through our children. They were 10 years old when joyend the Walk of Life Programme.
We all have wonderful memories of the past years. Also we parents became friends thank to the mentor called Sasa, who worked hard to form us to be a team! The farewell at this Saturday was emotional, because we realized this was the last time being together is such way. This summer is about the final exam for our kids and their university years will start. We truly hope to be able to organise such weekends when they were all around Hungary studying.
Tell my message to every member of Csányi Foundation: Appreciate your time spent in the caring and loving environment of the Foundation!!!
Gelencsér Piroska, parent