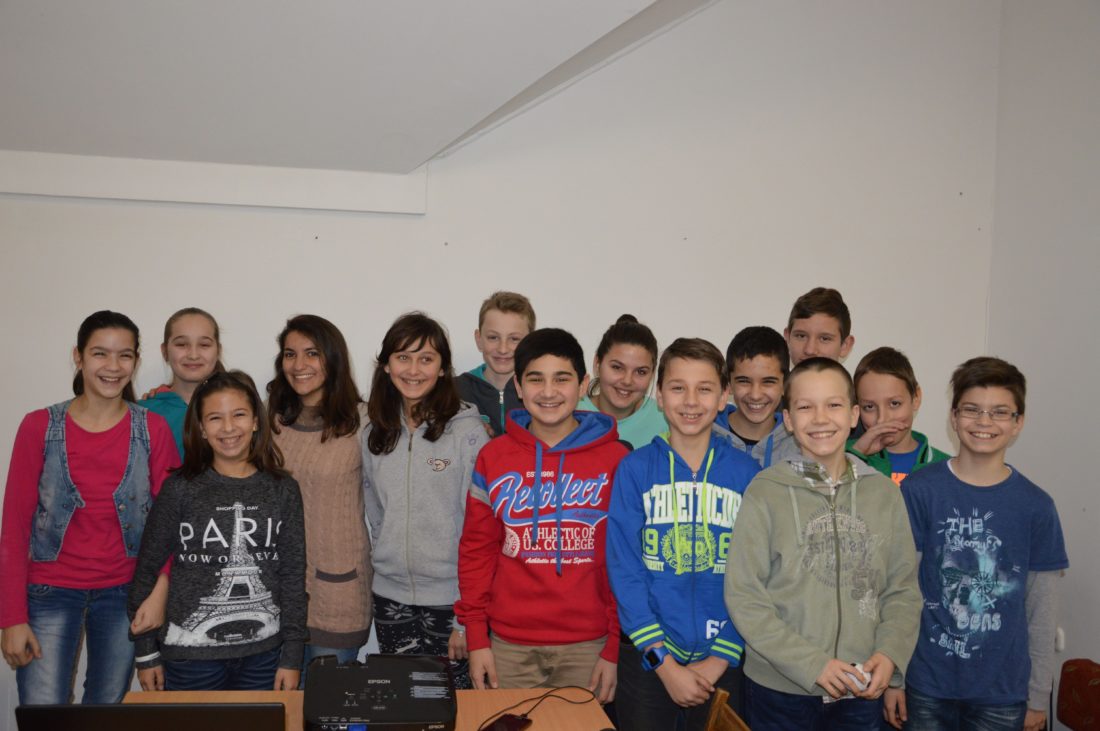 Bianca's farewell from Mohács
What can I say about my last day?? Is difficult to express it in words. But I know I have many good feelings!
Today (23rd January I held my farewell presentation and when I was speaking to them I couldn't keep my emotion … they are so special and I have only good thoughts about them. Its was a great day, I joined their Drama classes and we played some games together, I had a lot of fun, smiles 🙂 and they surprised me writing on the blackboard their names inside of hearts! Now I feel like I left a little part of me in Mohács. But I feel that my mission was accomplished! Because they gave me feedbacks and it maked me so glad. Some of the kids gave me gifts (Terez made me candies, Hanna gave me a beautiful card, Kata made me a key ring, Dani gave me a small ball…)   and all of them drew some picture or messages for me. So gorgeous! Some of them wrote in Portuguese! I'm already missing everyone in Mohács, but my heart is full of beautiful memories 🙂 I'm excited for returning to the Busó festival. But now, let's go to the my next stop: Pécs! Köszönöm for these two weeks, Mohács!
On January 22, as last week, I went to pick up Ester and Kata, because they have extra classes on Fridays. Kata and I were teaching each other hungarian and portuguese, we had a lot of fun, because we have different sounds and pronunciations!! And yesterday I had a easy day, I visited the City Hall with Erika and I met Áron, our tour guide spoke me about the history of Mohács. It was nice! 🙂 Tomorrow will be my last day in Mohács… The time flied! I'm sad because I'm already leaving and I'll miss the people and this calm and beautiful town. But I'm happy for staying these two weeks and I'm excited to my next stop: Pécs! 🙂
On January 20 I've been in Mohácsi Kisfaludy Károly Gimnázium and I held two presentations to the young students. And the students also held a presentation for me about Busó Festival. It's a great school, very big and different from brazilian schools as well! In Brazil we don't have that many pictures on the walls. It was a different experience because the "children" were older! But I liked them a lot. After leaving the school, I went to buy the food for the children and I helped with the sandwiches as usual! Eszter and Mark played their instruments to me, they are awesome, very talented!! 🙂 Sziasztok!
On January 19 I went with Erika to pick up the children at home in the other side of the Danub river, it was a beautiful view from the ferry. At the Foundation, I watched the presentation held by Edina, the English teacher and the children, about Mohács. I was very glad to notice that I already visited almost the whole city! I'm sure that I'll miss this place and this people. =) and I'm excited to come to Busó festival! Today I brought them a brazilian sweet made with guava, they liked it! And in the end of the day, as usual, I brought the children home with Gergő. I'm happy because even the children who don't learn english, now they are talking some sentences with me!
On January 18 I've been once again in Brodarics School, where some Csányi children learn, and I held two presentations 🙂 Now I'm almost a teacher!! Hahaha and the best of all is, that every class and every day is a different experience! Each class has a different way to react. For example, the first class was very nice and curious but they were more quiet, while in the second class they were very talkative and surprised!! They talked a lot and they loved Brazil – especially the brazilian beaches! A week has already passed since I have arrived to Mohács and I love the town and I'm so glad that I met many great people here 🙂
On January 17 it was a great Sunday, I had lunch at Erika's house! Such a tasty lunch!!! I met her family and we had a lot of fun! I also learned some Hungarian words 🙂 After this, Hanna, one of the Csányi children, came to meet us! I watched some videos of Hanna's dance competitions and wow, she's just amazing, a professional dancer!!! Very very talented! Hanna gave me a beautiful drawing, with some sentences in Hungarian and English translation (you should see the picture)! So cute!!! 🙂 Tomorrow I have two presentations in two different classes! 😀 Sziasztok!
On the 16th January I made two presentations to two different groups. It was great, they participated a lot! I showed them the brazilian currency – we have animals on our notes – and they were very interested about it!! I also brought them a brazilian candy called brigadeiro that I cooked for them!! 🙂 They loved it and asked me for the recipe! After the lessons, we went all together to have lunch in the hotel, as they use to do on Saturdays, I liked it! Niki suprised me with a gift, she gave me a drawing about the Busós, so cute! =) Each day that goes by, they become more and more talkative and smiling! I become even more glad of being part of this!
Today (15th January) I made my first presentation at the Brodarics School! Wow, it was better than I could imagine it!! I'm very happy and satisfied!! The children became very impressed and excited with the pictures (like saying: "I want to go to Brazil!"), some of them already heard some things about Brazil… They participated making questions and commentaries! After the class, some groups of girls asked me to take some pictures with them, it was cute because they were shy but even then they came into me 🙂 Furthermore I met with some teachers, with the school director and I visited the school, it was very nice! I just loved my first day as a "teacher"! 🙂 I'm looking forward the next days, because I will have a lot of presentations! And after the school, I came to the Foundation with Gergő and Kata and I taught them some portuguese words, which was very funny because they don't have some sounds we have in portuguese language (as I also don't have some of the hungarian sounds)!! So tomorrow I'll bring more good news!! Sziasztok!! 🙂
It was a calm work day on Thursday (14th January) the children don't have classes, so I haven't seen them 🙁 but I've been working on my presentation that I prepared for them!! After working at the Foundation, I went to a quick sightseeing on the Danube river and then to a sweet-shop! Tomorrow I will visit the local school – where some of the children of the Foundation learn – this will be my first time as a "teacher"! I hope they will enjoy it, I'm excited!!! Szia!! 😀
Today was a great day (13th January)! Once again I picked up the children at home, I helped Gergő with the buys and then I met the other group too! 🙂 I attended their German class. Our task was to make sentences and translate it from English into German and vice-versa! In the beginning it was a bit difficult, because most started only learning English, so some kids were very shy, but they did it very well!!! Even the shy ones, at the end of the day become very close to me! The children are very affective, clever and curious, they asked from me a lot of questions (I loved it)! Finishing the day we played "hide and seek" and we took some selfies!
Oh, today Gergő told me that Hannah's mother called Ms. Erika, the mentor saying that Hanna is so excited, having me here in Mohács, because she can speak a lot in English!! It was amazing, children give feedback all the time! I'm so happy for seeing their happiness =)
Today was such a beautiful sunny day (12th January). In the morning I've walked around the town – this charming small town called Mohács. I saw the Danube river and I visited the Busó museum, which was so nice! Then, I went to the Foundation, where I met the children!!! It was a very new and funny experience, because these  kids have only started learning the language and they don't speak English yet, just Hungarian and German, so we had to communicate with our eyes! They were smily and a little bit shy, but I could see the curiosity in them! I attended the English class with some of the children. It was amazing, we laughed a lot talking about the differences between our countries! 🙂 I loved my first day at the Foundation and I'm excited for tomorrow! Szia!!!
After a long journey I have arrived today to Hungary (11th January). From the airport I headed to the city centre where at a café we did the final touches going through the six weeks' programme of my internship before setting off to the Community House to Mohács. I had quite a pleasant journey, it made me excited to see some snow in the country side 🙂 We arrived late afternoon to Mohács, where Erika and Gergő, the two mentors were waiting for me. They showed me around in the community house then they accompanied me to my accommodation. It was a lovely day. I am looking forward meeting the kids tomorrow and start my project at the Csányi Foundation, as I mentioned in my introduction. Till tomorrow! Bianca, AIESEC volunteer from Brazil