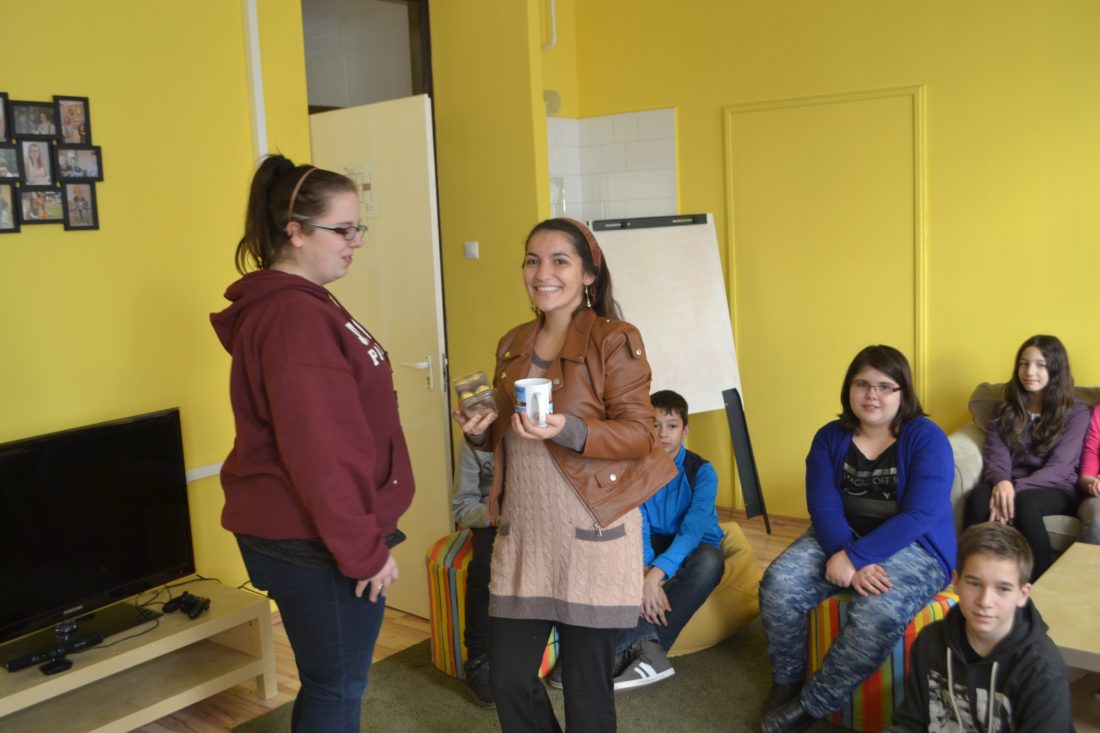 Pécs farewell
Today (February 5th) was my last day!
Goodbyes are always a bad moment, but I can say that I've had a good one 🙂 the children didn't have classes today, but they came to say goodbye and it was nice! We've had a good moment, we've taken pictures, eaten some sweets and we said thank you to each other and they gave me a gift: a mug with pictures from Pécs, and some chocolate Ferrero Rocher, which I love! 🙂 And then I've been walking around the city center with some of the children (they're so cute) and we went to the top of the remaining tower!! It was an amazing view, because the sun was seting. =) Tomorrow early I'm going to Mohács, to enjoy the Busó festival, and then I'll go to Szeged! Well, I'm already missing Pécs and I can say that I've had such a great time here and I've met great people. I really hope I can come back one day!!! Köszönöm, Pécs! 🙂
Today (February 4th) was my penultimate day in Pécs… It was a calm day! I've participated in the english lesson and we've been talking while we made the lesson. And I've started with the goodbyes. My journey in Hungary is nearing the end, but I'm happy because of all the moments I've lived here!!
Today (February 3rd) I had a funny afternoon! I was finishing to make the sweets and the children started arriving at the kitchen. So a lot of them tasted the brigadeiros and they really loved it! We talked a lot, they asked about the brigadeiro's recipe, and some of them helped with translating to those who don't learn English 🙂 We also took some pictures together! It was a great moment. Then I held my presentation to everybody who was at the Foundation! The classroom was crowded hehe. I was happy because it was a very interactive presentation, they were curious and they had a lot of reactions while I was talking (I loved it), they asked questions and put some comment 🙂 I was very satisfied!!
On February 2nd, in the morning, I held a presentation at the bilingual school, where István and Dániel learns, and it was great, they enjoyed it!! And after lunch, I walked around the city and bought the ingredients to cook the brazilian sweet again smile 🙂 and in the afternoon, I joined the english lesson of Pécs 2 group and I showed them my presentation and we also taked a lot! They tried the brazilian sweet and liked it smile emoticon Well, time is really flying and I'm glad to be here but sad because in three days I'm already leaving Pécs and going to my "last stop", Szeged!!
On February 1st in the morning, I went to the Nagy Lajos Gimnázium, where some members of the Foundation (Krisztián, Balázs and Ákos) learn, and there I held three presentations: one in English, as usual, and the other two in Spanish!!! It was a nice experience, because I didn't expect it, but I loved it! I was happy because the students could understand me 🙂 Sometimes I've translated some sentences into English, and sometimes I was mixing both languages hahaha which was funny for me and for them as well. They enjoyed the presentation and asked several questions 🙂 In the afternoon, I met Gábor and we visited the Faculty of Economics – University of Pécs, where he learns. It is a big and beautiful place, very well located: there are places to chill and also to celebrate some festivals there!! And then, we went to the University Library of Pécs and Centre for Learning. Wow, it is a huge, modern and amazing library! I loved that place. There were several floors with specific themes of books, lots of places to concentrate and learn and on the top floor there is a lovely space for kids and also a "place to chill out" here you can listen to CD's, read biographies of your favorite musicians and you can even play the piano (you have headphones, so only you can hear it)!!! Fantastic! It was a great day. What an amazing university how luicky students are to study here in such an environment!
What an amazing day! Today (January 30th) I went to ice skating for my first time in life! I mean, I've never even roller skated, so I didn't have any experience with this. I was happy but really scared! Melinda and Gábor (my age group) and Anna, Zsani and Kata (the younger girls) were with me! They were really kind, patients and nice in teaching and helping me 🙂 It was amazing because I could talk a lot with the girls and as I already said, their English is great!! And of course, I couldn't forget to mention about my falls!! But it was worth! 😀
Today (January 29) was a great day! In the morning I met with Melinda and we went to the botanical garden of her University! It was awesome! Because I really love botanic and trees! So I could see some similar species that we have in Brazil and I also saw some animals, like birds and squirrels and I love it smile hangulatjel After this we had lunch together, so it was great! And then I met with Dániel and István and we went to the Vasarely Museum, where there are abstract arts, I love it, so it was amazing. And after there we just walked by some places like the Basiliska and the remaining part of the old castle. We talked a lot and I had a lot of fun. Tomorrow I'm going to ice skating for my first time, I'm excited!!
On 28th January, in the morning, I held a presentation in a secondary school, where Dorothy, one of the members learns. That was good because I could meet her at school before at the Foundation, and she is so nice 🙂 In the english class we had a small technical problem, but anyways it was good! They enjoyed it. They were interested and made me questions! 🙂 And in the afternoon, I met Judit, what made me happy, and I participated, as an examiner, on the students' english exam. It was a really new and great experience for me! It was the first time that I've been "on the other side of the desk". And I put myself in their places and I could just feel how they felt! (I was imagining if it was me instead of them, I'm sure that I'd be nervous also, so I completely understand them)! But tough some of them were a bit nervous, they were really good and could handle the situation very well! So I believe that they will get good marks in April exam. 🙂 I'm glad because I met more students today and tomorrow I'll have some nice programs with them.
Today (January 27) was a nice day!! In the morning I went with the 3 mentors (for me, they look like the Powerpuff Girls =) hehe they are awesome!) to the supermarket and in the afternoon I had lunch, walked around the city and then I met the children of P3 group and I joined their english class. We talked a lot about many subjects, like hobbies, foods, schools, languages etc… Wow, I was impressed because they are thirteen and they have a very good english!! I was so glad to see that they can communicate so well 🙂 Tomorrow I'll have a presentation in a secondary school! Sziasztok!
Today (26th January) I went with the three mentors to buy my bus tickets (I'm excited to walk around this gorgeous city!! :D), then we had lunch and we bought some food for me.In the afternoon, I met some of the students from the Pécs 2. group! I joined their English class, they had some lessons (because they are preparing themselves for the English exam), and we talked about some differences between Brazil and Hungary. They were a little bit shy, as usual in the beginning hehe, but they are nice and their English is pretty good! 🙂 I'm looking forward to meeting the other students (not children anymore :D)!
See you tomorrow!
Bianca who is n AIESEC volunteer arrived today 25th January to Pécs from Brazil. She was shown around the community house and met the mentors and took her room. She is really friendly and looking forward to working with the kids in the coming week. She's joining the classes from tomorrow.  We hope she's going to have a great time.
On January 25 I arrived in Pécs! I loved the Community House, is such a beautiful and cozy place! And my bedroom as well!! smile hangulatjel I met Edina, Luca, Andi the mentors, and Melinda, she's one of the members of the Foundation! They are very nice! They showed me the house and the programme. I'm sure that it's gonna be a different and great experience, because there are three groups here, with varied ages, and some of the students are my age! So, I'm looking forward to meet the students and the teachers and to participate in the classes and activities!
Bianca Frota Torres, AIESEC volunteer from Brazil