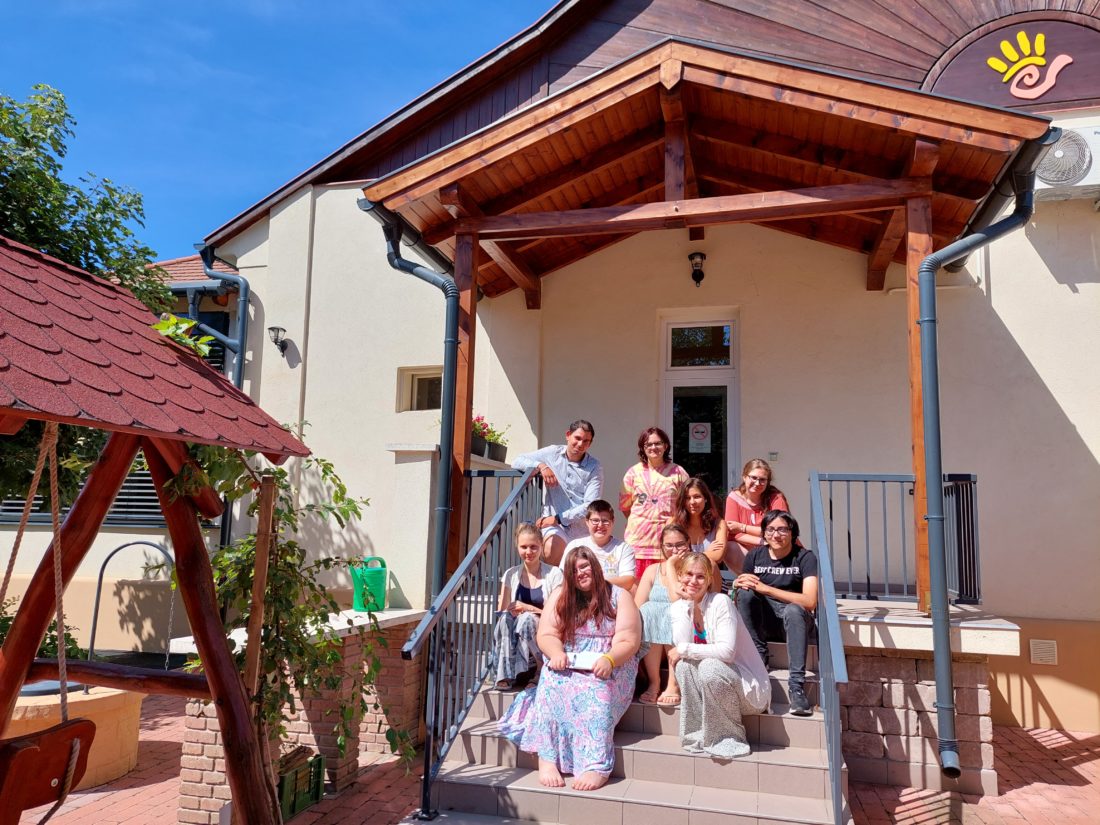 Silence and light in Szentes
This week, the community centre in Szentes will be silent, where the Csányi Foundation's creative writing section will be forming. The theme of the week is silence and light, and the lack of them – creators of all genres will share their thoughts and works with each other.
After the opening of the camp yesterday, the creative work began today, and the fruits of this work will soon be on display here.
"Writing builds walls and opens doors at the same time. Walls are there to block the destructive cruelty of reality, and gates are there to open the way to a parallel world – where reality is not what it is, but what it should be." /Guillaume Musso/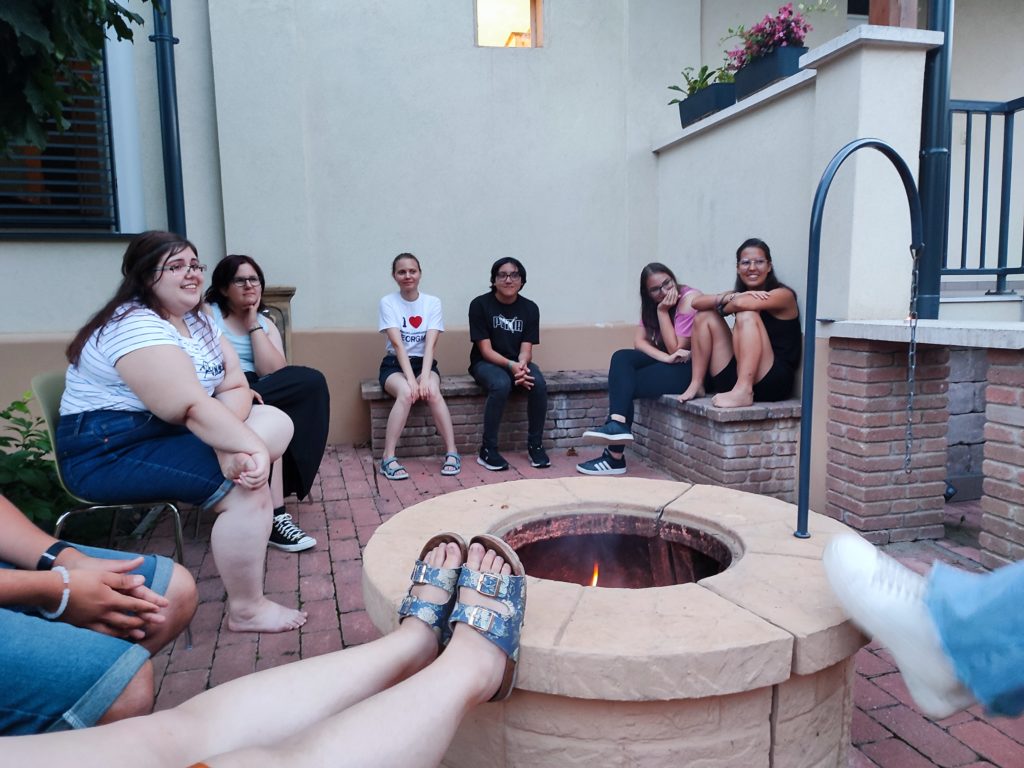 Day 2, 08.01.
Our camp was entering its second day, but still a bit like the first. The first wake up together, yoga, pre-creation meditation and for some of us the first cake making together, which was delicious.
The creation itself was just beginning. Throughout the morning we explored light, which can be a surprisingly diverse subject. What does light mean to whom? Who is triggered by sunset or sunrise? What does the dull grey light of morning mean to me if the sun is not yet strong enough to colour the sky? Come sunset with its strong, eye-catching colours!
After a pleasant lunch and even an ice cream, we headed for the sounds. Taking advantage of the acoustics of the basement of the community centre in Szentes, we were able to give ourselves over to the feelings evoked by the music and be inspired by them.
The late afternoon was dedicated to crafts. Painting, henna. Later, the traditional board game Taboo was played, and we were happy to be back.
-Tímea Magyar, Kaposvár Group 1
Day 3, 08.02
We had a great time again today. The main events of our day were writing and the Barbie movie. The writing exercises were super. Some of us got inspired, some of us didn't, but that was okay because everyone had a great time during the exercises. Then came the Barbie movie, which some of us enjoyed, a few of us came up with strong critiques for our little roundtable discussion. We ended the evening with a little homemade dinner. Everyone went to bed well-fed. -Fanni Török, Szeged Group 3
Plastic?
Men feel attacked by feminism and women feel oppressed in a male-dominated world. Men objectify women, women look down on men and label them as simple. For thousands of years, a chasm has been widening between the two sexes, who should be working together. They do not respect each other. Now, I am talking about the real world, not the Barbie film that I watched today with my fellow writers and poets. Although that is essentially what the film itself is about, just wrapped in plastic. Barbie is both appealing and childishly ridiculous.
Barbie dolls have fun when they are perfect, they can wiggle, men crawl at their feet and they can control everything in pink pongees. On the pink streets of Barbieland, Ken dolls are props created as unconscious men whose job it is to complement the Barbies and try to seduce them. In a perfectly fake world, all goes well until a stereotypical Barbie "goes bad". She doesn't walk on tiptoe, is uncomfortable in high heels, has cellulite on her thighs and thinks about things like death. Barbieland's women are horrified and send her to The Weird Barbie, who shows her a curved mirror of the real world. Her hair, clothes, make-up are not perfect, her speech is weird and she thinks.
Our protagonist, Barbie, finally makes her way to the real world, to Los Angeles, to set things right, as change is scary for a woman from a world in a shell. Ken, always out of sorts and feeling completely useless, also heads to America with the love of his dreams, where they meet a place that is completely faded, cruel and full of rules. Ken learns the concept of patriarchy and feels respected by everyone just because he is a man; and thus becomes entitled to everything. Meanwhile, Barbie has to painfully confront the fact that women here don't really hold leadership positions, don't dress in pink and worst of all, no one needs her.
Back in Barbieland, Barbie, her owner and her daughter are confronted with the fact that Ken has built a patriarchal system, turning women into silly girls who serve men, which they had no problem with. Barbie is devastated because she has had everything yet she never gave; now she is on the other end of the table. Two people from the outside world, Strange Barbie, Stereotypical Barbie and a few other misguided Barbie prototypes, are slowly overthrowing the despotic rule of the Kens and re-establishing the old all-female control. Somehow it never occurred to anyone that there might be mixed leadership.
The biggest flaw of the film, apart from the shoddy execution, is that it presents two brutal extremes and offers little middle ground. Since two do not exist on Earth, no one would want to live as subordinate to the other. Everyone wants mutual respect and acceptance. No one has any more right to dominate the other. At the end of the film, the otherwise frivolous imagery almost manages to evoke emotion. Barbie, who has no training or any outstanding role or knowledge, can be anyone and finally gets real emotions and memories of a very flesh and blood world. The whole film was trying too hard, but it couldn't take it. The extremes make it difficult to convey the real message to the audience. That women do so much for the world and yet often get the short end of the stick. That you don't need perfect looks and a fake smile to be a good person, a loving mother, a loyal partner or a devoted friend. That we can be beautiful and valuable without pretty clothes and make-up. There are some great ideas in it, but overall it didn't give me the catharsis I was expecting, which I think outstanding works should have. – Jázmin Pretz, Kaposvár Group 2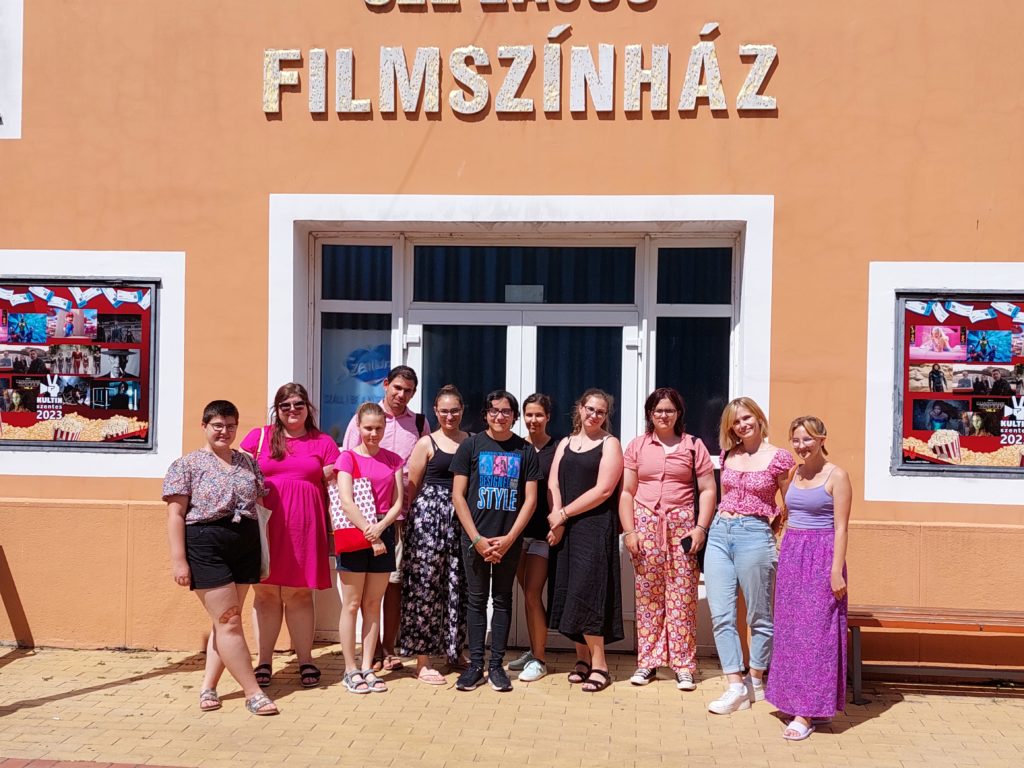 Day 4, 08.03.
We started our fourth morning with a collective, soul-stirring conversation. Then, after a quick breakfast, one of our partners extraordinarily hosted the morning session. She introduced us to portrait interviewing in the media world. Then came the most exciting and passionate part: filming, writing and clarifying our own interview. In the afternoon, there was no other plan than to get out of our creative cave and visit Szarvas. In this charming town on the banks of the Holt-Körös, we were able to visit an exhibition by one of our famous painters. We were able to admire the many masterpieces of Mihály Munkácsy's life and work. Before leaving the building, many of us donned period hats and took funny photos. Our last scheduled activity of the day was Mini Hungary. It was interesting to see the Hungarian sights reduced to miniature. But we enjoyed the most when they played sound effects and music at the push of a button and we got to start the miniature trains. -Martina Vincze, Nagybajom Group 1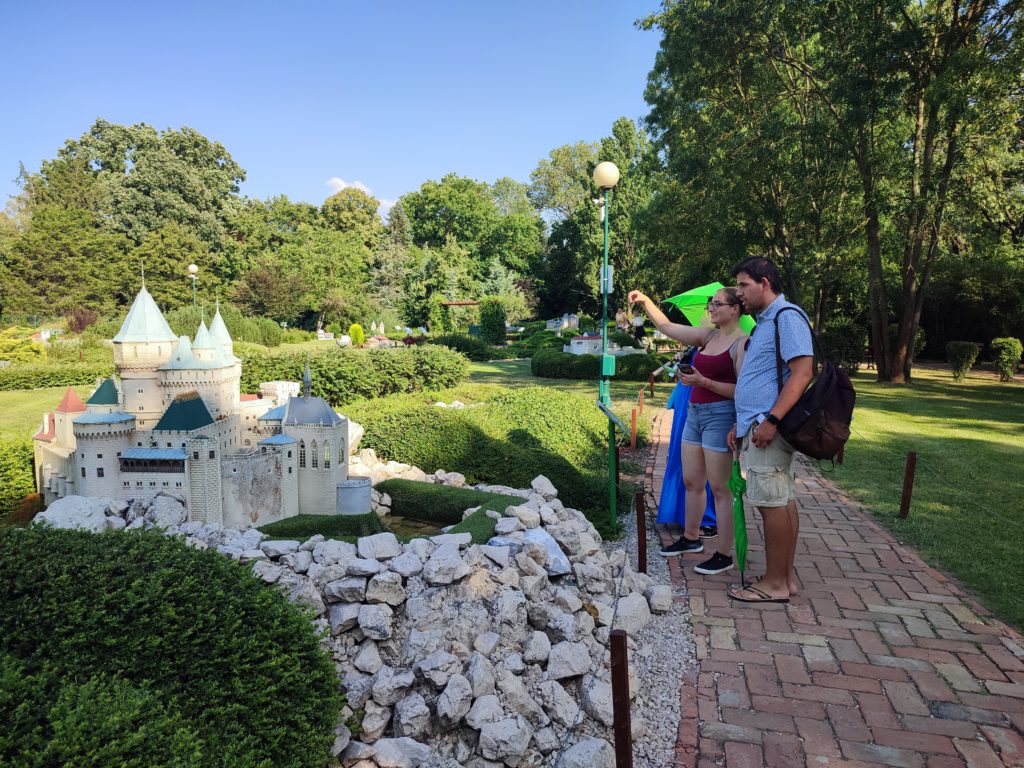 Day 5, 08.04.
Today we got a taste of the hard work of journalists and reporters. We interviewed each other from start to finish. I can honestly say that after this experience, even if we didn't feel like it, we will appreciate their work even more, due to the fact that it is far from easy. Throughout the afternoon, everyone picked up their pens and brushes again and the creative flow continued. As the sun went down, so did the skewers and all the good stuff: courgettes, sausages, chicken, cheese and later biscuits and marshmallows filled the artists' stomachs. And as night fell, the tears began to fall at the anticipated closing night. But that's no surprise to anyone; we're all different, we all have different specialities, but we're all equally good at this one thing. And that is crying.-Albert Laura, Pécs Group 1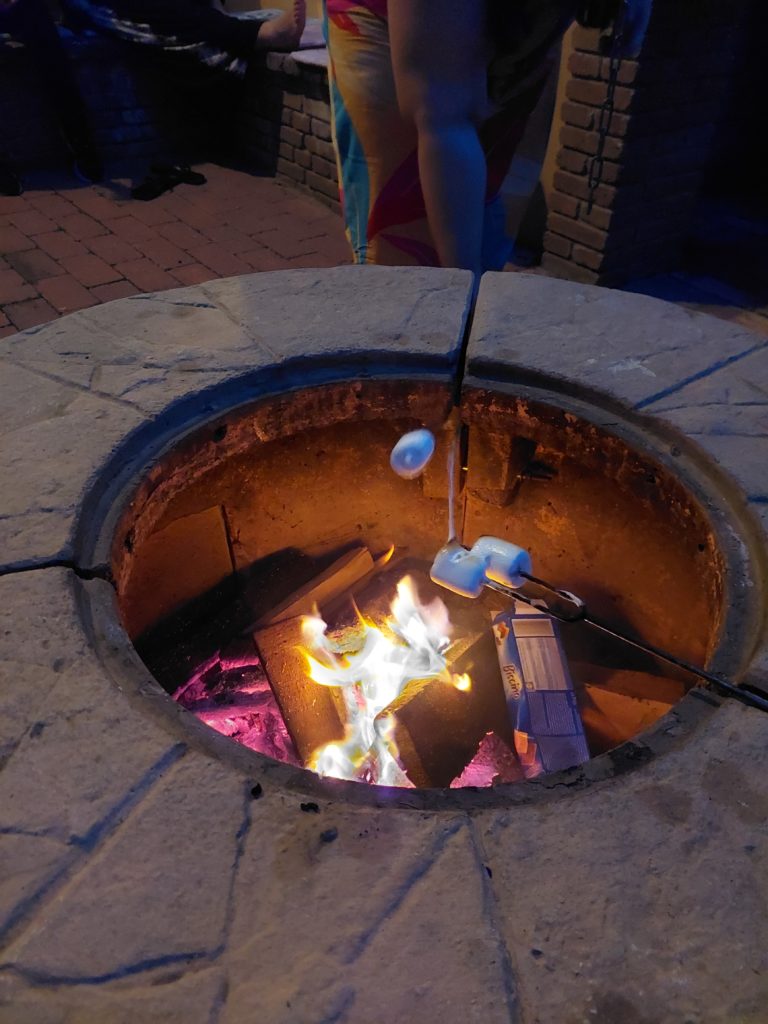 Day 6, 08.05.
Like every morning, today we started with morning yoga to sit fresh and refreshed for the guided meditation practice. Bibi's meditation exercises always fill me up spiritually and I feel like I can't imagine the camp in Szentes without it, as well as without the visit to the castle, because today we visited the Wenckheim castle in Szabadkígyós. I have wanted to visit the neo-renaissance eclectic style castle for years, and I was very happy to learn that this is now becoming a reality. Designed by Miklós Ybl, the simplicity and charm of the 4-part building complex enchanted us all. Of course, it took a great tour guide to show us around part of the castle. I loved the library, with books in German, Italian and all kinds of languages. I felt like I just wanted to take them out and read and learn from them. In addition to the library, I was fascinated by the family bathroom because it was so modern for the time, and it wasn't the only evidence that the family was not only educated, but really modern. They had their own aeroplane, an English toilet, and electricity in addition to a collection of French novels. We saw some simply incredible objects, tools and clothes that I cannot describe beautifully enough, so I will move on to our next programme. We visited Gyula, the 100-year-old patisserie, which was really like stepping back in time a hundred years. We were able to have tea and cake with the group. But in the late afternoon we had to come back to the present and returned to the community centre, tired but with unforgettable experiences, where we thanked Márti, our camp leader, for all the work she had put into this camp. Thank you! -Gyula Pege, Jászság Group 3