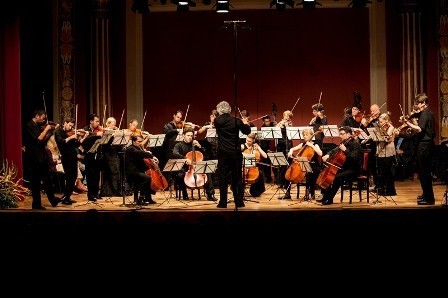 4th International Chamber Music Festival
Kaposvár, my hometown has turned into Europe's musical stronghold for the fourth time.
The manager, organiser, soul, engine of the festival is Katalin Kokas, it is her brainchild. She grew up and started her international music career in Kaposvár. She brought the International Chamber Music Festival to life together with her husband, Barna Kelemen. and they have organised the celebration of music with undiminished enthusiasm at the end of every summer.
There are more and more participants at this noted classical musical event every year. To listen to the work of the giants of music performed by excellent musicians is a great experience for the great music fan that I am. The number of performers is increasing from year to year. This year there is a performer who travelled here all the way from Argentina to show authentic tango to the audience, there is somebody from Germany and somebody from China to fascinate the sharp-eared music loving audience with their virtuoso violin playing.
Besides classical music, there were late night concerts where you could listen to jazz and blues. I visited the festival with my mother, this has become a family tradition for the two of us. This year we chose to listen to Bach's Brandenburg Concerto, the Argentinian tango, Shostakovich's piano concerto and Brahms' Hungarian Dances. We could not skip Bartók's music of course, the Romanian folk dances. I enjoyed an exerpt of one of Rossini's opera and I also learned that the Italian meistro did not only excel in composing music, but he also wrote a cookery book. Though I will still stick to his music sheets. My favourite moment of the festival was when Knut Erik Sundguist Norwegian star started to sing an Elvis Presley song and played the guitar solo on an electric violin, it was phenomenal!
Áron Debreceni of group 2 of Kaposvár