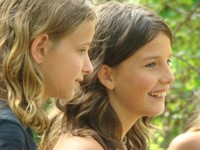 Égigérő Festival
Égigérő Festival and Art Course was organised in Sovata.
This was the first time in Transylvania, in Sovata that the Égigérő Festival and Art Course, supported by Lyoness, was organised here, attending by the children from Saint Francis Children's Home, the students from the neighbourhood and students loving art, from the Csányi Foundation. The main goal of this festival was that the children could prove their talents in 10 different branches of art and that they could learn from real professionals. Children could choose from different courses: children's theatre, pantomim, choir, different fine arts, carving, graphics, glass painting, salt sculpture, movie making and media-communication.
The leaders of these courses were famous artists, art teachers, teachers and professionals. At the end of the Festival, children represented their work. Famous productions were also there: Hobo and the performance of the Beregszász Theatre, Griff puppet theatre from Zalaegerszeg and the Square Theatre from Budapest. Csaba Böjte was responsible for the mass and the performances of the children ended its art camp.
We hope that László Sólyom, Csaba Böjte and the support of Lyoness makes it clear that it is not just a single occasion.
Thank you for everyone that let us take part in this wonderful occassion.