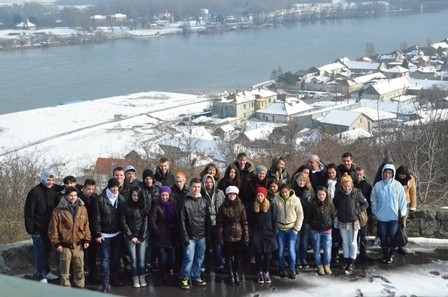 One meaningful week in Vojvodina
We took to 'explore' three countries on 25 March with the groups of Kaposvár and Jászberény. The members of the groups have known each other very well for a long time as they spend their umpteenth camp together which was proved by the good spirit during the tour.
During the first days we learned about the significant places in Serbia inhabited by Hungarians. We went to Nándorfehérvár, Újvidék, Székelykeve and many other beautiful places. It was an experience, and not only for the students, to see the ruins of the house of János Hunyadi and the area where one of the most important battles of Hungarian history was fought and won: Nándorfehérvár. We saluted gracefully for the memory of the Hungarian heroes.  The Serbian locked tiny village, Székelykeve, got very close to our hearts as well. Not only the days spent there but the local people's Hungarian national feeling, kindness and their affection for us impressed all of us. During our travel river Danube was with us in Serbia. In the second half of our journey we had a taste of the history of Croatia. It was shocking to see the signs of the Yugoslav wars even today. We visited the sights of a friendly little town Eszék where we could expand our historical knowledge as well. Also the natural beauty impressed us. The Kopácsi-rét in the territory of Drávaszög, which is a 23.230 hectare natural conservation area, is neighbouring with Hungarian Duna-Dráva National Park. This is the area where river Dráva flows into river Danube. During floods huge areas get under water which is an important living habitat and breeding place for different species of fish and birds. At the end of our journey we visited the town of Lendva in Slovenia which is the central town of Hungarians in Slovenia. We were tired but full of experiences and knowledge when we got back to Hungary. With this trip we realised the third project of our historical journey in the Hungarian inhabited areas in the neighbouring countries.
Many thanks for the volunteers for their work during the trip, Zsuzsanna Szabó for the great talks and new information, Barnabás Szövényi for his photos which can be seen in the gallery.