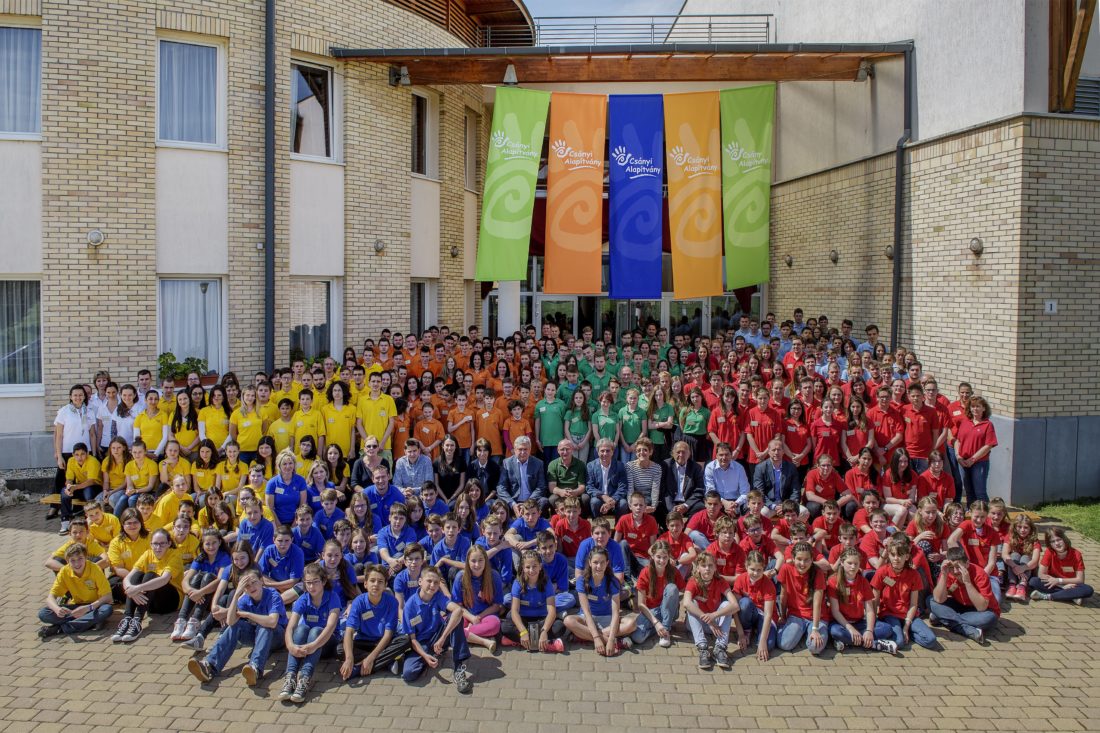 11. Summer Fête
The third day – 17th April
9:30 We are welcoming our first guests with a small gift to remember on this particular day. Our children made them with great care. The first step of the day is the press conference.
10:30 Dr. Csányi Sándor, the Founder welcomed us and evaluated the past 11 years encouraging us to continue studying hard and making an effort to reach for our goals. Following that the juniors from the groups went on stage to perform plays, poems and song. Furthermore showing their field of interest for the sponsors, supporters, invited guests and the press.
It is a tradition that every year the best among bests get an award for having an outstanding academic performance in the given school year 2016. The Founder, Csányi Sándor gave the students the awardr, which was a great honor.
Among the delegated students: Grade 5-6.: Karácsony Áron – K2, Lassu Levente – K1, Albert Laura – P3, Peredi Olivér – J2, Mezei Adél – M2, Szép Hanna – M1.
Grade 7-8: Balla Ábel – K3, Majoros Ivett – P3, Gelencsér Márton – N3, Berta Gábor – SZ3.
Grade 9-10. Évfolyam: Kátai Alíz – Sz1, Koza Attila – Sz2, Turuczki Szabolcs – Sz2.
Grade 11-12. Évfolyam: Gaál Dorottya – P2, Szölösi Attila – J2, Sós Bence – J3, Bencze Balázs – Nb1, Kovács Bonita – Nb2
University age: György-Dávid Valentin – K3, Palkó Richárd – K2, Cserna Vivien – J1, Lévay Melitta – J1
The Advisory Board decided via secret ballot the following students:
Grade 5-6: Lassu Levente
Grade 7-8: Gelencsér Márton
Grade 9-10: Turuczi Szabolcs
Grade 11-12: Bencze Balázs
University age student: György–Dávid Valentin
12:00 At the end of the gala we could enjoy a fantastic performance by the Csányi Band. Thanks for this awesome opportunity. We could listen to Foxy Lady and Gimme Shelter's music. We could also hear Kalla Andi's song called You Know Me from the new Csányi Band CD. The solo-guitarist and songwriter of Csányi Band made an announcment that he admitted to The Institute of Contemporary Music Performance in London.
13:00 We eagerly waited for the Football match. This year we had the great pleasure to play against the surprise team: the actors of Csíky Gergely Theatre and Dr. Neszményi Zsolt, goverment representative. It was a very exciting and tough match were the Foundation's team won for 6-3.
14:00 Afterward The bests could take over their awards for great performance during the football match:
Best footballer: Kormos Dénes, Group 3 of Szeged
Best goalkeeper: Feil Gergő, Group 1 of Szeged
Best scoorer: Jávorka Patrik, Group 2 of Pécs,  Varga Levente, Group 1 of Jászberény
Best player among women: Töröcsik Fanni Group 1 of Jászberény, Terestyényi Anna G 3 of Kaposvár
Best player among men: Tóth Máté, Group 2 of Jászberény
14:30 We were happy welcoming our guests, thank you very much for coming and sharing our happiness on this special day. We really appreciate the visit and the participation and hope that the day convinced them about the importance and efficiency of the Foundation's Educational Programme. We keep on working and continue our mission supporting gifted, socially disadvantaged children through each milestone of their lives, assisting them to overcome socio-economic obstacles and to develop their innate talents.
The second day – 16th April
7:00 We woke up very early, but this day, different teams will challenge themselfes like every year. We are eagerly await the challanges. Every team hope that they will win. But first and foremost we having a breakfast.
9:00 The weather is beautiful, sun is shining, do we need more? We made teams and chose leaders and figured out our teams' name. Creative activities are waiting for us. The animators make great fun and the tasks seem to be challenging, no wonder that we can hardly wait for getting started.
12:30 The time has come to announce the winner team of this year. All of us are very excited.
We are pleased to announce the winners is the "Fekete Párducok" Congratulations to all of its members.
15:00 The final round of the Foundation's Cup Football tournament is on the round. The elder ones and the younger ones are also competing like last year. It was great fun playing together and the weather was just wonderful. Results of youngsters' championship: 1st place: Claret  2nd place: Blue  3rd place: Dark blue Elders' championship: 1st place: Red  2nd place: Yellow 3rd place: Dark Green Congratulations to the winners!
The member list of the Foundation's team is announced: Horváth Balázs, Hajdu László, Feil Gergő, Sipos Attila, Tóth Máté, Galambos Krisztián, Terestyényi Anna, Varga Levente, Pécsi Roland, Hortobágyi Bence, Simon Mátyás, Balog Dániel, Szappanos Ádám, Vig Bence, Jávorka Patrik, Rostás István, Tajti Márk, Vugetnicsek Zsolt.
17:00 This year, the Children' Parliament recommendation was to create a team, named "Öregfiúk" that contains students who study in higher education or have a job to challenge the Foundation's football team. Result is 2-1 for the Foundation's team. Members of Öregfiúk are the following: Szabó Gábor – P1, Kisiván Milán – K2, Horváth Péter – K1, Panka Peti – P1, Takács Szilveszter – Ex K3, Bodonyi Beni – P1, Major Márk – J1, Buda Máté – J1, Horváth Peti – K3, Bozsoki Balázs – K3
18:00 On the "Make the world colorful" song contest it was hard for the jury to make a decision. Every single production was pretty nice.
The winners are the following:
3. place: Group 1 and 2 of Mohács
2. place: Group 2 of Kaposvár – Black of White
1. place: Group 1 of Szeged – The hard side of love (A szerelem nehézségei)
Special awards to:
Film award: Group 2 of Szeged
Group 1 of Szeged – Love of my love
Sík Maja
The jury has made a decision on the fate of members of Csányi band; who didn't get into shouldn't be worried, there will be a newer casting for band Kamara conducted by Adriána Kalanfszky who is study at Hochuschuke für Musik und Theatre "Felix Mendelssohn Bartholdy" in Lipcse.
Vocals of band Csányi: Anna Simonics, Dóra Gregor, Zsanett Veréb, Hanna Szép
More members: Péter Gyurka – cello and Áron Karácsony – drum
Congratulations!
The first day – 15th of April
15:00 The day has come, everybody is together – The buses have arrived with all of the groups from the Csányi Foundation. The celebrating will be starting soon. This is our 11th Summer Fête which organised in Kaposvár this year.
16:00 Photo exhibition: We are very glad to present our photography work from the occasion of Summer Fête in the hall. We hope that you can feel happiness through the photos like when we took these incredible ones.
17:00-20:00 The rehearsals have started for the Song Singing Competition by Children Parliament. We are so excited, we wish to give the best performances ever on this special occasion.
20:30 The participates are waiting excitedly to show their productions on the stage. The jury will decide who will be becoming new members of the Csányi Band this year. Everybody is ready for the start. The members of jury: Csányi Erika, Szabó Gábor, Kalafszky Adriána and the Band's members: Debreceni Áron, Kalla Andi, Stecina Kata, Panka Peti, Bodonyi Benjámin, Móczó Martin