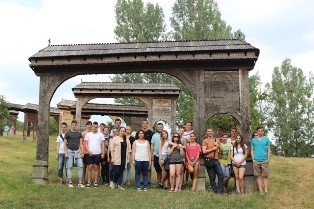 History camp in Transylvania
Today, 20th July, group 2 of Nagybajom and group 3 of Jászság have started their journey to the beautiful Transylvania.
Day 1 – We spent our first day with travelling. Our long journey's first station was the "King-pass", from where we could have a look at the spectecular view. In the evening we arrived in Kalotaszentkirály, where we could experience the friendliness of the Hungarians living in Transylvania.
Day 2 – After our delicious breakfast, we travelled on to the heart of Transylvania. Our first station was Kolozsvár, where we visited King Matthias's memorial, the Matthias Corvinus House, Saint Matthias Church and the Hajongard cemetery. We finished our day in Turda, at the salt mine. Then we arrived in Csíkrákos, where our next four nights were spent at guest families.
Day 3 – Today, we travelled to very nice places. We explored Székely Land's nature treasures and we learnt about local legends. In the first half of the day, we travelled to the Red Lake, where everyone was excited about rowing. After that, we tasted traditional foods at a restaurant, then we headed to Bicaz Gorge, which was extremely breathtaking. It was quite a busy day but at our guest families we could taste wonderful traditional foods, again.
Krisztián Galambos, Barnabás Bogdán
Day 4 – Today, we visited Csíkszereda, where we went on a sightseeing tour in town. Our local guide, Zsolt Moldován, was also a very good guide today. We have been to the Millenium Church, designed by Imre Makovecz and at the Mikó castle. Then we travelled to Csíksomlyó, where we visited the famous "Grace Church". In Csíksomlyó, there were also our mates from the Foundation with Judit Hollósi-Simon, who are leading an English-German camp for the students with poor background. It was really nice to meet our mates, who are doing something good and trying to give something back they got from the Csányi Foundation. We would like to thank Miklós Csató for the friendly welcome and for the tasty ice-cream. After the short visit, we continued our journey to the Thousand-Year-Old Border and to the Rákóczi castle. This was also a tiring but nice day.
Fruzsina Czuczu, Kitti Kispál
Day 5 – We started our day at Sovata, where we walked around Lake Bear, then we saw the old lines of villas. Today we have also explored the hidden treasures in Korond, where a huge folk market is placed. Here we visited the famour Józsa family, who are doing pottery for 300 years. Our next stop was in Farkaslaka, where we visited Áron Tamási's memorial. From here we travelled to Szejkefürdő, where we could admire the 14 Székely Gates and Balázs Orbán's memorial. We have also learnt a lot today and we could read loads of Székely wits.
Day 6 – On the last day of our camp, we visited Székelyderzs, where we could admire the Fortified Church of the UNESCO World Heritage. Inside the church, we could see the hundred years old murals about Saint Leslie and got to know other traditions. We headed to Segesvár, where we could take part in the middle-ages, due to the musicians and the showmen. It was such a nice experience! At the end of the day, people in Kalotaszentkirály welcomed us as old friends. Tomorrow we will have a long journey back home.
Day 7 – After the long journey, everyone got home to the Jászság, to Nagybajom and to Szeged. All of us could say that we had a wonderful camp full of knowledge and experiences. We would like to thank for it!