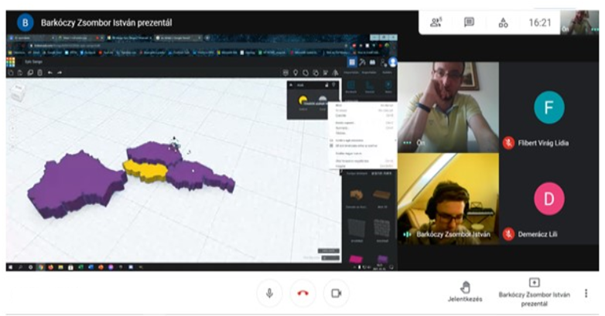 JOURNEY THROUGH EUROPE – 3D PROJECT
We have started our 3D project last year with great joy, but unfortunately we had to end the live meetings, because of the pandemic.
We have rearranged the project into online form, so in 2021 February our meeting have restarted through the internet every Wednesday in two lessons. The small designer team is made up from people in every group from the Pécs community house. It is rather a strong and self-confident team. I would like to emphasize Zsombor Barkóczy from Pécs 2 group, who is a real talent in 3D designing. The other members are all girls (Virág Flibert, Lili Demerácz, Antónia Polgár) from Pécs 1, 2 and 3 groups. This is a uniqe thing!
Our plans cover two areas: the first one is a map of Europe printed in 3D including Hungary's European connections. The other field is about mathematics and geometry, where we are designing and printing objects for educational purposes. We are proceeding well with all three occasions and I am hoping to continue with great work.
Péter Dlusztus, educator
"Despite the late start in February, we had fun during the lessons, which are fascinating and efficient. The meetings' most important element is the objective of the project: a real 3D printed map of Europe with the connection of Csányi foundation. Moreover we are dealing with mathematical and geometrical objects, which are necessary for education both in online and traditional forms."
Lili Demerácz, Pécs 2 group
"I have found this opportunity really interesting for the first time already. We continue the meetings online and the number of the people in this group is optimal. I am waiting for the new projecta what we can accomplish in the future."
Virág Flibert, Pécs 2 group
"I have preferred the 3D designing and printing last year so since then I am a hobby designer. That's why I was so joyful, when we could restart the 3D project at the Foundation. I attend to the same high school where uncle Péter is teaching, so we could have further conversations in this field."
Zsombor Barkóczy, Pécs 2 group