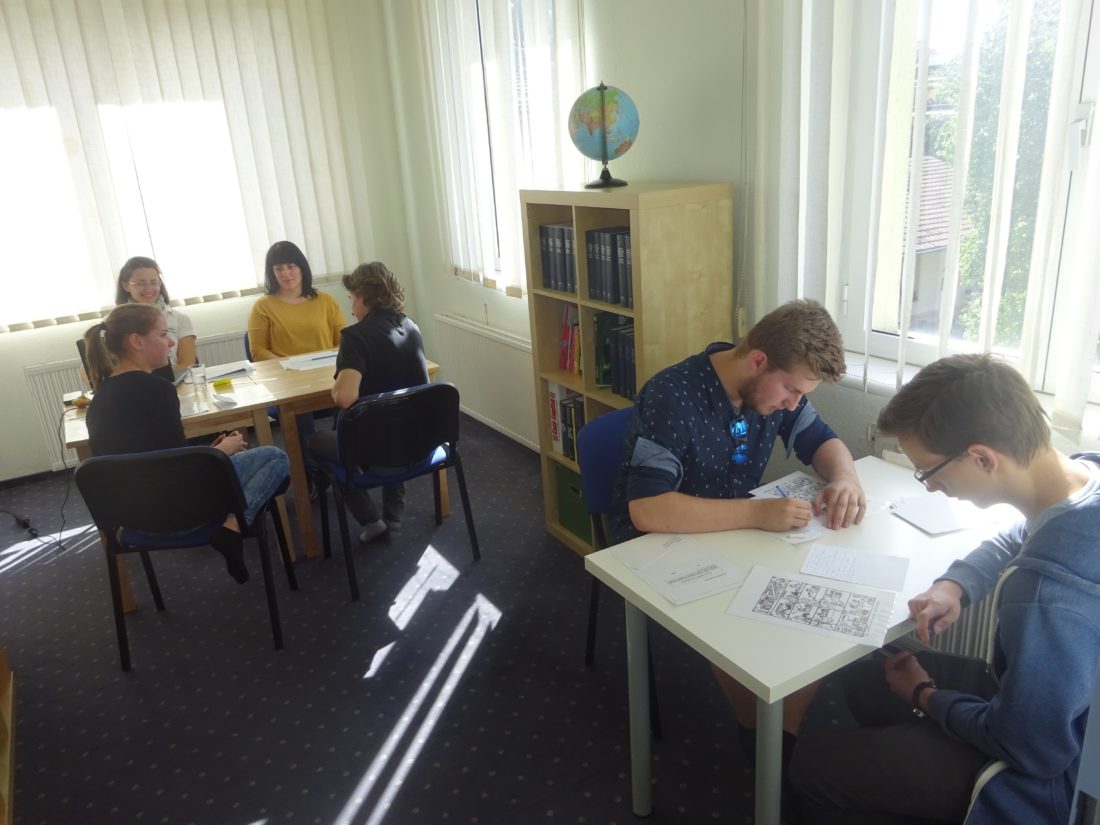 Oral exams
On 22nd April Szeged was the final stop of the end term language exams in the school year of 2015/16.
I participated as an examiner and was listening to students at level B1 and B2. As for me I was satisfied with them, they were well prepared and tried to make the most out of the exam situation. They have improved a lot comparing to the last school year. I was very proud of them. Hope to meet them at the next oral exam in January as it is a pleasure to see them proceeding towards to their goals. Thank you for all of you!
Baloghné Tóth Szilvia, volunteer – foreign language teacher
Pécs
Today (21th April) the English and German oral language exams took place in Pécs. We tried to do our best and prepare ourselves thoroughly as we wish to travel to England or to Germany this summer. We have been quite stressed and had a kind of "stage fright" but as experiencing the encouraging attitude of our teachers our fears have just vanished. We hope to achieve the best which gets us closer to our goal namely travelling abroad. See you England! 🙂 Bodgán Dóra, Szőllősi Andrea Pécs 2
On 21th April I participated on the end term English language exam (B2, C1 level) of the Foundation as an examiner. Earlier on I have also been invited as an examiner so I know exactly what to do. It was a pleasure to see how much the students' knowledge have improved. Every of our questions were answered by them they had a kind of routine which convinced us about their self confidence in using the foreign language. All of them hope to be among the best who have the chance to travel to England or Germany this summer. I have fingers crossed for them, good luck and hope to see you next year too.
Bozsoki Balázs
Pécs University final year
English exam in Kaposvár
On 20th April the oral language examination took place in the Community House in Kaposvár.
The athmosphere was great.  It was rather a conversation than exam that we need to afraid of. Besides of our English teacher, a volunteer guest from India, Aakhyati Sinha who also a student of Kaposvár University, took part of the exam as well. Sára Deák Group 3. Kaposvár
I was very nervous before the exam but as soos as I started to chat with the examiners. The indian volunteer girl was very kind. It was very easy for me because it was easy to talk about the picture and the situation was not too dificult. Leonárd Visontai Group 3. Kaposvár
I am not a nervous kind of people so I was quite calm. The examiners were nice and I found the whole exam pretty easy. I tried to do my best so I can travell to England in the summer. It was a great opportunity to practice. Boriska Párkányi Group 3. Kaposvár
"It was a really nice opportunity provided to me today (20th of April) at Csányi Foundation. Here I met the young and energetic souls of Kaposvar. The enthusiastic kids are doing a marvellous job at learning the ENGLISH language here, and it is so good to feel the positive energy of trying to make a difference at the Foundation, for a better future for these kids. Each of the participants happened to be unique and interesting. I hope to see these kids do wonders for world soon. Thank you!" Aakhyati Sinha, from India – guests from Kaposvár University
Nagybajom
This was the last challenge this year for the trip abroad. After school we headed straight to the Community House. There were several contestants on several levels both in English and German. Thanks to years of experience we weren't so frightened before the exam. Although the biggest event of the Foundation was held just a few days ago so we were a bit tired, everyone performed well. We are excited to find out who performed well enough to be one of the travellers. Bencze Balázs Nagybajom 1
As we saw it – COMPASS volunteer
Today, 19th April we (Compass volunteers) spent the afternoon in Nagybajom to help for Csányi Alapítvány in participating during the oral exams in English and German. The students were divided in two different language levels, B1 and B2. Every student had to complete two assignments, e.g. describing a picture or playing a situation. Afterwards we helped the teacher giving the points. I met three German students, who spoke basic and good German. It was a new and unique experience for me, sitting "on the other side" in front of the student and evaluating their results. Maike, Germany
I was in one of the English classes. The students had more or less a good B1 level of English. They started to introduce themselves, then they took one picture and one situation and we talked about these. It was a good training also for me and a good experience, the first for me like a "teacher" and an examiner. Francesca, Italy
First of all I'd like to mention that it's a great opportunity for the students to go for free for two weeks abroad to improve their language skills after winning the language competition of the Foundation. Furthermore this was my first impressions to give grades and to be on the other side of the desk. So it was a great opportunity for us too to see how hard the job of a teacher is and how much responsibility they have. Christoph, Germany
It was a new experience for me to take the challenge as teacher helping the examiners to evaluate their students' performance. I really enjoyed my task and I would like to say thank you for the opportunity. Arnold, Transylvania
Jászberény
The English oral exams took place on 18th of April in the Community House of Jászság. We had contestants on all levels, most of them from level B1, but we had kids taking an exam on B2 and C1 level too. We only bid farewell to each other a few hours ago, as yesterday the biggest event of the Foundation has finished in Kaposvár. It was lovely to see each other again. Most of us have been studying till the last moment, others told jokes to relieve stress. We wished good luck to each other. Unfortunately some people weren't as successful as expected, but there were some nice performances. This was the last obstacle before the travel to England. We look forward to announcing the travelling squad. Versényi Virág, Zsombók Lídia Jász 1