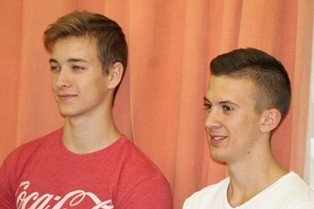 It is good to be a junior mentor
Thanks for the opportunity!
This year, we got the opportunity to take part in the financial and drama camp in Sarlóspuszta as a junior mentor. We were glad to help the younger ones and our mentors. We shared the tasks to do among each other. Andi and Dóri organised handcraft activities for the younger ones. Máté and I organised a football championship and we were also responsible for the morning-work out. For the younger ones, besided learning, sport is a very important factor and they become a huge group during these sport activities. During the week we could experience that the younger ones listen to us, to our advice and they also respect us. They also liked that we took part in several programmes, like archery, shooting and carriages. It was easy to get in touch with the younger ones because I was the junior mentor of this group last year, too. I hope I can meet these guys again.
Mátyás Darázs, Máté Tóth, Jászberény 2 (junior mentors)
I liked having the mentors from Kaposvár and Mohács around. The kids were very open-minded to the programmes and also to us. The groups liked the programmes organised by us and by their mentors. I hope I can be with them in Tokaj, next year. Thank you for letting me be here!
Andrea Szöllősi, Pécs 2 (junior mentor)
As last year, this camp was also really good for me. I had such a great time with my mates, with the kids and could get wonderful experiences. I think the kids also liked that we were there with them. We helped the mentors during the camp with the programmes  and we also offered programmes to the kids. I would like to come back to the kids again and again. Thank you for the opportunity.
Dóra Bogdán, Pécs 2 (junior mentor)