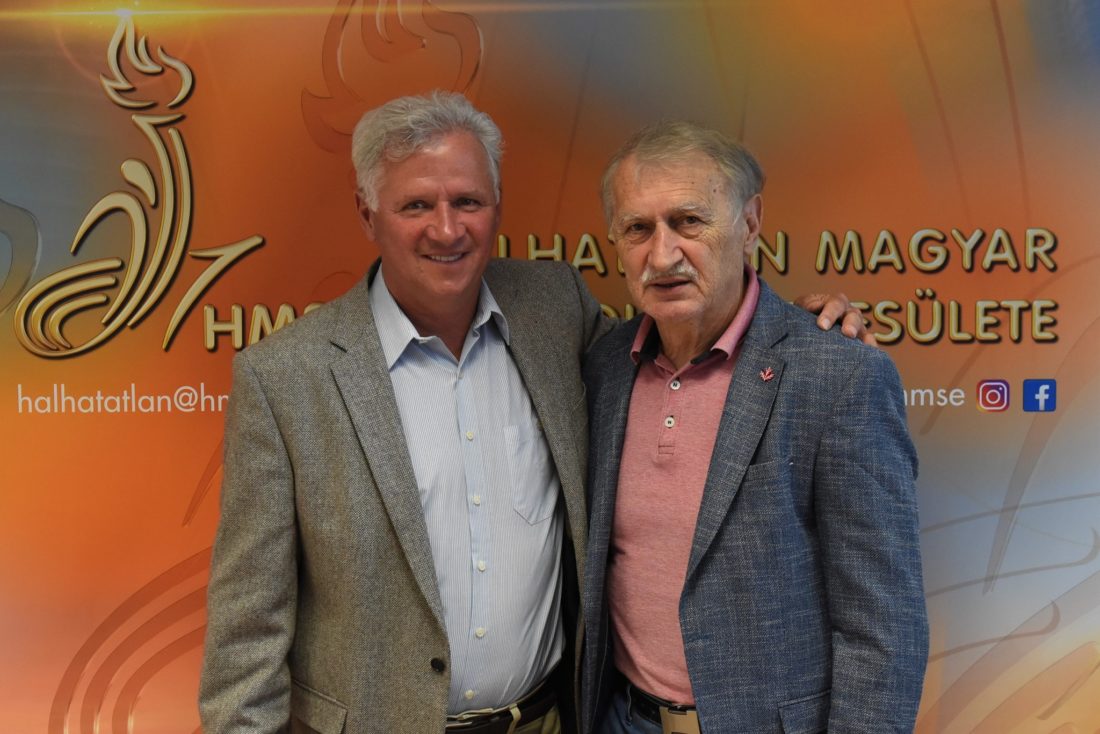 Our immortal heroes
On 28 May we had the great honour that the children of the Csányi Foundation interested in sports could meet in the online space with two members of the Hungarian Immortal Sportspeople Association, namely Dunai Antal footballer and Vaskuti István canoeist. Hungarian people, as a nation are really proud of them as they are Hungarian Olympic champions. It is worth to mention that both champions worked as coaches and sport leaders. Our students had lots of questions and they were enthusiastic to listen the colourful presentation of Dunai Antal and Vaskuti István. The listeners now know the daily routine of them, how many hours they devoted for training and they still do it today. Dunai Antal told the students that his role model from late footballers is Puskás Ferenc and from today's legends is Lionel Messi. He also mentioned his elder brother to whom he is thankful. Vaskuti István talked about how it feels to be an Olympic champion, he also brought his golden medal that he won in Moscow, but the most interesting the Fair Play award was, which he also showed us. They got it in Montreal when they lent their spare canoe to the Yugoslavian pair as theirs got hole on it. He highlighted that it is essential in canoeing to find the perfect match who you sit in the same canoe. It was mentioned which sportspeople can make advantage of the postponed 2020 Tokyo Olympics and who it would be negative consequences. We have learnt that both champions would choose the same path if they had to start again from the beginning. They encouraged our students to take up any sports that they like. Our Foundation has organised sports programmes and champions and from this year a new sport camp is added to our thematic camps, but we are also proud of our students who have international results just like Dollák Tamara wrestler, Fekete Lilla snowboard competitor an Tersetyényi Anna footballer and we also have a very successful chess team who are on the best way towards international success. The list is not complete as we have many other talented students with outstanding sport results.
We are thankful for the Association that they made it possible for us to promote sport among our students. We really do hope that in the future we will have the chance to meet other members of Hungarian Immortal Sportspeople Association.
Szabóné André Piroska, subject consultant
As we saw it:
'It was fantastic to hear the lifetime work of two talented sportsmen. The presentation was interesting, colourful and engaging. Our role models told us that in sports, just like in life stamina and strength is very important, working with others in a team and focus on the result pays off on the long run. It was uplifting when Vaskuti István showed us his Olympic golden medal, which he won in Moscow in 1980 and his Fair Play Award that they got for their empathy towards other competitors. Thank you for your answers to our questions. Although the meeting was online it still was once in a lifetime event for us. We hope that this programme will continue in real life soon.' Majoros Ivett Pécs 3. csoport, Pintér Vanessza Pécs 2. csoport, Majdik Márk Pécs 2, Dömölki András Pécs 2, Bálint Gergely Pécs 1, Dömölki Attila Pécs 3.
'What surprised me the most was that when Vaskuti István told us how much and how intensive training is required to achieve good results. Six days a week twelve trainings that took him to the first place in the Olympics.' Camacho Maria, Kaposvár
'For me it was a great honour to get advice and experiences from multiple Olympic champions. One of them is that we never have to give up and we always have to fight if we want to succeed.' Vajda Milán, Nagybajom 2.
'It was an experience in itself to meet such Olympic champions who are role models for our generation. I am going to use the advice I got from them in my sport career and in my personal life as well.' Pálfi Eszter, Nagybajom 2.
'Personally, I was happy to meet these Olympic champions as they provided us many examples and tips how to combat during our everyday lives, not just in sports, in order to be more successful. Szalai Boglárka, Nagybajom 2.
'The presentation was really useful because we got a slice from their sport career and their lives, which can be used as guidelines for our future.' Bozsoki Csilla, Nagybajom 2.
'Thank you very much for the possibility that we could meet sportspeople who we are and the whole nation is proud of. Nagybajom 2.
'We were happy to take part in this meeting. For us, footballers, it was great to learn from a famous and talented footballer. We could learn a lot what is important to be successful. Today, we could hear such things from great sportspeople that can be motivating for us. They talked about the most significant moments of their lives and the good ingredients of success. During the one-hour online meeting members from all the seven Community Houses could take part and could ask their questions. We are thankful for the Csányi Foundation that we could meet online with Dunai Antal and Vaskuti István.' Orosz Marcell, Kaptás Márk, Németh Henrietta, Kovács Zsolti, Kovács Hanna, Oláh Anna Ágnes, Burai Tamás Gábor, Baráth Patrik, Tálas Péter, Jászberény
'It was exciting to get a glimpse of the life of two professional sportsmen. It was good to hear not just about the sport career but about their everyday lives as well. I liked the personal experiences, which made the presentation life like.' Kern Andor, Mohács
'I was pleased to hear from them how they felt when they efforts were crowned with golden medals at the Olympics. I like the most their childhood stories how they got close to sport.' Palotai Benjamin, Mohács
'Hearing the guests experiences and stories I got urged to take up sports. It was interesting to hear from their perspective the difficulties of that era. It was good to take part in this meeting and I am happy because the sportsmen talked honestly about their dreams and desires.' Orosz Gergő, Mohács
'It was very interesting and I profited a lot form this online meeting that we never have to give up.' Mezei Martin Milán, Szentes 1
'I really enjoyed it. Now I know what it is like to take up a sport for a lifetime.' Illés Gábor, Szentes 2
'We could learn a lot from their life stories and how they become the best.' Beka Hanna Laura, Szentes 2
'It was so engaging that now I am more interested in football and canoeing.' Héri Dóra, Szentes 1
"We could hear a very interesting and engaging presentation from Dunai Antal footballer and Vaskuti István canoeist. It was interesting to hear their personal experiences who were sportsmen in a totally different era. We are enriched with many personal experiences as well. We could listen many more from other sportspeople if we have the chance.' Rully Vanda, Berta Gábor, Zombori Dániel Szeged 3