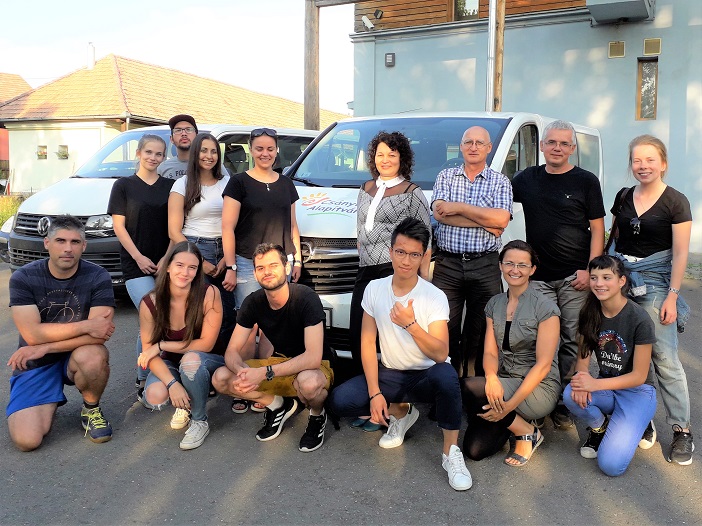 Hargita – Engish, German and art camp
26th July – Today's been special. In the morning we skipped our workout routine and headed straight to the dining hall where we had breakfast. The reason for the hurry was an exciting journey: we had a day-long hiking adventure with Zoltán Elekes leading us. We finished at 1 pm. – but it is important to mention that the length of the trip was 5 kilometres and the altitude reached 400 meters. In the beginning it felt really tiring and I was already expecting sore muscles for the next day, but it was so worth it. The view and the landscape at the top were simply breath-taking. I still can't find the words to describe it. For lunch we had vegetable broth and fried chicken, but it didn't really matter because we were so hungry, we could have eaten anything. After lunch we got dessert as well: ice cream in many flavours. Back at the camp we had more nice treats waiting for us: sweets and love! We spent the remaining time saying goodbyes. There were very intimate moments – and tears and hugs, of course. Ps.: You all are very nice, kind, cute and unwavering. I would have spent at least one more week with you!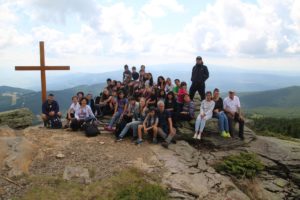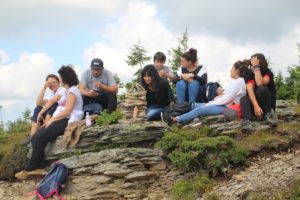 25th July – Thursday has arrived and with it another eventful day. We all got up and after a smooth morning gymnastic we had our last language lessons where we also learned, sang and talked to each other. After lunch some of us went to play football in the nearby football field however some other kids stayed at the hostel and played table tennis or just practised for the evening show. In groups we also made some cake and for our greatest surprise we had a so called car boot sale where we could choose books, CDs DVDs, board games for our taste. Dinner was delicious as usual. Following that we had the evening show. I was so touched by the way the kids expressed their feelings, thoughts on the language of songs, poems, dancing or even the sign language. It was a wonderful evening, thank you very much for every single minute.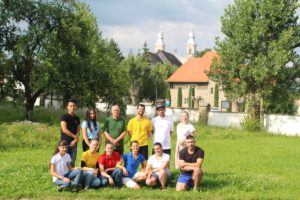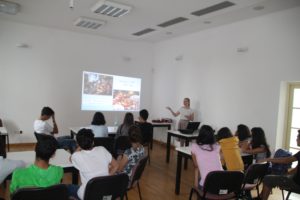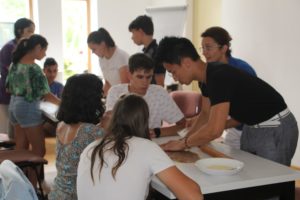 24th July – As the third day came, we could not skip the morning exercises and breakfast. The activities were playful so did the evening programs. The lunch was really tasty. We had some rest after lunch and we went to Balu Park. Before leaving I did not know what to expect, I have never been to that place. It lived up to my expectations. While I was listening to the instrutions, I did not know what to expect, I was not sure if I could go through the route without problems, in the end it was better than  any of  my experiences before. After starting it I got really into it, the time flew really quickly. The purple route was absolutely the best. I got out of the forest and flew  above a lake.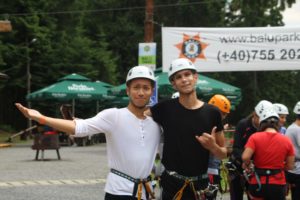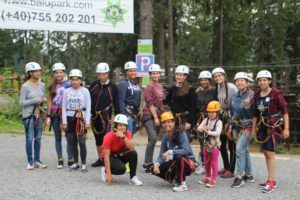 23rd July – Just a short a summary: We had such a warm welcome on the first day. Did not waste time to stay in the room unpacking our belongings. We have just dashed downstairs to have fun, to pay games, to learn. The first day has passed so fast and in no minutes. The second day was even better. The gym in the morning hours helped us to wake up and be fit. After breakfast the languages lesson covered the whole morning and you know what they were just perfectly assembled and held. Learning in teams is fun as we support each other and the one who is in need. Therefore, I also enjoyed the lessons though learning is not my cup of tea. The afternoon's team building activity was exciting: especially the games organised by the boys, here we had to move all our joins and be skilful. The evening quiz was after my taste as the tasks were demanding and we had to use our knowledge in order to answer the questions. I did enjoy all the language lessons and the programs in general. Kalanyos Katalin, Bögöz
Already the first day made my heart happy juts because of the fact to be here. The first day was for getting know each other. However, the second day brought us so much more fun. We started our English and German lesson. I just loved them. After having a rest, we solved some tasks in teams. Tamás, Beni, Jano tested how skilful we are in the field of sports. Imelda and Kinga played us some records and we had to make guessing. Eszti surprised us with an interactive exercise. Bibi and Sára invited us for playing activity. Judit made us to do some treasure hunt. Finding such friend make me happy. I have never thought to have such a great time in this camp. I am interested in Csányi Foundation's profile. Thank you for being here. Everything is fine: food, lessons, and certainly a cake from Mr Miklós. Thank you Ms Judit for organising camp, for making several outings: yesterday we played bowling, tomorrow we are going into Balu park. I have never played bowling before and I have never been into an adventure park either. I will work hard in order to come back next year. Póra Márta, Karácsonyfalva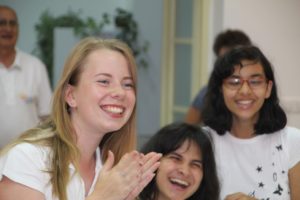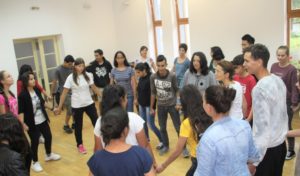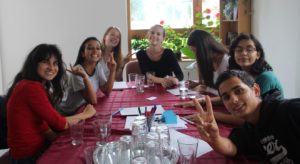 Július 22 – The meeting has come. Everyone arrived around 9 o clock. There were some guys from Székelykeresztúr, others from Csíkszereda and from Kovásza. It was so nice to see those guys who have already joined to the camp the previous years. After opening the camp we had some tests, and while we were waiting for the results, as having some rest, we tried teambuilding games. We got the results quickly, so we  knew which class sould we join. Janó, Kinga, and Bibi in English, Eszti and Miss Judit in  German. After the delicious lounch we went straight to our room and we had a rest. We heard persentations about Hon Kong and the Csányi Foundation, Beni and Roger shared interestng informations with us. Following the presentations we played bowling. Returning homw some people talked, some of us read and listened to music, played football.
21st day – The early start (21st July) did not put us off from travelling hours and hours just to reach for our far away destination in Hargita county. Twelve of us are awaiting our friend to arrive into the language and art camp organised in Csíksomlyó. Each and every kid participated in a whole year round language competition organised by the Csányi Foundation. The best ones were invited to participate in the language camps organised in England and in Germany. All the other diligent competitors got an invitation to come into the local camp where they have the chance to be together with us using the foreign languages and having fun. We hardly can wait seeing you all!