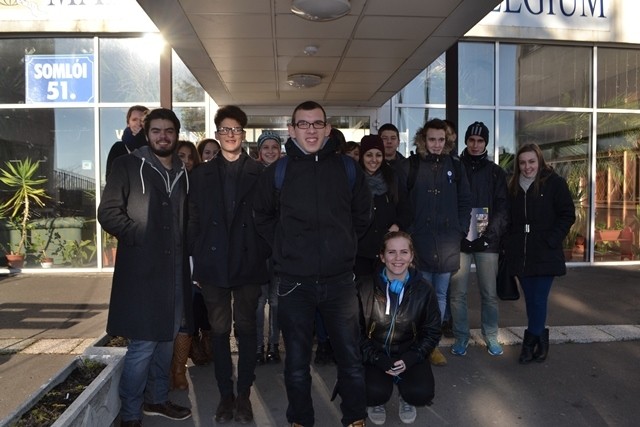 Weekend training in Budapest
On the last day of January (31.01.), the two groups pecs 1 and 2 went to a training organised by Mathis Corvinus Collégium.
We were divided into two groups based on our essays submitted before. We listened to an exciting presentation on studying and living abroad from Zoltan Szalai. After that, we debated and could try to succeed on a job interview in English or German. We had a very productive day. Thanks for the opportunity.
Bianka Jaray, Pecs group 2
After a pretty long journey from Pécs to Budapest we were glad when we finally arrived to the building of MCC. We were quickly separated into 2 groups and in the first period of the day we were given a nice presentation from Ágnes Dr. Veszelszki who teaches at ELTE. The title of our topic was media and communication. We learned lots of new words which are used nowadays due to the spreading of Facebook chat, Skype, Tumblr, Viber or video games. For lunch we ate some pizza which was very delicious. In the second half of the day we were asked to do some tasks, learned how to debate, to argue and it was so interactive. In the end we could even play activity which was the greatest part of our day. I think it was learning but entertainment at the same time.
Melinda Orsos, Pecs group 1