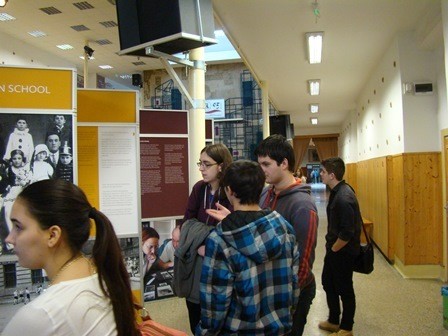 Holocaust exhibition in Kaposvár
It happens more and more frequently that it is not us who go to the world but the world is the one who comes into the school.
We have already participated in theatrical project where the theatre knocked on the classroom's door. It is also happened that we had to deal with moral issues on drama class which were hard to answer. And now there was an exhibition in our school about holocaust, based on books, movies and curriculum of the history classes. It is hard to imagine how such horror could have happened in the middle of the twentieth century.
The opening ceremony was held on the 5 of March. The exhibition was done by Centropa. It showed the everyday lives of Jews. We got to know their stories through their personal letters and interviews done with survivors. On the opening ceremony the counselor of the US Embassy held a speech and welcomed the visitors. An other interesting factor of the day was that the guides were the students of Munkácsy Mihály Gimnázium: This way they were included in this project a lot more.
Sára Horváth and Áron Debreceni