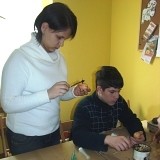 Waiting for Easter in Pécs
We spent the holy week in the Community Centre in Pécs celebrating the holiday.
We prepared Easter's religious and folk tradition with a project. Following the folk traditions, we ate typical Easter dishes, painted eggs boiled in onion peels and we wrote our knowledge on paper.
We wish a happy Easter to everyone!
On 29th March, in 2010, groups of Pécs had the opportunity to watch the 55. year-old jubilee performance, where our mate, Dani Kovács also took part in at the performance of the Lókötők dance group. The 90 minutes performance gave us an unforgettable folk experience, and the choreography and the costumes gave us a fantastic view. Mecsek Dance Group became the ambassador of the Pécs 2010 European Culture Capital programme.
Congratulations!