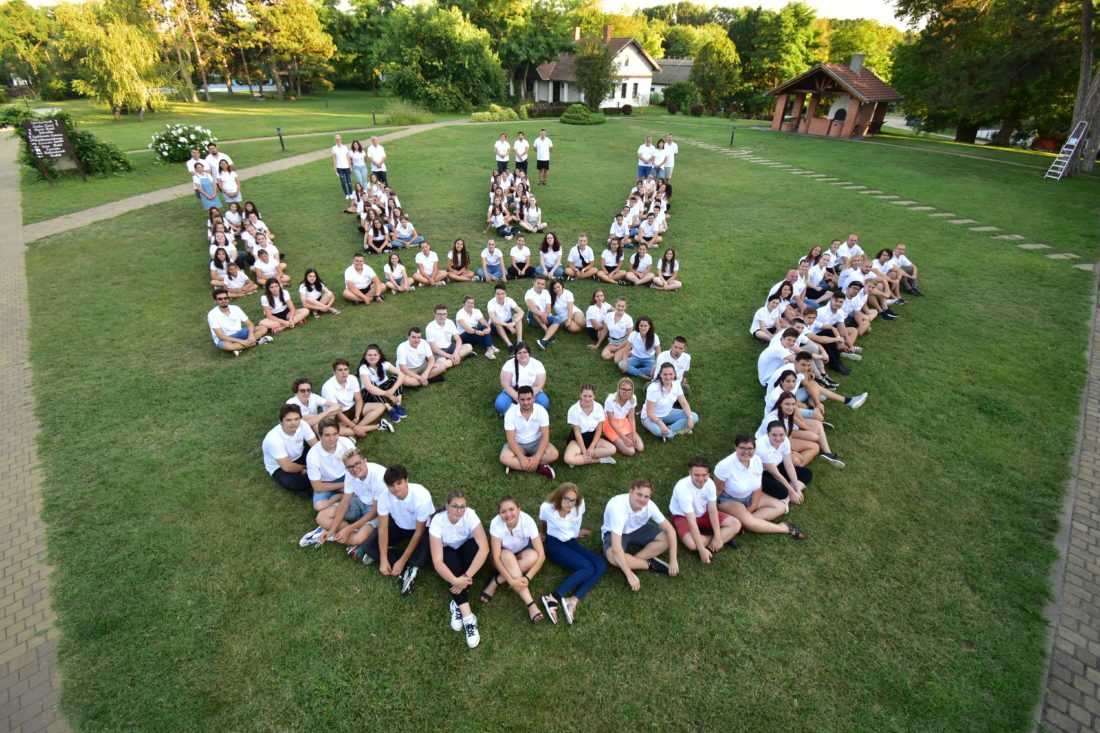 IV. ALL-ARTS CAMP – TOGETHER AGAIN! 26TH-31ST2020. JULY
On the 26th August, the 4th All-arts camp has been launched in Sarlóspuszta. After the welcoming words of Andrea Bálit-Orsós (camp leader) the campers started their art projects in 9 sections with 125 children. This camp is unique for mentors, junior-mentors, tutors and volunteers who work together.
Creative writing: dr. Radoszáv Miklós, Járay Bianka
Nature photos: Mikics Péter
Avarell, akrill painting: Fekete Judit, Kökényné Nemoda Enikő
Art photos: Szövényi Barnabás
Graphic art: Szabó Roland
Csányi Band: Panka Péter, Bodonyi Benjamin, Moczó Martin
Drama play: Papp Zoltán
Felt and distaff art: Nagy Ildikó, Nagy Edina
Chamber orchestra: Kalafszky Adriána, Mayer, Juli, Gurgel Fanny, Hargitai Eszter, Koncsik Tibor
Luca Borsy and Gergő Koszta were responsible for pictures and free-time activities.
Pictures can be found in the gallery
Short description of art-works done in the sections:
Chamber orchestra:  This year was special, because we couldn't meet since February. Despite this, the team could pace up really fast and everybody felt motivated, which was not easy to maintain during the lockdown. However, playing music together had a rather positive impact on each of us and we felt a lot of joy at the camp. Therefore, we didn't plan hard pieces of music, we just tried to practice a lot and improve our self-expression. The children had many chances for playing their own music and we even had a cooperation with the drama section. The own play of the chamber orchestra contained duets, trios and even the song of Aladdin was performed. To sum up, we enjoyed the camp and we are thankful everything! Hope to see each other in September!
Drama play:  Cinema-fun – one year has passed and children have been waiting for this work together!
At the beginning of spring, we have already met one time in Pécs, there we decided to write our own play! It was clear at the beginning that writing an own play is never easy! Last year we had success with the Chamber orchestra so we have chosen a play with motion where the action takes places in a cinema's auditorium. The projection suddenly stops and the audience is locked together for a while. This was the starting point and from this, we creatively built up our humorous scenes with the section members. Ideas were shared and the children were the best dramaturg with monologues and dialogues. The script was written in small workshops and Aliz Kátay turned out to be a good co-director. Some of the work was done during late nights and the chamber orchestra performed live music and effects for us during the play. They played ragtime and Nino Rota themes and imitated gunshot, door knocking and demonic laughs.
The stage works took two days but the good actor team could manage to do this with the help of Begovácz Ivett, Henézy Zsanett, Orosz Nóra Lili, Tálas Péter, Tarnay Ákos, Burai Tamás, Darabont Zalán, Kóczián Olivér, Papp Virág, Pege Gyula, Vajda Milán és Völfinger Rebeka, Székelyi Fruzsina, Pálfi Eszter, Kovács Eszter, Papp László. The main performance was a huge success and I was very proud of everybody!  Thank you for your positive foolishness! Zoltán Papp, drama teacher
Creative writing: Writing looks a peaceful act from the outside, but inside it is like a war. We would like to share our thoughts now.
"Leading a creative writing section is similar to our universe – we discover new galaxies every day!" Bibi
"During writing people can express their souls and thoughts. It is like a therapy with ourselves." Jázmin
"Writing is a self-expression for myself with healing and maybe I can help for others as well." Timi
"I love writing, because words are powerful! In this section, every day is a trip in literature and in the minds." Bella
"We can learn the different genres and we are free to try out them here." Dzseni
"In this section every thought has the same value and there are no right and wrong ideas. We are able to understand each other! Laura
"I can enlarge my vocabulary, I can free my mind and creativity and I can share my reading experiences here!" K. Zsófi
"Our section is very important for me, I am able to see myself from different perspectives. Laugh is present in this group too!" Marci
"In writing, we can express ourselves easier and people can understand us better."
Linda
"I love this section, because Bibi provides several advices for us. I can use these in my life too. I can write my problems out so my soul unburdens." T. Zsófi
Art photos and Graphic art: Our section is about art photo, animation and film production. During the camp, we tried to make two animated tales with improvisation and common thinking with the children. The stop-motion technic was to create our two stories about being together and the lockdown period. In these animation and motion was all present. Our work was linked with advertisements so we could share more content to for the audience. We also tried to express our own voices in these arts. Barnabás Szövényi, section leader
Painting section: We started the week with a mind map. The main topic was being together again, and the map was present on the wall during the week. We tried different techniques like acryl–watercolour paint and oil pastel-tempera mixtures. There were some fantastic works with collage techniques and experience painting. We used some rags and woods for this and it became a great success even for other children in the camp. This unique painting involved a large canvas and even dr. Miklós Radoszáv and Roland Szabó joined this project. Hopefully, this special joy contributed to the main goal: being together! Judit Adél Fekete, section leader
Felt and distaff art: There were 14 children in this section with our volunteer Edina Nagy, who helped us in weaving and spinning. Bence Sós helped her work. We designed a unique felted lamp with merino cotton with traditional methods. No sewing was allowed, only colourful silk material, which made the lamps more exciting. We also tried out new techniques and unknown tools such as nail-felting. We were able to create special landscape pictures, which were so popular in the whole camp. The third piece of art was a colourful bird nest with a drop shape. We could set a common installation from these and the nests were hanged on a tree branch, symbolising their makers. It was a pleasure being here, congratulations for the participants! Ildikó Nagy, section leader
 Csányi Band: This year we wanted to dig into music of the world with the Csányi Band's new generation. The mainstream was the Cuban Son/Bolero/Afrocuban. We tried to present cultural context so first of all, we watched two documentaries about this style (Cuba feliz, Buena Vista Social Club). For the youngsters, this music is not the most popular, not even close to that, but the children discovered it and even a trumpet player joined us from the Chamber orchestra. We composed the El Cuarto de Tula from Buena Vista Social Club and I think it was great! I am really looking forward to more of this! Péter Panka, section leader
The fourth Artistic Creative Week was sponsored by the National Energetics and Utility Regulational Authority.