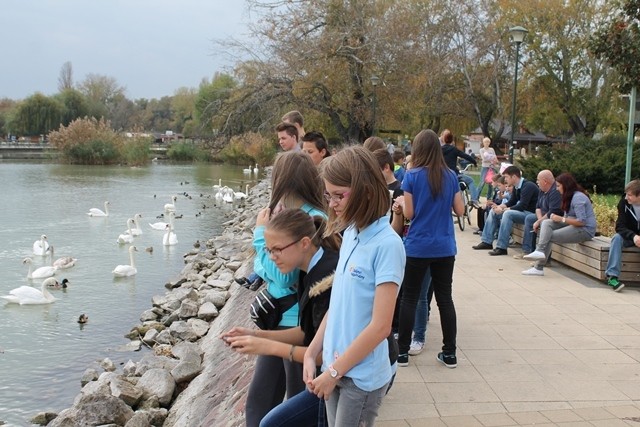 We were in Keszthely
The youngest groups of Kaposvár and Nagybajom interrupted the autumn break with an exciting excursion. Their destination was the capital of Lake Balaton, Keszthely. The day was not only about sightseeing but about team building, too, as the older Csányi students set the target to help younger students to integrate even more to the milieu of Csányi Foundation.
Our first stop was the Festetics Palace, the noteworthy monument of the town. During the guided tour we learned about the history of the palace and the history of the Festetics family. We saw many beautiful paintings, valuable china and period furniture not mention the priceless books. During our stroll in the part we visited the Helikon Cart Museum where the picnic carts, sport carts and chariots were lined up that were once used by the aristocracy. We continued our tour to the Hunting Museum where we saw many stuffed animals and animal trophies. These trophies worth watching separately or together and they give the feeling of uniqueness. They are splined for the eyes for hunters, collectors and for everyone who seeks for information about animals and nature. If we were in Keszthely and next to Lake Balaton, we could not miss a walk along the shore of the lake in the autumn weather. On our way back home filled with memories we stopped at a typical Hungarian 'csárda' where we had our delicious lunch.
Thank you for this beautiful day!
Groups of K1, K3 and NB3