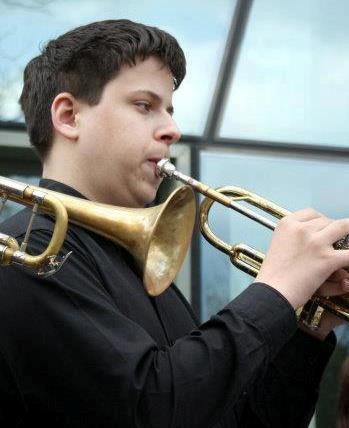 A holiday with lots of music
I do not only play in Csányi Band, but I also happen to entertain the audience in other bands.
One of them is called Maniac Brass Band. The band is formed by four trumpets, a baritone, a tuba and two drums. The band was recently invited to perform at the annual Wine Festival in Balatonboglár. We play a wide variety of genres: from pop and rock to dixieland and jazz. We were delighted to play on two days of the festival. And thus the long rehearsals held in an abandoned factory not to disturb people on holiday at Lake Balaton were not in vain.
The first day we played at the parade, while the next day our band gave an enormous concert. There were lots of visitors during the festival, so our music was brought to many people. We also had huge success at the 15th Street Festival in Zalakaros, where we performed more than ten times in just two days. I did not spend much time at home, as I traveled to Arad with another band, where our trumpet quartet performed.
But this time we played classical music. So, all in all, at the end of the summer I had a good time doing what I am fond of doing, and I really see these trips as a holiday.
Kovács Kornél k2