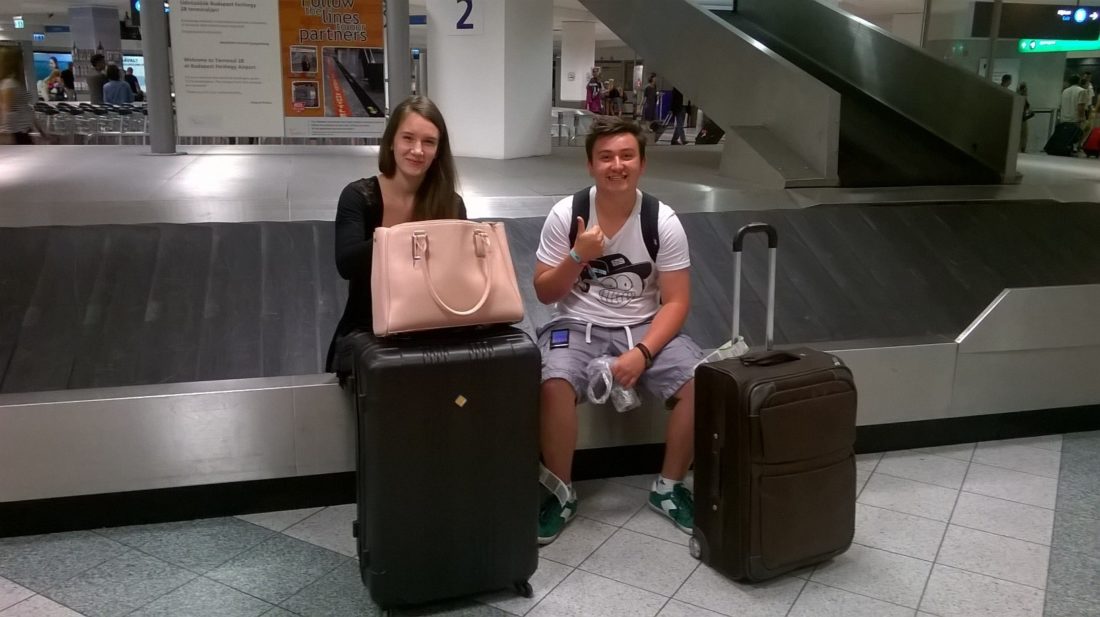 Language-camp in London (Level B2, C1)
Our plane landed late afternoon (5th July) in Heathrow airport, London. The best 30 students can participate in a one-week language course, due to their excellent performance on the Foundation's language competition (level B2&C1).
1st day – Beautiful weather welcomed us all after arriving at the airport, where our group split into two. The youngest ones went to Chalfornt St. Giles, whereas the one above 18 headed to their host families. It is not the first time for us being in England, but every time something new or unexpected may occur, which teaches us to be tolerant, patient and creative. After dinner life went on. As long as the young ones were writing their placement tests, the elder ones had the chance to explore the area with a lovely walk. One is for sure sleeping won't cause any problem to us tonight 🙂
2nd day – Wimbledon Station was the place to meet this morning. Here a quite busy train ride was waiting for us, after which we could enjoy the language school's hospitality. Margaret, the principal of the school greeted us and let us write the placement tests.  We mastered it with a great result, so there was only one more thing to do, namely the dive into the world of studying. We were divided into groups (B2, C1).
To tell the truth after school the Italian restaurant where we had our lunch was like an oasis to us. We enjoyed every bite of it.
However Toby our well-prepared tour guide did not let us being lazy and made us to visit every site in the town.
It was tiring but excellent, no wonder that "in London Eye" all of us wished to enjoy the view while sitting on the bench. Time ran very fast and we had to say good bye. Two of us met Simonits András, and the were happily heading back to our host families. Horváth Péter, Kaposvár 1
3rd day – Today (07th July) we successfully completed our second morning at the language school. After Monday's introduction and chatty lessons we learnt about idioms and grammar which is a lot of language learner's weak point. Our teacher, Ruben brought us great exercises in order to make this critical part of the foreign language more enjoyable.
We had our lunch at a nice Italian restaurant where it is always a joy to go back as the owner is so kind and generous. It is a Heart-warming feeling that some people still have this kind of welcoming attitude in our modern, rushing world. After lunch we went straight to the famous Natural History Museum which amazed us with its interactive and eye catching exhibitions. After visiting the museum we had some free time in the centre of London so we took the opportunity to collect some postcards as a memory to always remember this great time we spent here. Personally, for me the most unforgettable moment happened when I visited the Kensington Palace with some of my friends as this was one of my dreams. So I'd like to thank the Foundation for this beautiful day! Cserna Vivien, Jászság 1.
4th day – We had a fantastic day today! After school and lunch we celebrated Gabi because she had her 19th birthday. We got some freetime in the British Museum which was a great idea because everybody could explore that exhibition what he or she wanted to.
Fortunately, we had the chance to watch a film called the Spy which was mixture of a semi-action and semi-comedy movie. We loved it so much and were happy and relax while watching it. The highlight of the night was the dinner in Pizza Hut where we could eat as much pizza and salad as we could. Of course, we are tired but even satisfied and glad because we had a lovely day. Orsós Melinda, Pécs 1
5th day – Our day started a bit slow because of the tube strike, but eventually we arrived at school. The lessons were very useful with our group full of people from different countries. After having pasta for lunch in an Italian restaurant, we went shopping on Oxford Street. The shops were very crowded, it was unbelievable. Our way home was a lot longer, than usual, because of the traffic jams and tourists. We're looking forward to going to the London Dungeon tomorrow. Dézsenyi Patrícia, Kaposvár 2
6th day – It was a day of another birthday. Melinda celebrated with us her 19th birthday after we had our lunch at the Italian restaurant.
Following that we visited the Dungeon of London where a lot of criminal of the history of London tried to scare us, and we were also in terrific rooms. At the end of the tour we could try the freefall which was exciting. In the evening we were in the Prince Edward Theatre where we could watch a drama named Miss Saigon. For me it was an unforgettable experience to watch a drama in London, and the story of it was so deep. It was about the relationship between mother and her son, the families which was left behind in the war and the humanity's desire to live. I hope I can watch another performance here in London. Szölösi Attila, Jászberény 1
Fortunately we got Opportunity to meet Simonits András  we could see One of the Greatest club of London. He showed us  the attractions of Peckham and the technical procedures from behind the scenes. We spent an extremely eventful night with each other. Panka Péter Pécs 1, Debreceni Áron Kaposvár 2
7th day – On Saturday Oxford was waiting for us. It is a wonderful little town which was fully packed with tourist. After visiting the sites we sat down in a park nearby and summerised the camp sharing all the experiences and good things happened with us. This team was wonderful and the way we cooperated wea fabulous.
8th day – Time has come to say good bye. We hope to come back next year exploring a nowe town in England. Thank you for everything!