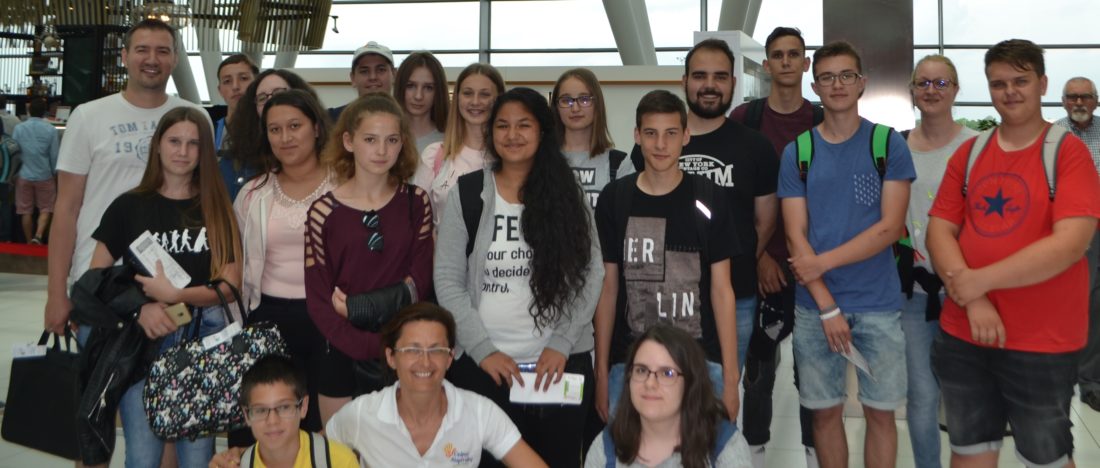 Augsburg
23rd June – 17 students were awarded to participate on the intensive language course in Augsburg from 23rd – 30th June. The head of the language school welcomed us as old friends. It was really honourable to enjoy their warm welcome. The children who are going to enjoy this week at ADK had completed a whole year through German language competition organised by the Foundation. The best among the best could join the group this year. Kids came from Mohács, Pécs, Nagybajom, Kaposvár, Jászberény, Szeged and county Hargita. WE set off early morning in order to be at the Liszt Ferenc Airport at 11 o'clock. All of us were excitedly chatting about how the host families, the German course and the flight itself are going to be. Following a smooth landing due to the correct organisation at 5 pm all of us could have the chance to meet their host families. All of them were welcoming us really kindly 🙂 Hereby we would like to thank for LR Global Kids Fund for its generous donation which enabled us to be here this year too. We hope to meet them during this week.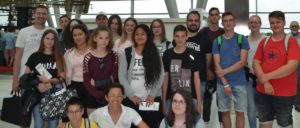 24th June – we woke up really early and after a delicious breakfast we prepared our sandwiches which would ease our hunger during the day. At school our teacher awaited us and after the entrance test we had a splendid day practising German language. At 1 pm the lessons finished and after leaving the classes we happily told to Ms Luca, Ms Judit and Mr Gergő what we experienced and how we felt ourselves during the day. They were really cute listening to us patiently. Finishing the conversation they gave us our pocket money and we went together to have lunch. This town is lovable. It is easy to find our way round, the people are friendly and I can say that we have plenty of chances to use the German language. It is great to be together and we are attentive towards each other. At two pm Cornelia Joseph welcomed us in her atelier, where we painted ceramics, had laughter, and could be creative for our pleasure. On the top of that Cornelia offered us to paint the pavement to make it colourful and pretty. We feel her love around us, hope to come back some other time too. You know what – this day was long, tiring, but I would not change anything in it!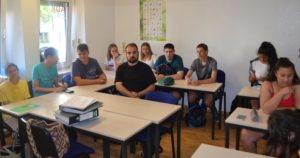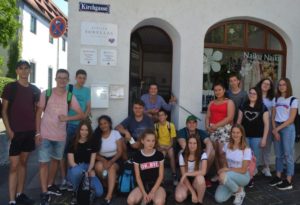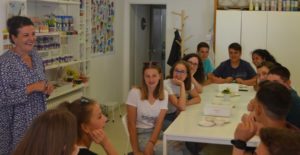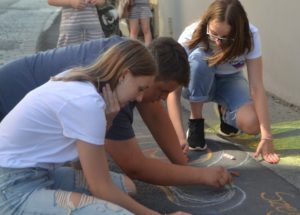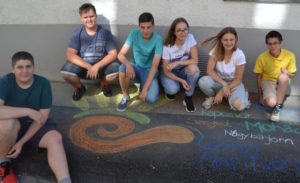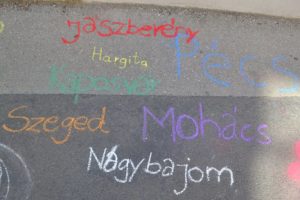 25th June – Today it was again above 34 Celsius degree – so there is nothing to blame about. We are happy having Luca, Gergő and Judit as they are so much witty. The morning conversation with them always chill us and following that we are really confident to sit in classes and learn. Today we had to build contact with locals. Our task was to get into town and find answers given to us on a worksheet. The morning finished by making a project on Augsburg which helped us to have background information for the sightseeing. At 2 o'clock Andrea Keller welcomed us at Regio Augsburg and went with us all around the town explaining everything in fine details. We loved her company. The evening programme started at 5 o'clock as we had the chance to watch Aladdin at Cinema City. On the way back home we enjoyed sharing how much we understood, what the best scene was, why we liked the music so much and how much the humour of the film thrilled us. Thanks for the day!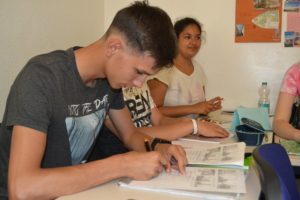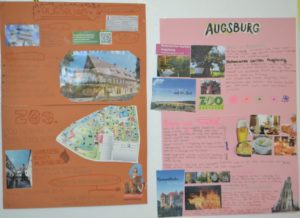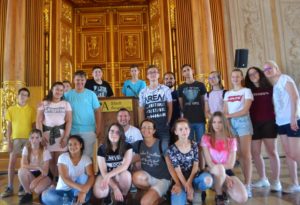 26th June – our teachers are satisfied with us. Two of us had the chance to move into another group (B2, C1 level) due to their achievement. Today we practiced different grammatical structures. At the end of the lessons we were really exhausted. For sure it was not only because of our concentration but also due to the extreme heat (above 36 C). We went then to have a light lunch and at 3 pm all of us was ready to start the afternoon programme. Our tour guide was really open and caring for us so we experienced a lot about the history of the textile industry in Augsburg. What could be better after such a day than being creative for our pleasure. We all could make our own hand bag. It was FUN!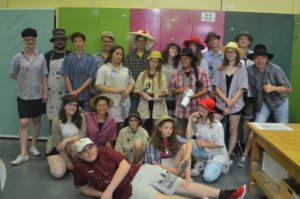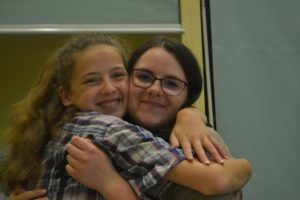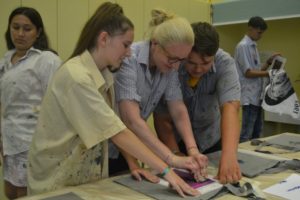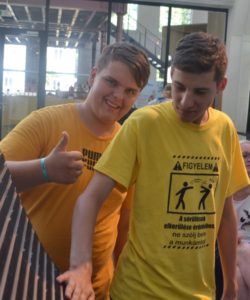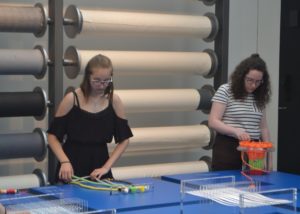 27th June – one more day to go to school but we are not bored. Our teacher prepared for us such an exciting exercise so we had fun pure. The task was to explore the town following the steps on the given task sheet, getting known locals and taking photos from special sights. The morning has gone so fast that we haven't even realized it. While we were busy learning our leaders Mr Gergő, Ms Luca and Ms Judit met Mr Götz Beck saying thank you for the offered programmes by Regio Augsburg. Since we are here the temperature did not even drop under 35 C degree: no wind, not even a drop of rain. It is hard to be in town on such days. Mr Gergő was really genius organising us to go to the family aqua park nearby. We loved swimming, sliding, playing cards or handball, even to lie down to have a rest if we felt like it. How lovely it was talking, laughing, playing and relaxing. At 5 o'clock we were heading to the local bier garden where we also could try specialities. I have no doubts about the saying which says – following a day full of swimming one feels like falling asleep. Well this was our case too. We loved every minute sitting in the shade of the huge oak trees after dinner. You know the best was even to talk as friends do, to laugh together on tiny sweet jokes. We are a great team. It will be hard to say farewell after two days.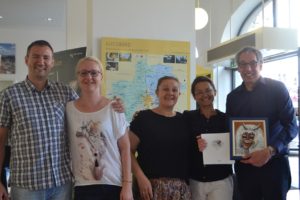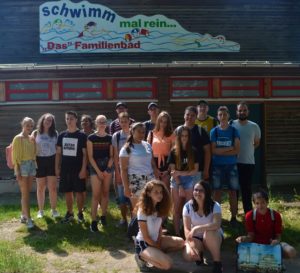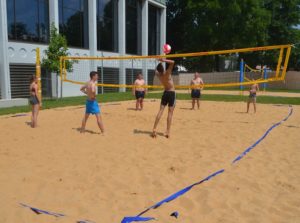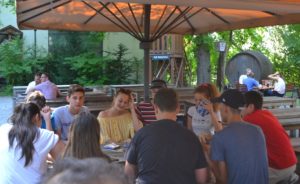 28th June – To tell the truth day after day we could inform you that we visited school in the morning and participated on cultural programmes in the afternoon. However I might say that all these were not only words but happenings which goldened our days together. We had the chance to get to know each other and challenge ourselves. After each and every moment there were lovely shared experineces. In the afternoon we visited the Water turm – wich applied to become the part of the UNESCO heritage. All the best to their plan. Following the visit in the water-turm we just went bowling which was the perfect end of this day.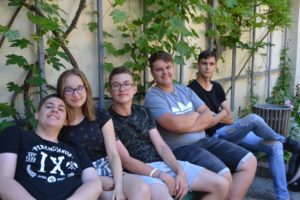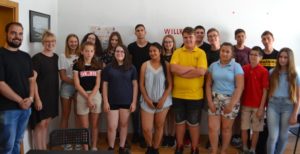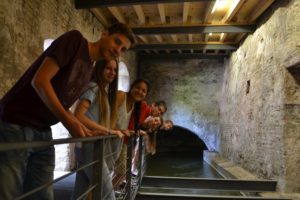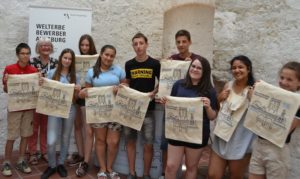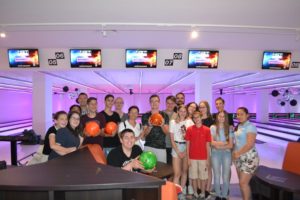 29th June –  As every thing in the word this camp also came to an end. This morning was smoothly spent at the host families enjoying breakfast and a pleasant conversation. Later on we met in the town and at 4 oclock we decided to walk to the lake nearby, where we were able to raw boats. This place was just amazing, fresh seethroug water, sunny weather and our good mood. Time was flying so fast and our hunger was growing and growing, so we decided to go to a bier-garden where we all had dinner together.  As we have finished we just sat down playing games, talking, sharing experineces of the past week. Mr Gergő, Ms Judit and Ms Luca surprised us with awesome and useful board games, quiz cards, booklets which are just FABULOUS and are perfect for being used later on. We are thankful for the Foundation for being here.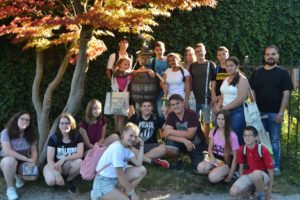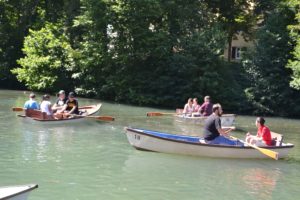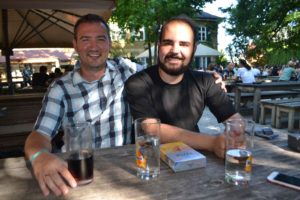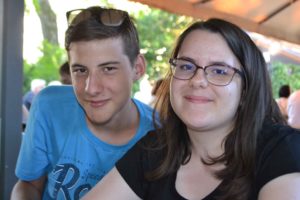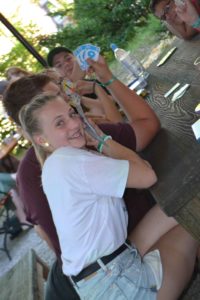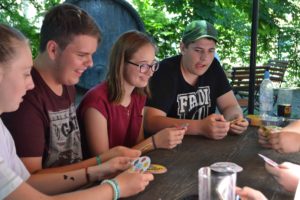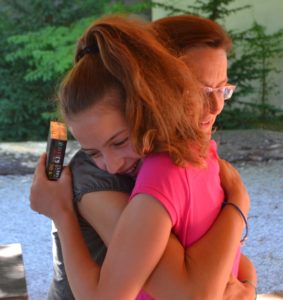 30th July – We are heading to Munich – soon we are going to depart. Hereby we would like to thank to the Foundation's support for this unique opportunity. Let's see each other next year!