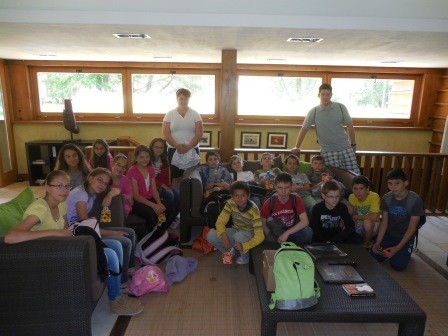 As a volunteer in Nagybajom group 3's swimming camp
Last week I could help the swimming camp of group three of Nagybajom as a volunteer.
The first day it turned out that not only the basics of swimming could have been learnt in the camp but horseback riding as well. This camp could bear the name 'Camp of the braves' because most of the children have never been in deep water before and the horses seemed quite big for the children. In the next few days, the weather stopped us from horseback riding but in return they could spend more time in the water. The group was split in two and the boys and girls swapped places between the big pool and the bubble bath.
Mr Laci introduced swimming to the kids with playful methods, requiring a little more and more day by day and finishing the day with funny games in the water. The best of all was when he covered the bottom of the pool with candies and the winner was the one who could dive for the most candies.
With the instructions of Mr Attila the children learned about horseback riding. Unfortunately, the weather allowed us to enjoy this sport only for two days. On Friday, the bravest ones could ride the horse alone, of course under supervision. Sometimes, the children got homework, they had to prepare about swimming and horseback riding. Why is it good? Why is it useful? And so on. Then the last day of the camp arrived, which was a sad day for everyone acknowledging how fast the week passed. At the end of the camp, Mr Laci and Mr Patrik evaluated the week in a few words.
This week was really good for me too as a volunteer to be with the children. Everyone obeyed the rules and was diligent.
I think everybody had an eventful week in this camp.
Horváthné V. Tünde
volunteer