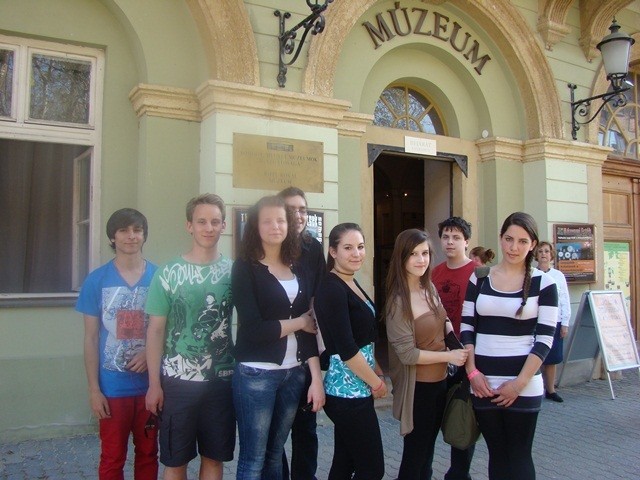 Treasure of Seuso
I didn't think that an archaeological lecture can be as interesting as a crime story.
Since our volunteer is an archaeologist I turned my attention more towards the science of exploration of the past, the reason of it is that Máté can talk about these things with great excitement. Our attention was directed to another interesting lecture by him. This is how we got to the Rippl-Rónai Museum in Kaposvár where we participated one station of a series of exhibitions. The topic was the myth covered Seuso treasure. The treasure got to the USA and the story behind their travel is not known even today. Prof Dr Visy Zsolt lecturer of University of Pécs wrote a book about the unique journey of the treasure. We could hear and learn about the treasure apropos of the book launch.
Pelso, which is known today as Lake Balaton, surrounded by Roman villages was bigger than today and was a swampy area. A young man found many high-value silver objects in 1980 in Polgárdi.  He thought he will use them for his own benefit. But fate had her word and the young man was found dead in a vineyard close to Lake Balaton. Close to is corpse there was a deep hole dug in the ground, deep enough to hide the treasure in it. One and a half decades later thanks to an English Lord the treasure appeared in New York again at an auction but it was known as the treasure of Seuso that time. At the auction a Hungarian archaeologist took part and he knew the origin of the treasure. Here was the beginning of the retrieval process. Many started researches that time and the Hungarian State also tried to get the treasure back through litigation in the late 90s. This was unsuccessful.
I didn't think that an archaeological lecture can be as interesting as a crime story. But we felt this yesterday.  We decided to read the book and we recommend it from our whole heart to everybody.
Kollárovics Petra, Palkó Richárd K2