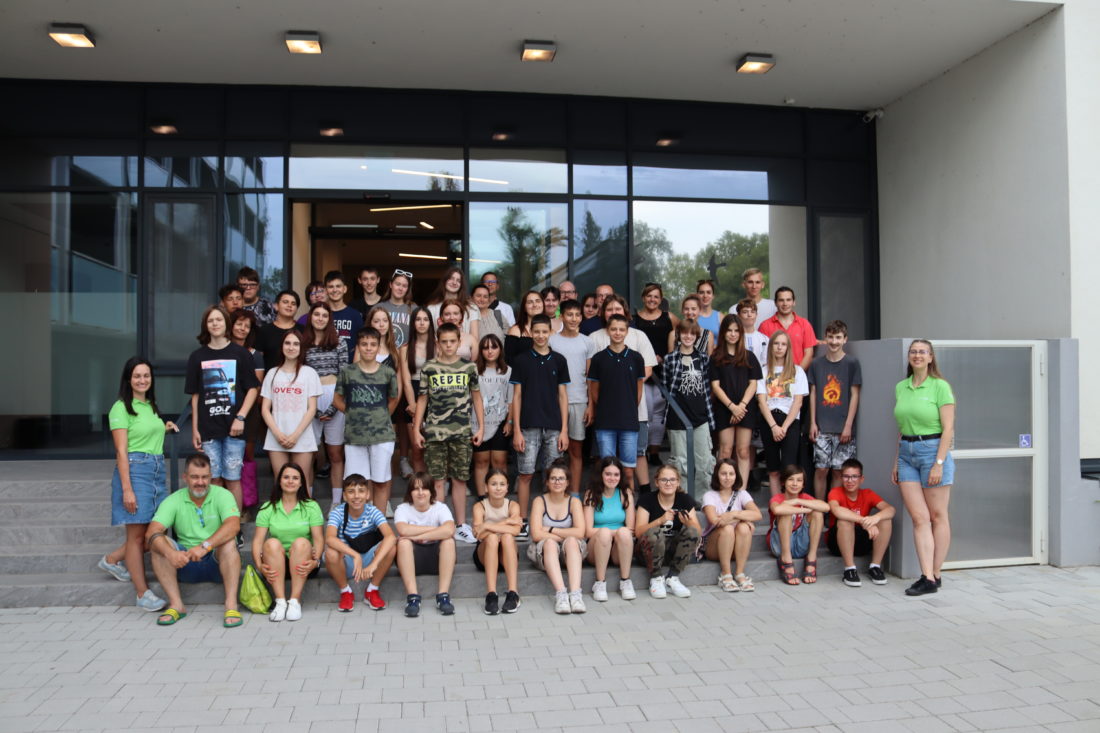 Destined to succeed – We report from Balatonszemes
The Success Camp held by the OTP Fáy András Foundation's training team began on July 24, where Jászság 1 and both groups from Szentes are participating.
From the moment we arrived, our first day was immediately active: after Zoltán Illés's lifeguard lecture – in which he told all the important information about the safe use of live water – the children, trainers, helpers and small mentors performed familiarization tasks, which occupied the company late into the evening. At the end of the humorous and interesting exercises, teams of piglets competing with each other during the week were formed and took over their bushing, into which they can collect tokens for successful tasks throughout the week. We are looking forward to the days ahead! -Sándor Kovács, mentor of Szentes Group 1
"On Tuesday, we started the day with a morning walk and jog. This was followed by breakfast and a training session on financial awareness. It was entertaining as it included practical exercises, such as trying out the Banking card game developed by the Fáy Foundation. Next, we participated in a social afternoon gathering, and later, with improved weather after the previous rains, we headed towards Lake Balaton. We had a swim there and then returned to our accommodation for dinner. In the evening, we engaged in a quiz, where the preselected "pig teams" competed against each other. The quiz had four stations, and teamwork, cooperation, and motivation were essential at each one. Enjoyable and playful tasks awaited us at every station. – Viktória Madarasi, Jászság Group 1, and Dóra Héri, Szentes Group 1.
"On Wednesday morning at 7:10, we went to the morning workout, where we did aerobics. With the morning workout, we can also collect tokens for our week-long competition. Then, the training sessions started from 9:00 until 12:45, where we learned about finances and did exercises. The game included banking, business, and family roles, and we had to solve a specific situation. After lunch, everyone discussed their team's performances for the Friday evening show. Once we finished planning the performances, the free programs began. Unfortunately, it was too cold to swim, but we could play soccer, volleyball, and board games. Some went for a leisurely walk. We ended the evening with a quiz, which turned out to be really funny in the end." – Beke Hanna Laura, Szentes 2nd, Mezei Martin, Szentes 1st, Orosz Marcell, Jászság 1st group.
On Thursday's training, we learned about investments and risk through interactive activities. For instance, we controlled a 'Tru Tru Robot' using a tablet, guiding it through a course with various stations. In the afternoon, after having ice cream, we participated in a playful mission to explore Balatonszemes with the pig teams. We had to find distinctive locations and complete tasks, such as estimating the area of a chapel or taking a team selfie at a specific spot. After successfully completing these challenges, we had a competitive race, which brought an exciting competition. We concluded the day with a sunset swim. Overall, today was very diverse, and we enjoyed learning many new things during our training." – Orosz Marcell, Czuczor Dominik Jászság 1, Rickert Dávid Szentes 1, and Mezei Rajmund Nándor Szentes 2nd group.
On the evening of our arrival, everyone found out who would be the leaders of each piglet team and who would belong to them. We, the junior mentors, eagerly awaited the tasks of the upcoming week. During the team games organized by the OTP Fáy András Foundation, the kids could measure their knowledge and rely on their creativity and unity. As piglet team leaders, we tried to support, motivate, and bond the children as much as possible. We shared their excitement for the final results. Undoubtedly, the competitive spirit was present in everyone. As the days passed, they too grew tired, having fought through the entire week. On Thursday, we participated in an adventure tour, which was an incredible experience, and we also explored Balatonszemes.
We prepared for the closing show almost the entire week. Each team performed a production, including reality shows, "cultural" programs, social dramas, and crime mysteries. The trainers from the OTP Fáy András Foundation also prepared a video summarizing the camp. Everyone received a certificate with their own nickname on it. At the end of the week-long competition, there was an award ceremony, and each piglet team could choose a cake, which was a great way to wrap up the week. Overall, we had a wonderful time and returned home with many positive memories. It was a challenge for us as well throughout the week, but we enjoyed it. It was interesting to see things from the other side. It felt good to know that the children relied on us and that we were the ones encouraging them. Thank you for the opportunity, we will never forget the memories we made here. Dausek Nándor, Kaposvár 2nd, Hégete Alexandra, Madarasi Tétény, Székelyi Fruzsina, Tálas Péter, Jászság 2nd.
Galery: