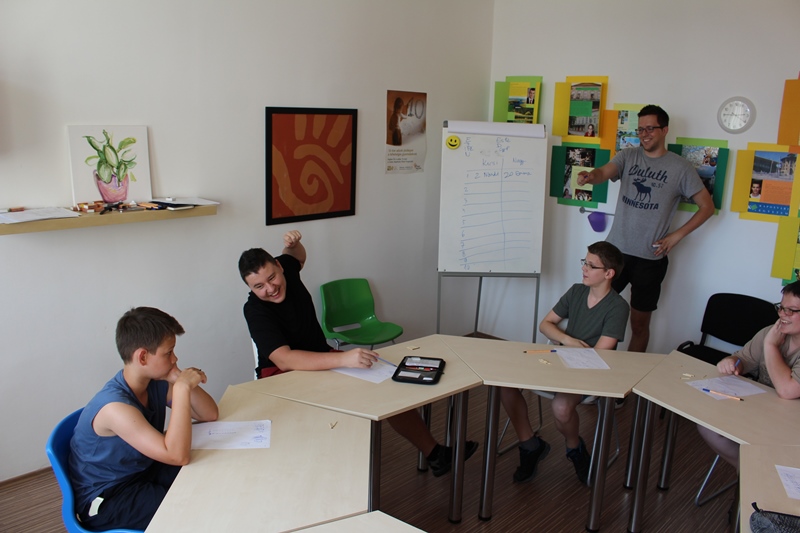 Extraordinary weekend in Kaposvár
We hope everybody could choose from the offered programs last weekend. Group 1 of Kaposvár had an open weekend so the parents had the chance to visit the lessons at the Community House. All three groups had a logic lesson held by Ádám Balogh. In the followings you can read about the things we saw and experienced.
"On Saturday, along with some other parents, I visited a logic and a Hungarian lesson in Group 1 of Kaposvár. After solving some puzzles, we participated in an interactive Hungarian class with the children where we had to interpret an interesting dialogue. We had a great time together." Mariann Bartyikné Hosszú, parent in Group 1 of Kaposvár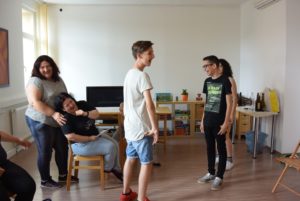 This weekend was the third (and unfortunately the last) time this year when I visited Kaposvár to have logic courses with the kids there. This was however the first occasion when I met all three groups, so Saturday had been a continuous huge logic lesson for me – first with Lilla's then with Barnabas's and finally with Sasa's kids.
As always, I tried to bring a diverse set of exercises for the children as someone can be better in calculations, others with puzzles and some with games with words. An interesting moment was when the attending parents on the lesson of the eight graders 'schooled' the kids in a word game with anagrams.
For me it was particularly joyful that I could welcome back lots of kids from the previous occasions but also met some new faces, who joined the fight for points with the same enthusiasm – so they could choose their preferred chocolate prize the earliest.
Hopefully, we can continue from this point next September! 🙂 Ádám Balogh, volunteer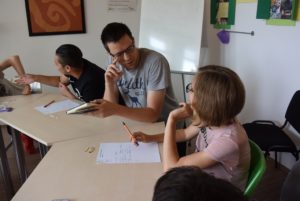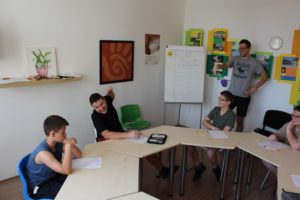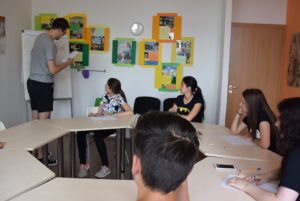 "I participated in Ádám Balogh's logic lesson for the third time and I really loved it. We enjoyed the previous lessons as well since we got really enjoyable puzzles that made us think. We tried to receive more and more points to win the race. I finally won! We agreed that we will continue this kind of competition in the future. After the lesson some of us visited the Rippl-Rónai Festival. We saw two exhibitons. I especially admired the works of the local secondary school and university students." Emma Sárközi, Group 2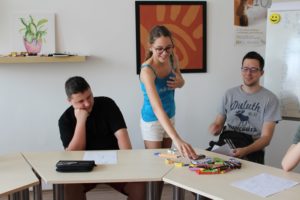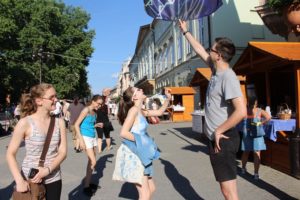 Trains are my hobbies, everyone knows that in my group. That's the reason why my mentor supported me in seeing something interesting after the lessons. A special train, called "Somogyi körtúra" (Trip around Somogy), arrived in Kaposvár and I had the opportunity to have a look at it. The train's direction was  Budapest-Székesfehérvár-Siófok-Fonyód-Balatonszetgyörgy-Somogyszob-Kaposvár-Fonyód-Siófok-Székesfehérvár-Budapest. The train was pulled by a diesel engine with the serial number M61 010. Interestingly this engine was withdrawn from circulation in the 1990s. After nearly 20 years of forced rest the volunteers of NOHAB-GM Foundation purchased and refurbished it and in 2010 it was able to be back in service. After the factory of NOHAB won a tender announced by MÁV, it produced 20 engines for Hungary in 1963-64. In the 90's, 13 of them were withdrawn from circulation for good. Nowadays the MÁV Nosztalgia Ltd. owns 5 engines, and the NOHAB-GM Foundation owns an inoperative one besides the one with the serial number M61 010. I was able to take some photos at the train station of Kaposvár that I would like to share with you. Nándor Dausek, Group 2