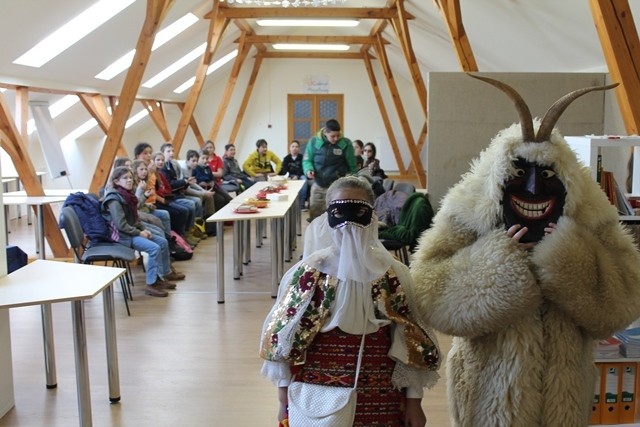 Busójárás Mohács
I have been looking forward to the 14th of February with great excitement, because of the visit of the groups from Kaposvár on the occasion of the "Busó járás".
I have already got to know the younger group in Sarlóspuszta last summer. The history of the Busójárás is the following: According to the most popular legend, the people from Mohács who fled from the Turks to the nearby swamps and bushes, carved wooden masks, painted them with animal blood, and put horns and fleece on them. They put on fur coats, tied cow bells on their waists and made very loud noise with their rattlers. They stuffed their white linen trousers with straw to become more terrifying. They wore knotted stockings and leather sandals. The turks got so terrified that they fled for ever.
I surprised the groups by putting on a sokac traditional dress to accompany them to the Busó programs of our town. I hope they had a great time and will return home with lots of good memories.
Szép Hanna, group 1, Mohács