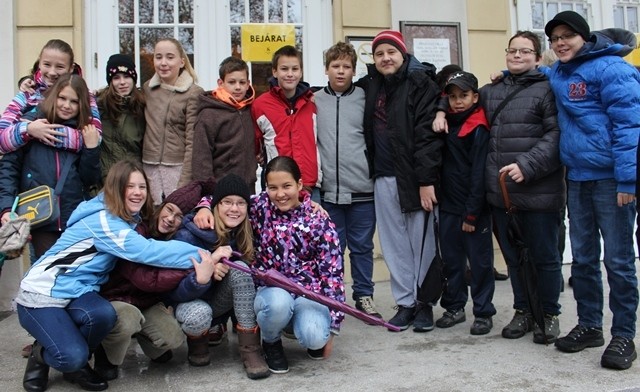 Exciting gameday in Kaposvar
I got up much earlier in this weekend than I used to do. I was waiting for it so much because I knew that we will have interesting programs.
If I ask somebody about what they think first when I say Kaposvár, I am almost sure that everyone will say the Theatre of Csiky Gergely. Everybody who likes visiting theatre is really waiting for the renew of the buliding. The reconstruction will start immediately. At weekend there was a goodbye party with lots of good programmes. We could take part in this event with my group Kaposvár 2. First we had the opportunity to look into the performance Négyszögletű Kerekerdő. After that we could talk to the actors and we played with each other. There were logical and artificer tasks too. We could visit the studio, where everybody was allowed to write their names and a good message or wishes for the theatre. While the enhusiastic audience were decorating the studio, the old, legendary artists were singing together on the big stage. It was raining heavily when we put the things inside and hug the Csiky Gergely Theatre last. After that we had a fast lunch because we went on to the Museum of the county. We went to the Board Game Club where we played different kind of games till the evening. We laughed a lot and had a pleasant and fantastic day together.
Antal Dominik, Sárközi Emma Kaposvár 2.