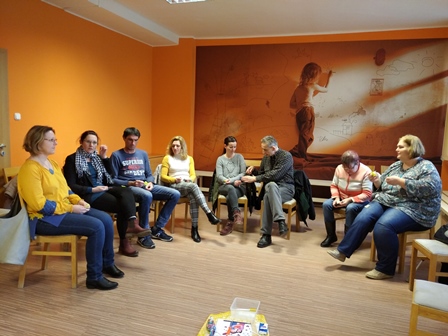 Academy for Parents – joy of being together
As life rushed through my weekdays, I barely had time to prepare for tonight's Academy for Parents. The previous occasion was a meaningful, exploratory, humorous and playful interaction. That's why I waited tonight with curiosity and a bit of skepticism. Perhaps my short report below shows how a group formal meeting can become a personal constructive experience for participants.
This time our community-building and enriching leader was Beáta Illés. Last time we went around family values. Our task today is to place the two pillars of the family under a magnifying glass.
As a parent, we struggle with our tasks every day: work, children, school, household, relationships. We sat down tonight to examine, as men and women, whether these tasks define us in our roles as women and men. Simple, clever play and questions helped us to dissect: how our roles, our ancient motivations, are integrated into our personality today. Exploring the qualities of women and men was an important and uplifting experience. As the games unfolded, one thought followed, and we inferred from each other's words the importance of the balance between male and female roles and responsibilities in our relationships and families.
Beáta Illés, as a community-enriching leader, encouraged us to think logically. His warm personality embracing our soul has permeated the evening, and his relaxed, humorous style has created a safe atmosphere for us. His energy has filled us with the "warehouses" that are being drained off on a daily basis. Bea showed how much acceptance, support, and recharging energy there is in this community. We have also experienced what it is like when the healing power of the community allows our souls to embark on a new path.
Next time we are not just going to the Parents' Academy, but going to each other – to quote one of my parents – for the joy of being together. Bea, Méri! Namaste
Andrea Nagy, parent, Kaposvár Group 4th