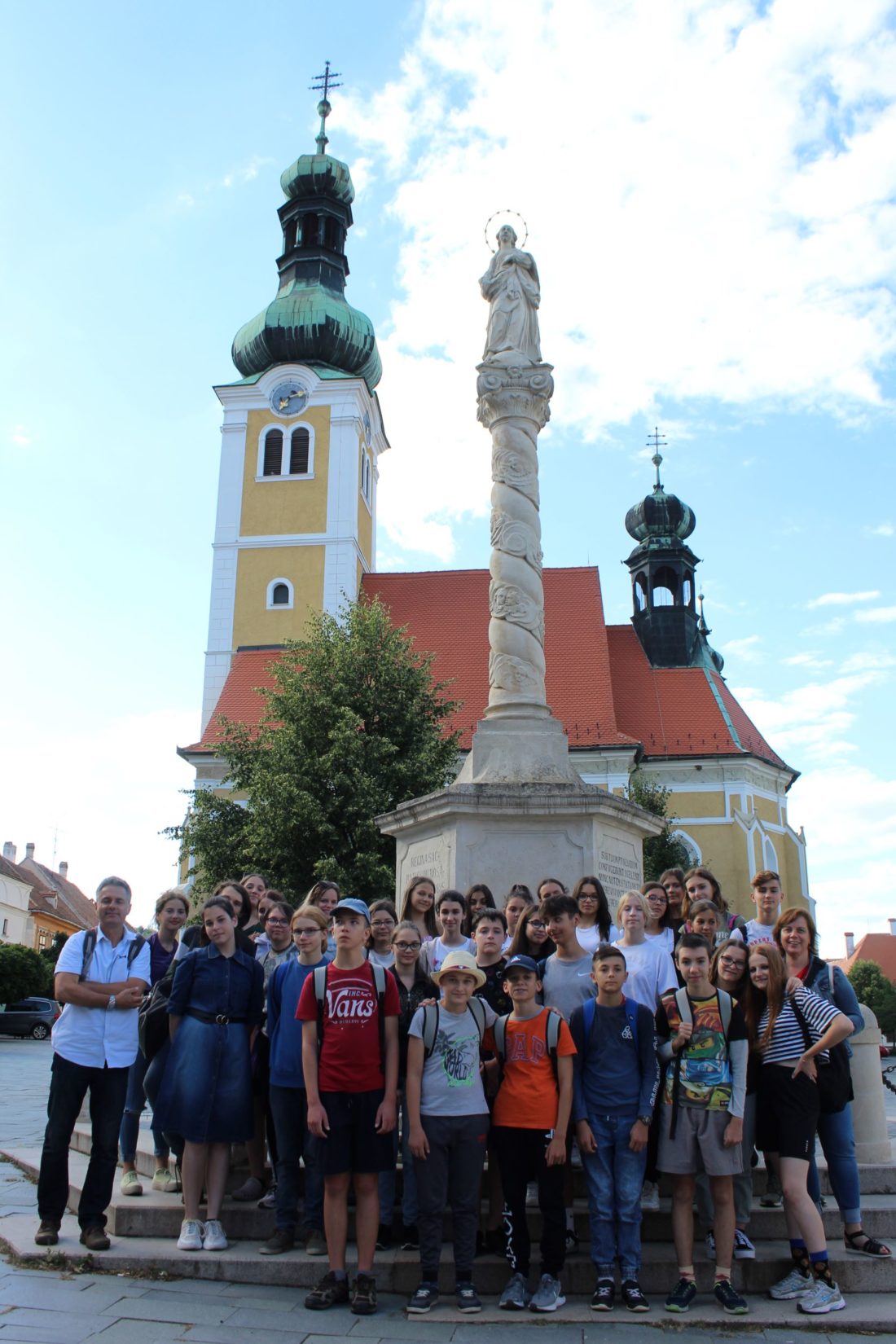 Nature and Language Camp – Kőszeg
Already on the first day, we had a lot of experiences at the nature and language camp in Kőszeg, where 29 young people from Jászság and Szeged participated between 10-16 July. The participants wrote a summary of their adventures, which you can read below:
On Sunday morning we set off for our destination, during which the two groups arrived together in Kőszeg at the Alpokalja Pension. After a warm welcome and dinner, we met Péter Illés, who organised the week's activities for us and told us about the weekly schedule and interesting facts about Kőszeg. Then we closed the evening with conversation and socialising. On Monday, after breakfast, we headed straight to Tömörd, where we bird-watched and explored rarely seen plants on our tour. In the bird nets we found, among others, chiffchaff, coal tits, buffleheads, sooty martins, blue tits and thrushes, which we collected, then ringed and examined closely. Today I learnt a lot about the birds' habitat, migration patterns, life and got to see a lot of muscular bird bellies. We also learned about the origins of plants such as acacia, hawthorn, freckled carnation, nebanthemum , knapweed, yarrow and many more interesting medicinal plants.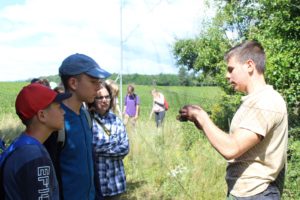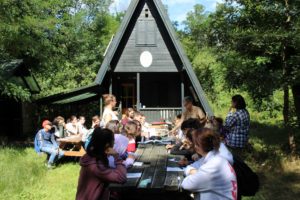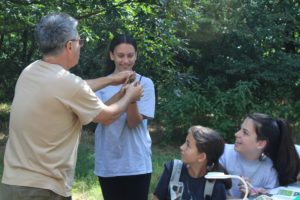 After the tour, we continued the day with language classes at the accommodation, with very exciting and interesting English interactive games. Gábor Berta and Alexandra Hégete junior mentors worked with the German group, Boglárka Kohári-Nagy, our volunteer taught the English A group, while Lídia Zsombók and Nikolett Juhász-Aba junior mentors worked with the English B group. After dinner, we went on a sightseeing tour led by Péter Illés, who gave us a detailed history of the city. Many houses in the town of Kőszeg stand as they did in the Middle Ages. There used to be a lot of grapes from which people made wine. We also visited the outside of a wine cellar called Poncichter wine cellar, it was very beautiful and old-fashioned outside. But the grape died out by the end of the 19th century, due to a root-eating louse, so they had to be replanted. We also visited the courtyard of Kőszeg Castle, where we learned that Kőszeg was named during the Turkish siege. Afterwards we went to the town's mock-up, where we could see a miniature version of the old buildings, and also visited the statues in the main square, where we met portraits of Géza Ottlik, Ottó Herman, Ferenc Liszt. We visited the two oldest churches, St James and St Imre, which have been there for 400 and 600 years respectively. During our tour we also visited the Heroes' Gate, the Holy Trinity statue, the Festetics Palace, the Forintos Matthias Bastion, the Music Well and finally we visited a Cupressaceae deciduous tree. Anna Maja Sas and Hanna Kovács Jászság group 4
On Tuesday morning we climbed Írott-kő. This trip was so interesting because we got a lot of information from Péter Illés, who was our tour guide and also Zita Korom Horváthné who is geologist. For example now we know that the Pennini-ocean was located here but went extinct as time passed so there were an ocean in Hungary and there also could be one today. During the hike we collected quartz stones and we could taste some fresh blackberry but this wasn't the only fresh thing but also we could drink from the Hörman-headwater. Here Ms Gyöngyi read a tale from which we could learn a lot. We visited the look-out tower of Írott-kő where the view was so amazing and beautiful beside this here we can find the National Blue Trail western endpoint. During the hike we were so lucky and found a red ant nest and Bánk Kohári who is one of our teammates told us some interesting information about it, like there can be around 50-200 queens in it and we could see it up close. We were able to smell the acid of ants which has a strong stench. After the journey we came back to the hotel and after a short break we went to the local sport pitch where we could play football, wimbledon and different types of board games. It was a great day! Kármen Petrovics, Lívia Lévai Szeged group 3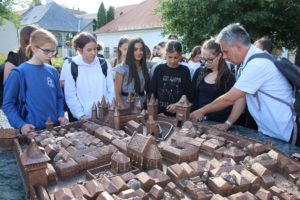 On Wednesday after breakfast we headed out to the Gymnasium in Kőszeg, where we took part in 2 different activities. The first group started with geology while the others had biology lessons. The geology class consisted of old rocks and minerals. Our teacher was Mr. Horváth Csaba and he showed us, for example, shark teeth, dinosaurus teeth and others. During the biology class we got to know how to take a sample from water, and how to identify the different species. Besides, we caught a kind of crab that was first found in the river Gyöngyös. The exercises were built around identifying the creatures. We then visited Bechtold István Természetvédelmi Látogatóközpont where we could see the pictures taken for different competitions. We then headed out to Chernel garden where we saw countless unique flowers. We also had a chance to visit some injured birds, for example cranes. After lunch it was time for the Adventure Park where we had different obstacles to try out. But first we had to try out ourselves on a training course. Only after that could we explore the park fully. At the end most of us tried out free falling, it was a terrifying experience, because it was 13 meters above ground. Everyone really enjoyed themselves and another exciting day came sadly to an end. Eszter Tuba and Ráchel Rebeka Juhász, Szeged group 3
On Thursday we started the day with a great breakfast and during our eating Dr. Miklós Radoszáv operative director who spent the whole day with us, joined us. After that we had a project work about birds where we got to know a lot of species of birds. After the lunch our mentors and Mr. Miklós took us to the place where the trip started and on this spot we met Mr Péter. First we visited the oldest tree of Hungary and this plant is older than 600 years and we know it because of its age-rings. We also visited the rook, a bunker which is from Nyilas-regime. The best part of the day was the Hétforrás where we can find the names of the 7 leaders that led the Hungarian landtaking. After our dinner we said goodbye to Mr. Miklós and then we got a lot of questions about the things that we heard during the week. As I see it we had an eventful day. Márkó Laurinyecz and Zsombor Hódi Szeged group 3
On Friday we started our journey to the stonemine in Fertőrákos, during the bus trip we saw a lot of beautiful landscapes. When we arrived at the stonemine, we took a walk on an apex. After a bit of climbing the stairs we had the opportunity to glance at the landscape through binoculars. Through the lenses we saw Europe's biggest Soda lake, Fertő lake. 4/5th of it was covered in Austrian flags. The river training is on the Hungarian side. The lake dried up in 1868. The water level is not always horizontal, because of the west wind which blows the water to the east side, there could also be 80cm difference between the two sides. We also heard about Hany Istók's legend which was rather interesting. Further along our trip we came across a cave, where we saw many ancient sea creatures and there was also a film about how they mined the stone back then. In the cave there was a display where we could read about the animals and examine their remains. The megalodon shark was so big that it could fit 4-5 of us in its jaw. There's also a theater in the cave with heatable seats. Our next stop was a look-out point which was really high in the sky. We then had our lunch at the site of the Pan European Picnic. Then we ventured forward to the mine of Sopronkőhida where we found remains that belonged to sea animals living about 13-14 million years before us. Many of us collected shells and remains even in the burning heat. One of our groupmates- Maja Sas- found a pearl that was in the remains of a shell. It was a great experience. Our next stop was a look-out tower where we kept a look out for animals like black-winged stilts. Our last sight was the mesmerising Castle of Festetics in Fertőd. We ended the camp as usual, with dance, amazing music and in a great mood. Alex Pászti and Márk Török, Szeged group 3
This week was so amazing and eventful and we could learn a lot about Kőszeg and the area. We hiked a lot, and we widened our knowledge about the plants and birds. The mood always was great between the two groups and we got closer to each other because of the language lessons. We could participate in many instructive programs and the atmosphere was also good in the hotel. I am so thankful for this week. Anna Maja Sas Jászság group 4
We thank our teachers, helpers, junior mentors, our volunteer, bus driver and the owner of the Alpokalja Panzió-Jeszenszky Zsuzsa-and we are also thankful for the fantastic teamwork, the lovely talks, experiences and the memories! Hábenciusné Balla Andrea and Novák Gyöngyi mentors
For more pictures visit our Gallery.