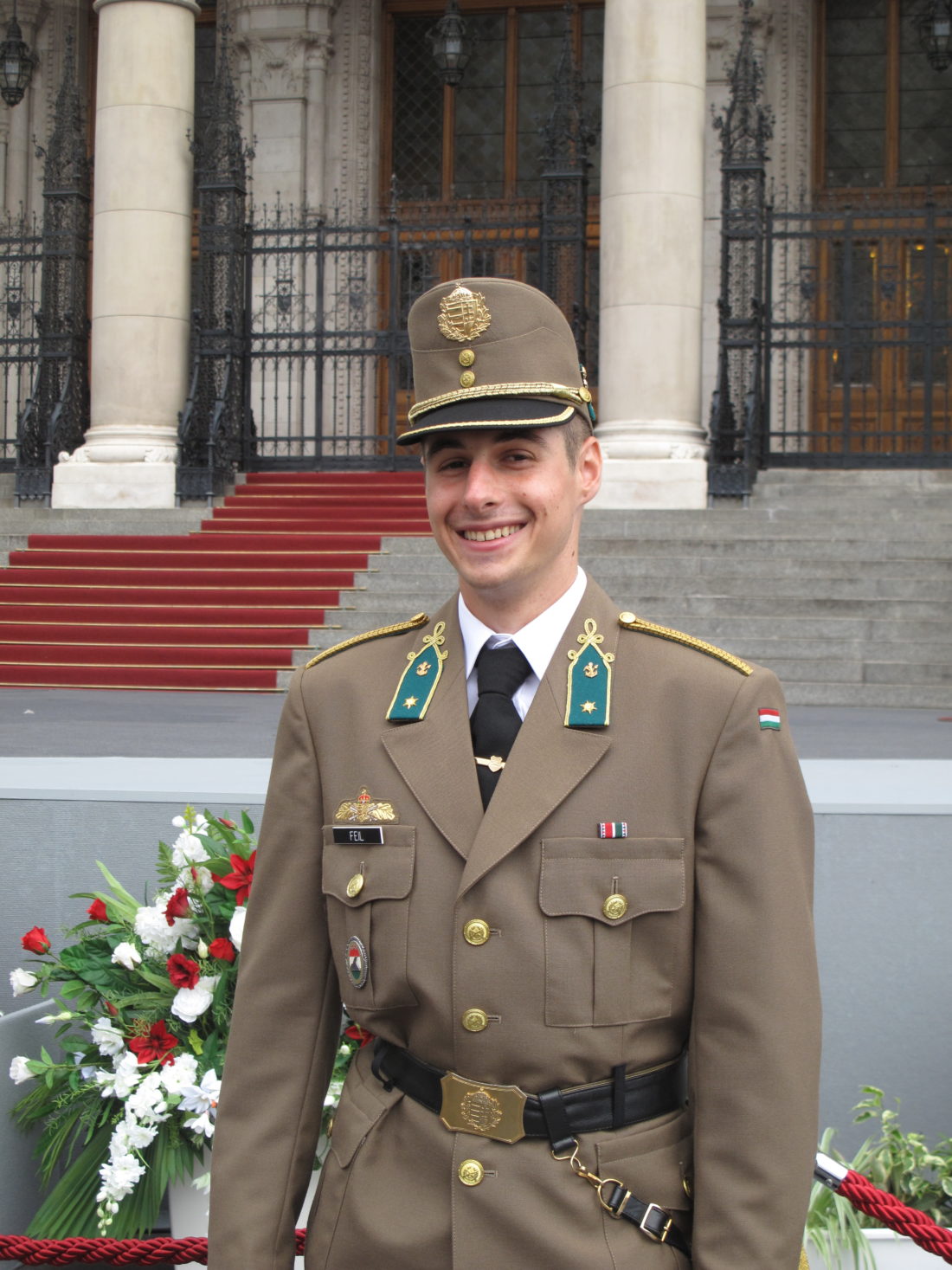 Passing out
"On 17 August, I received my diploma, lieutenant's shoulder ribbon and officer's saber at the Faculty of Military Science and Military Officer Training of the National University of Public Service. On 20 August 2022, I took my oath of office and was sworn in as an officer in front of my family, mentor and the country and the world at large on the Main Square of the Nation, Kossuth Square. It was one of the most defining moments of my life and I am very grateful to the Csányi Foundation for the tremendous support, without which it would have been much more difficult to achieve my goals. In the future, I plan to continue my studies, aiming to obtain an engineering degree in line with my military technical education, as well as a Master's degree at the National University of Public Service, Faculty of Military Science and Military Officer Training.  My first commission as an officer is as a platoon commander in the 37th Rákóczi Ferenc II Technical Regiment of the Hungarian Defence Forces.
I would like to thank the Foundation, mentors, development teachers and my peers who supported me on this long journey and made it possible for me to fulfil my dreams."
Gergő Feil, Szeged Group 1
"Thanks for 12 years to the Csányi Foundation
In medias res – cutting to the heart of things: trumpets sounding, our national flag waving in the wind, command words, white gloved hands raised in oath – the newly inaugurated officers on Kossuth Square. Among them is my son Gergő. I'm very proud of him, but my heart also sinks sometimes. While he was at the National Defence University, I knew he was safe. He became a lieutenant, my handsome, handsome son – right now, when there is a war going on next door and guns are cracking. Being a pacifist and a mother with a jealous heart, I would not have liked it that way, but it was her firm decision. Even as a kindergartener, he used sticks as rifles on the slide and as a little schoolboy, he read books about the Great War.
… But safety didn't start at university. A sure point in his life was his beloved Hunyadi János Primary School. Before its closure, his teacher, Aunt Jolika, discovered Gergő's good abilities and recommended him for admission to the Csányi Foundation.
This was a great adventure for him. A long written and oral assessment, as a mother I was certainly more nervous than he was. The tests showed that Gergő really showed promise, so he was accepted to the foundation. We were very happy, because Gergő has 4 siblings, I was a full-time mother, and we had modest financial means. But our bookshelf was always full, knowledge is very much appreciated.
Gergő received tutoring in a variety of subjects from the Foundation's teachers, including English and mathematics. He spent most of his Saturdays at the Csányi House, but they not only taught, but also organised attractive, interesting and age-appropriate activities for the children. For example, they went to the theatre, to the Wildlife Park and to science exhibitions. The nature trips, the Life Journeys days and later the trips abroad all gave Gergő a lot of experiences. Without the Foundation, he would certainly not have got to England until he became a breadwinner. He was able to travel several times and, living with family, it was a very good language learning opportunity for him. He graduated from high school with an A-level in languages. She received such useful help from the Foundation that she had a straight path to university.
I must mention how important the Foundation has been to me as a parent. I will miss it very much. Especially because of our mentor Piroska, who took the time to listen to our problems during family visits and had long conversations, so she understood the difficulties in Gergő's life. Her advice also helped him through the storms of adolescence. Because there are months and years in every child's life when learning is not the most important thing. The Foundation's mentor also helped him through these times with motivating words, activities and, when necessary, more strict, reinforcing boundaries.
It was a very good feeling for me to participate in the "Chania programmes", especially before Christmas. I was touched to watch the children's Christmas show. My brother Gergő was 4 years old when we started to go to family gatherings. The little one always really enjoyed them and filled his tummy with delicious cookies and sandwiches. It was with curious delight that we unpacked the precious Christmas gift parcel at home and, as we were always on a schedule, we even had the Pick sausage on the casserole in February.
I haven't yet written about the children's football tournaments and what a great experience it was for them to be able to cheer live in Budapest at the adult league games.
The Foundation has made a huge contribution to Gergő's personal development. His self-confidence, interpersonal skills, sense of responsibility and motivation have developed year by year through drama classes, project work, team building programmes and collaborative productions.
As I flip through the yearbooks, I realise again how much opportunity Gergő has been given to launch his successful career. When we were in it, it was almost natural to have so many programmes and opportunities, but we didn't. Thank you for that!
I haven't even mentioned a very important benefit, the monthly scholarship that Gergő received until he graduated, which helped him to establish his independent life at a very young age. I hope his career will go according to plan and be a success.
Many thanks to the Csányi Foundation for everything and we wish the founders and all their staff continued good work and good health.
God bless you my son Gergő and all your fellow soldiers! And may God bless all of us, all the people and comrades on our land, in our current difficult situation, trusting in a better future."
Gabriella Gálosi, parent
"I was honoured to be invited to this special ceremony, along with my close family, as Gergő's mentor. I was delighted to go this time, as I was to his graduation and inauguration ceremony. It was a pleasure to accompany him on his 12-year journey. I wish all mentors such a mentored student. On behalf of the Foundation, congratulations and best wishes for continued success."
Piroska André Szabóné, mentor