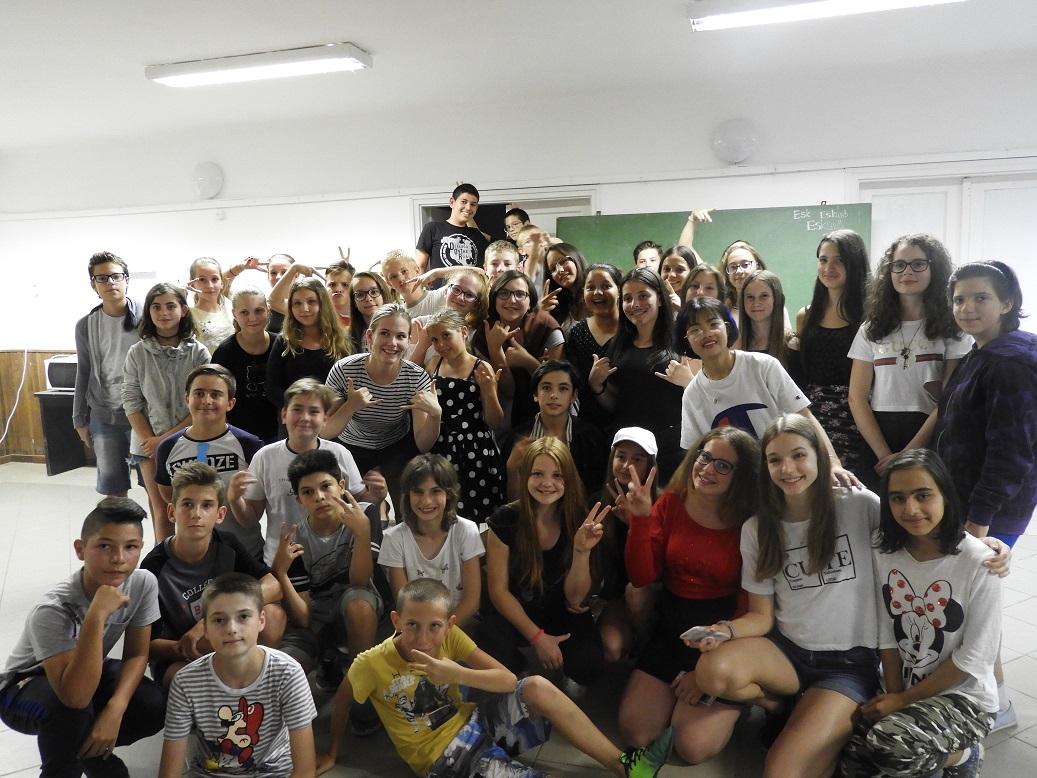 Tokaj – here we come!
Monday (25th June) – All the 6th Graders from Mohács, Nagybajom, Pécs along with the volunteers,  junior mentors and our teachers arrived safe and sound to Tokaj to spend a wonderful week having fun and practising German and English. The weather was great and though the journey was long our dinner sized our evening and encouraged us to chat or play football on the yard. Before going to sleep Mrs Edina (the camp leader) welcomed us and introduced the weekly programme. It is fun being together. Tomorrow we are going to have an early start. Follow us and read about us, day after day.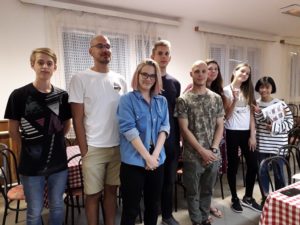 Tuseday (26th June) In the morning, I helped Tamas with the English class, I talked with the children, asked them about their families and hobbies, at first they were very shy, but soon we became good friends, some of their even try to teach me Hungarian. Then we had a game, to use the cards to make a story. These kids are very smart, they are full of imagination, and made great stories.
In the afternoon, we went to amusement park, we took the cable car and saw beautiful scenery from the hill. After that, I tried the BOB, its like a simple roller coaster it was really amazing and I played it for 2 times!
In the evening, I had my first presentation, I taught the kids about pandas, and gave away some gifts. I can feel they really like the gifts, that makes me really satisfied." Qing Zilling, AIESEC volunteer from China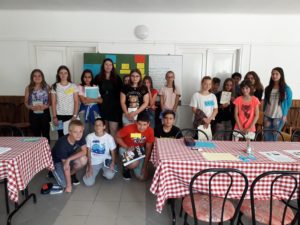 Wednesday (27 June) It was a rainy day, no sun, no summer just dark clouds, cold wind and heavy rain. However the weather conditions we were as good as gold. The team of Blue Pixel visited us and broadened our knowledge in the field of taking photos and making a video spot. Following that we still had chance to enjoy English and German classes till midday. In the afternoon one of the groups went to see a local exhibition in Rakamaz regarding ancient Hungarian culture and history. The other ones went to the other side of Bodrog and a great time in Tokaj wine museum. How to say farewell to the day then sitting on a horse carriage and strolling along the romantic streets of Tokaj.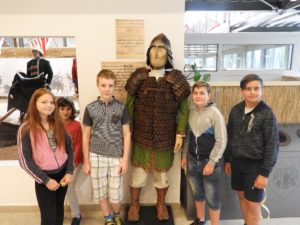 The camp so far was AWESOME, I hope the best for the rest of the week. The kids are great and smart. I can tell that they have thirst for the world around them, they love learning. At first they were too shy, but soon we became friends. Now we laugh together and enjoy every moment together – I seldom meet such enthusiastic, witty kids. This camp is an unforgettable camp: the lessons, the afternoon programmes, the presentations, the time spent together are just a part of me. I hardly can wait the next day to come!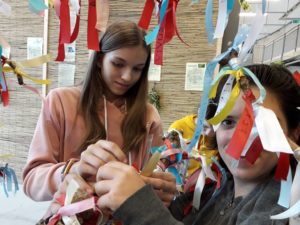 Tuesday (28th June) No matter to learn as English and German classes were just fun poor. We not only practised the language but were acting out. Our teachers are just fabulous. After lunch we did not have time to be lazy as a cruiser waited for us and we headed to visit the sight n Szabolcs. Though it was drizzling we went for a walk and listened to our guide. In the evening some of us explored the town while the others were sitting on a horse carriage.
Friday (29th June) "Time flies so fast, I have been with the kids for a week. I really had fun with them. This was my first time spending a whole week with the kids, who are lovely. They are lovely, and they like me very much and try to teach me Hungarian. They had no problem not speaking English, as they still tried to say "HI" to me – I am so moved. Kids are truly naive, if they like you, they just show directly.
I showed several presentations. The kids liked them very much, after that, they asked me some questions about my city and university. I was also found of the activities in the afternoon, we went to the museum and zoo together, we explored Tokaj. I don't want to leave them, I have just met them and we have to say goodbye. This experience is really unforgettable, as these kids taught me how to love again." Qing Zilling, AIESEC volunteer from China