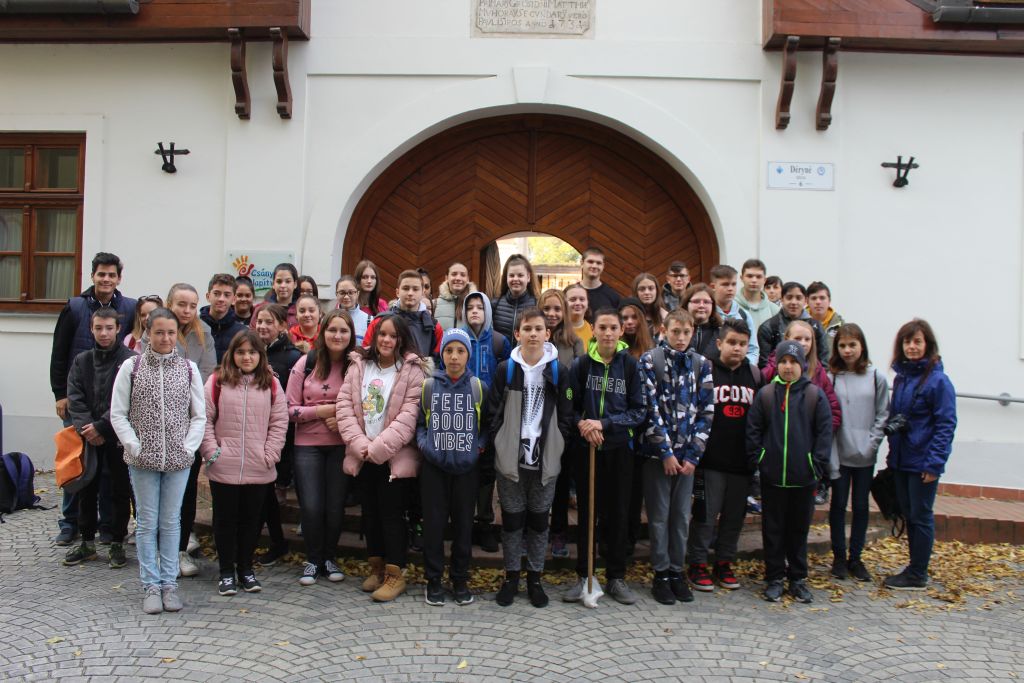 Aware of our environment
The environmental awareness project of the Jászsági Community House continues this week with the participation from all four groups.
"On Friday, we had the opportunity to visit the junkyard in Jászberény and learn a little more about selective waste collection. We were accompanied by our volunteer, Katalin Paksi Fülöpné and a mentor, Tamás Oláh. We gained insight to how waste is sorted, and took a look and containers full of different types of waste, such as hazardous waste, discarded electronics, construction debris, plastic, and paper waste. We brought some used cooking oil and an unusable standing-lamp with us to be discarded to their respective containers. At the end of our visit, the junkyard donated a composter to our Foundation. By using this composter, less reusable waste will end up in the junkyard, and some money will be spared, because it won't have to be transported anywhere. The raised concubines that will be installed during spring, will use this compost to make the growing of plants here a lot more environmentally sound, and a lot more natural. I found this trip very useful, because of how much we learned about the importance of selective waste collection."– Olivér Kóczián, group Jászság 3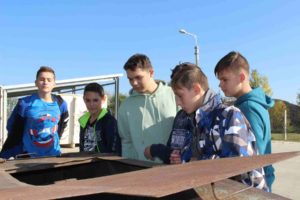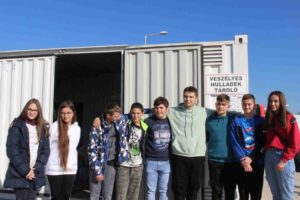 "I was happy to help making the raised concubines. Carpentry consists of multiple stages: disassembling the pallets we had, using the fallen-off pieces to fill up the holes in other pallets, smoothing out the surfaces so that there are no splinters, and then putting it all together. Once all sides were ready, we attached them to one another with screws. We used the leftover material to create a makeshift bench. The boys enjoyed the physical work, and they will get more of it, because it will take a few more sessions to be done with everything." – István Bugyi, volunteer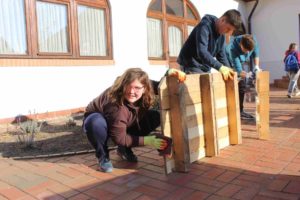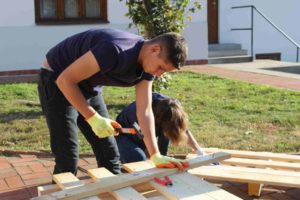 "On Friday we started an experiment lead by Terézia Csörgő to collect data about the soil and the water periodically in 6 different locations, far away from each other in Jászberény and the neighboring areas. The purpose of the experiment is to research how the pH values change under the influence of different environments over time. We can observe this by taking water and soil samples from aforementioned locations. The first sale of approbation was quite thrilling. We wrote down the data on a put-up data sheet. It was to take a walk outside and visit all these different places; some of them I've never even seen before. Everyone enjoyed the trip and we just can't wait to see the outcomes of the experiments next time in the Community House." – Kiss Evelin Éva, group Jászság 3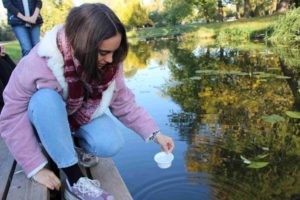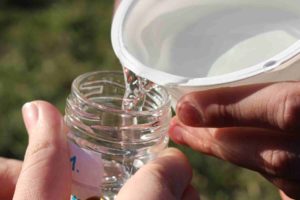 "I hurried to the Community House Saturday morning, because I was very excited for doing something for the environment and contributing to the environmental awareness project. We started at 8 o'clock with 50 people collecting trash on the outskirts of Jászberény. We divided up into three groups and followed three different routes. In the end all groups collected more than 10 garbage bags of trash. We found a variety of different things, ranging from diapers to windscreen wipers, but what we found the most of was energy drink cans. I am happy to have done something for the environment and help fight littering, and maybe bringing a little change as well.
After that, we walked to the zoo where we had lunch and listened to Krisztina Rékasi tell us about two of the animals in the zoo. The first to be introduced were the giant anteaters, native to South-America. This species is not endangered, but they can easily be, because fields and roads are taking over their natural habitats, decreasing their numbers. Next were the four red pandas, that were given to the zoo by EEP. They are highly endangered, because they are hunted for their fur in their natural habitat: Nepal and China.
Everything that happened presented us the severity of the problems we are facing. Littering, driving species to extinction by taking their natural habitats away, and so much more. That is why I'm glad that the Foundation chose environmental protection as the theme for this year's project, because this way we can do something against aforementioned problems.
At the end of the day, we received a certificate of appreciation from the organizer, Krisztina Béres. Thanks to her for organizing this entire day, and providing us with zoo tickets and a delicious lunch." – Gyula Pege, group Jászság 3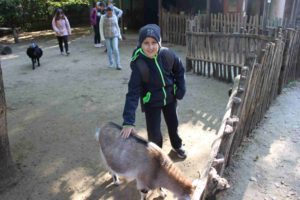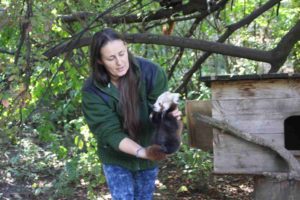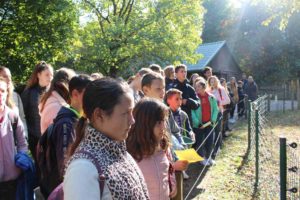 "Group Jászság 4 began its waste collecting journey on Nagykátai Street, then continued it in the industrial part of the town, walking along the River Zagyva and arrived at the zoo. We have done fairly well in the Worldwide Walking Day, since we did about 16000 steps each. Our participation in this event will hopefully make walking a little more popular, and discourage littering as well. I am happy to help and work towards this great cause." – Angelika Pege. group Jászság 4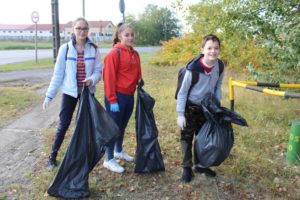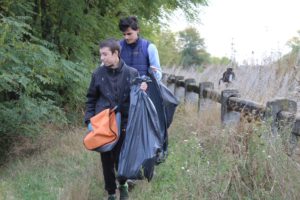 "All groups actively took part in all the activities during these two days. Friday afternoon, while the boys were trying their hand in carpentry, the girls collected the samples they needed from different parts of the town. As Tamás Oláh, our mentor suggested, we spent the Saturday forenoon collecting litter, which was a popular idea in our group, because the previous occasions were fun as well. However, this time all groups participated, and because of the big companionship, we had even more fun. The afternoon was spent in the zoo, watching the feeding of some exotic animals." – Viktória Füle, group Jászság 2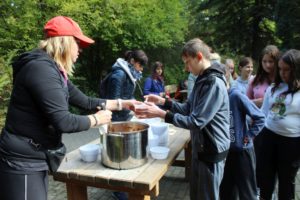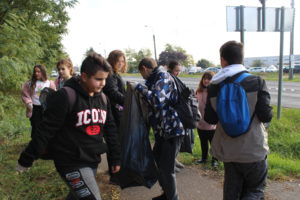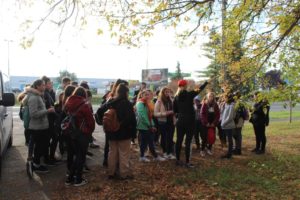 "On October 16th, the members of the Csányi Foundation participated in the Worldwide Walking Day(Month), walking from their Community House to the local zoo. However, during this trip, hands were kept busy: the children armed themselves with rubber gloves and garbage bags to be not just representatives of an active and healthy lifestyle, but to be responsible human beings as well. We eagerly joined them with my partner, Ádám Kovács, as volunteers. Our main destination was the vicinity of the roundabout on Nagykátai Street, where we collected about three garbage bags of junk. Since we were headed towards the zoo, we also dropped by the industrial part of town, from where we walked to Fémnyomó Street. These parts are a lot less busy with traffic, there are a lot less cars driving by here, and maybe the Zagyva attracts more environmentally sound people. Unfortunately, as we continued our route, we were presented an aggravating amount of litter; we collected over 8 bags of it just there. This is caused by the indolent behavior of the locals, and the fact that there are no communal trash containers or dumpsters in the area. While the children did everything that stood in their power, the cause requires many, many more people to do the same." – Boglárka Kohári-Nagy, volunteer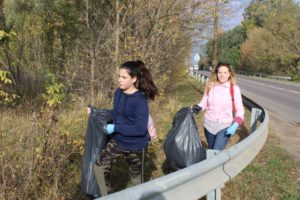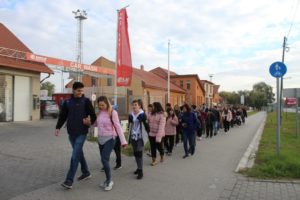 The environmental awareness project of the Jászsági Community House continues this week with the participation from all four groups.
"On Friday, we had the opportunity to visit the junkyard in Jászberény and learn a little more about selective waste collection. We were accompanied by our volunteer, Katalin Paksi Fülöpné and a mentor, Tamás Oláh. We gained insight to how waste is sorted, and took a look and containers full of different types of waste, such as hazardous waste, discarded electronics, construction debris, plastic, and paper waste. We brought some used cooking oil and an unusable standing-lamp with us to be discarded to their respective containers. At the end of our visit, the junkyard donated a composter to our Foundation. By using this composter, less reusable waste will end up in the junkyard, and some money will be spared, because it won't have to be transported anywhere. The raised concubines that will be installed during spring, will use this compost to make the growing of plants here a lot more environmentally sound, and a lot more natural. I found this trip very useful, because of how much we learned about the importance of selective waste collection."– Olivér Kóczián, group Jászság 3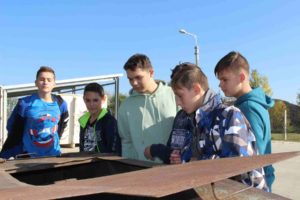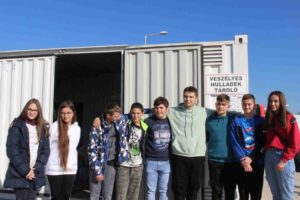 "I was happy to help making the raised concubines. Carpentry consists of multiple stages: disassembling the pallets we had, using the fallen-off pieces to fill up the holes in other pallets, smoothing out the surfaces so that there are no splinters, and then putting it all together. Once all sides were ready, we attached them to one another with screws. We used the leftover material to create a makeshift bench. The boys enjoyed the physical work, and they will get more of it, because it will take a few more sessions to be done with everything." – István Bugyi, volunteer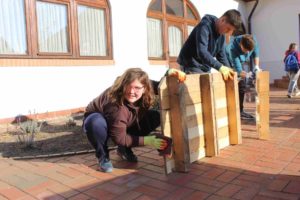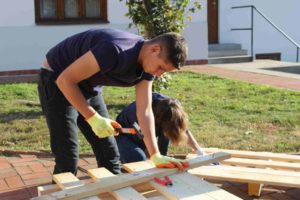 "On Friday we started an experiment lead by Terézia Csörgő to collect data about the soil and the water periodically in 6 different locations, far away from each other in Jászberény and the neighboring areas. The purpose of the experiment is to research how the pH values change under the influence of different environments over time. We can observe this by taking water and soil samples from aforementioned locations. The first sale of approbation was quite thrilling. We wrote down the data on a put-up data sheet. It was to take a walk outside and visit all these different places; some of them I've never even seen before. Everyone enjoyed the trip and we just can't wait to see the outcomes of the experiments next time in the Community House." – Kiss Evelin Éva, group Jászság 3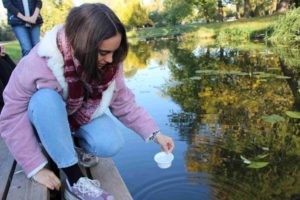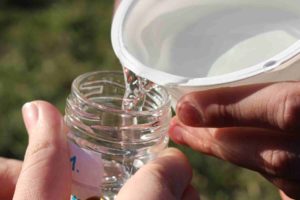 "I hurried to the Community House Saturday morning, because I was very excited for doing something for the environment and contributing to the environmental awareness project. We started at 8 o'clock with 50 people collecting trash on the outskirts of Jászberény. We divided up into three groups and followed three different routes. In the end all groups collected more than 10 garbage bags of trash. We found a variety of different things, ranging from diapers to windscreen wipers, but what we found the most of was energy drink cans. I am happy to have done something for the environment and help fight littering, and maybe bringing a little change as well.
After that, we walked to the zoo where we had lunch and listened to Krisztina Rékasi tell us about two of the animals in the zoo. The first to be introduced were the giant anteaters, native to South-America. This species is not endangered, but they can easily be, because fields and roads are taking over their natural habitats, decreasing their numbers. Next were the four red pandas, that were given to the zoo by EEP. They are highly endangered, because they are hunted for their fur in their natural habitat: Nepal and China.
Everything that happened presented us the severity of the problems we are facing. Littering, driving species to extinction by taking their natural habitats away, and so much more. That is why I'm glad that the Foundation chose environmental protection as the theme for this year's project, because this way we can do something against aforementioned problems.
At the end of the day, we received a certificate of appreciation from the organizer, Krisztina Béres. Thanks to her for organizing this entire day, and providing us with zoo tickets and a delicious lunch." – Gyula Pege, group Jászság 3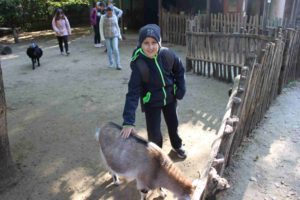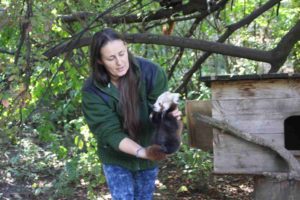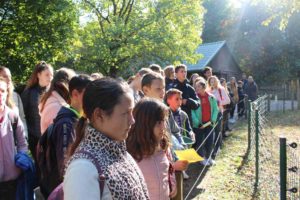 "Group Jászság 4 began its waste collecting journey on Nagykátai Street, then continued it in the industrial part of the town, walking along the River Zagyva and arrived at the zoo. We have done fairly well in the Worldwide Walking Day, since we did about 16000 steps each. Our participation in this event will hopefully make walking a little more popular, and discourage littering as well. I am happy to help and work towards this great cause." – Angelika Pege. group Jászság 4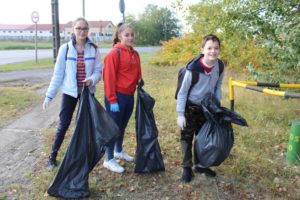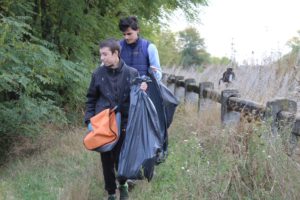 "All groups actively took part in all the activities during these two days. Friday afternoon, while the boys were trying their hand in carpentry, the girls collected the samples they needed from different parts of the town. As Tamás Oláh, our mentor suggested, we spent the Saturday forenoon collecting litter, which was a popular idea in our group, because the previous occasions were fun as well. However, this time all groups participated, and because of the big companionship, we had even more fun. The afternoon was spent in the zoo, watching the feeding of some exotic animals." – Viktória Füle, group Jászság 2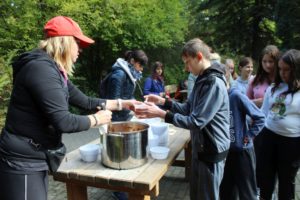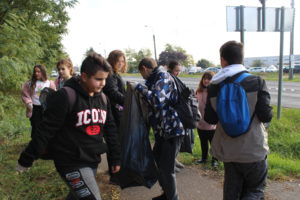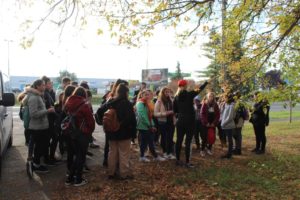 "On October 16th, the members of the Csányi Foundation participated in the Worldwide Walking Day(Month), walking from their Community House to the local zoo. However, during this trip, hands were kept busy: the children armed themselves with rubber gloves and garbage bags to be not just representatives of an active and healthy lifestyle, but to be responsible human beings as well. We eagerly joined them with my partner, Ádám Kovács, as volunteers. Our main destination was the vicinity of the roundabout on Nagykátai Street, where we collected about three garbage bags of junk. Since we were headed towards the zoo, we also dropped by the industrial part of town, from where we walked to Fémnyomó Street. These parts are a lot less busy with traffic, there are a lot less cars driving by here, and maybe the Zagyva attracts more environmentally sound people. Unfortunately, as we continued our route, we were presented an aggravating amount of litter; we collected over 8 bags of it just there. This is caused by the indolent behavior of the locals, and the fact that there are no communal trash containers or dumpsters in the area. While the children did everything that stood in their power, the cause requires many, many more people to do the same." – Boglárka Kohári-Nagy, volunteer