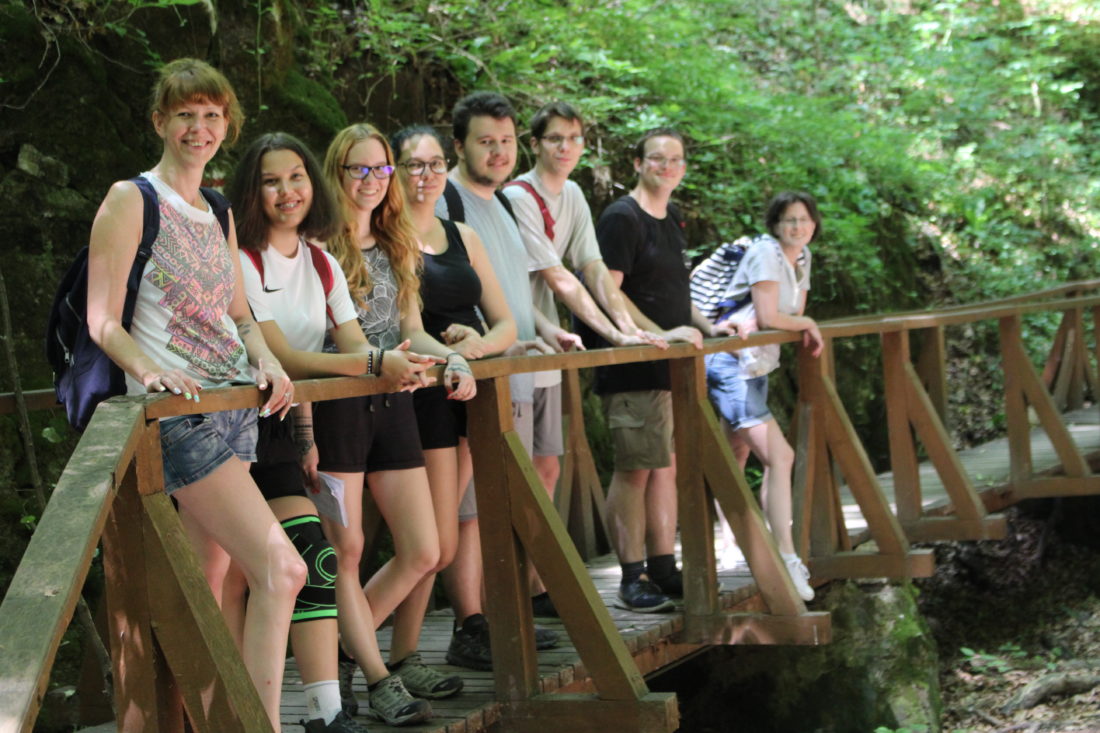 Year-ending hiking trip
Our hiking club ended the school year with a trip to the Mecsek mountains on 19 June. Several club members were already on holiday or being vaccinated, but the enthusiastic core still went to see one of the most beautiful places of the neighbouring county. We weren't deterred by the sweltering heat, and we had the opportunity during the walk to discuss our plans for next year. Below are accounts of Saturday's events by participating students and a parent:
'We completed the last tour of the school year, which was as exhausting as it was entertaining. This time we hiked in the western part of the Mecsek range, a really beautiful area full of steep slopes, quickly flowing creeks and even hidden caves. Though they wouldn't have meant as much if we didn't see them together. I see Kaposvár 2. as a strong group for moments like these. All of us will remember the endless hills – unfortunately, we had to climb them, too –, the cool cave in the side of a peak as well as our attempt to scale this cliff, which proved to be much more successful than getting back down. These simple but important memories are what strengthen bonds among us and that's why I think our hiking club was, if not everyone's, most people's favourite activity.' Dominik Antal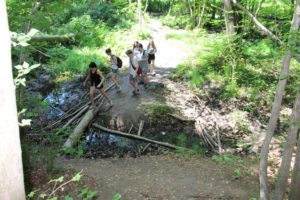 'I believe many of my fellow parents agree that it's difficult to come up with an activity where our adolescent kids like being together with us parents. I'm happy that we managed to do this in the hiking club. It's good to see my child, our children experience these adventures. Sometimes I'm really worried that the important moments I went through back in the day are missing from the lives of today's kids (and thus from mine, too). I think it's important to learn and experience openness to the world and the love of nature. It was good to see the kids be and laugh together, look for and spot nice features, TOGETHER climb the hills in the scorching heat, without complaining or foul language. We were there, we could be there, yet they weren't bothered by our presence. I'm thankful for all such activities, I'm looking forward for the next trip and I'm searching for a place we can go next.' Szilvia Antalné Szabó, parent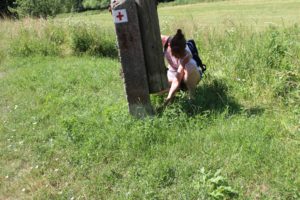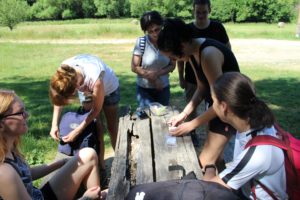 'We set out from Mánfa on our walk to the Mecsek mountains, in the valley leading to the Kőlyuk ('Stone Hole'). Our first stop was at the church built during the Árpád dynasty, which is still in pretty good shape. Right next to it we found a geocache, naturally we left an entry in the logbook that we were there. In the burning sunshine we couldn't wait to get to the woods, it was so cool under the trees. We then went to Ágnes Fall. Its clear water cut the rocks under it into interesting shapes, which to me was a beautiful sight. We walked next to creeks and sources, which showed us the wonders of nature. We stopped at the Kőlyuk cave, and although we could only see it from the outside, it was amazing, especially the cold air flowing out of the cave. Some of us were brave enough to climb to its top. I enjoyed the tour very much, it had both adventure and tranquillity. We're now considering going on a night tour sometime in the summer. We'd be eager to give an account of that, too.' Eszter Sárközi
Pictures of the tour can be viewed in the gallery.