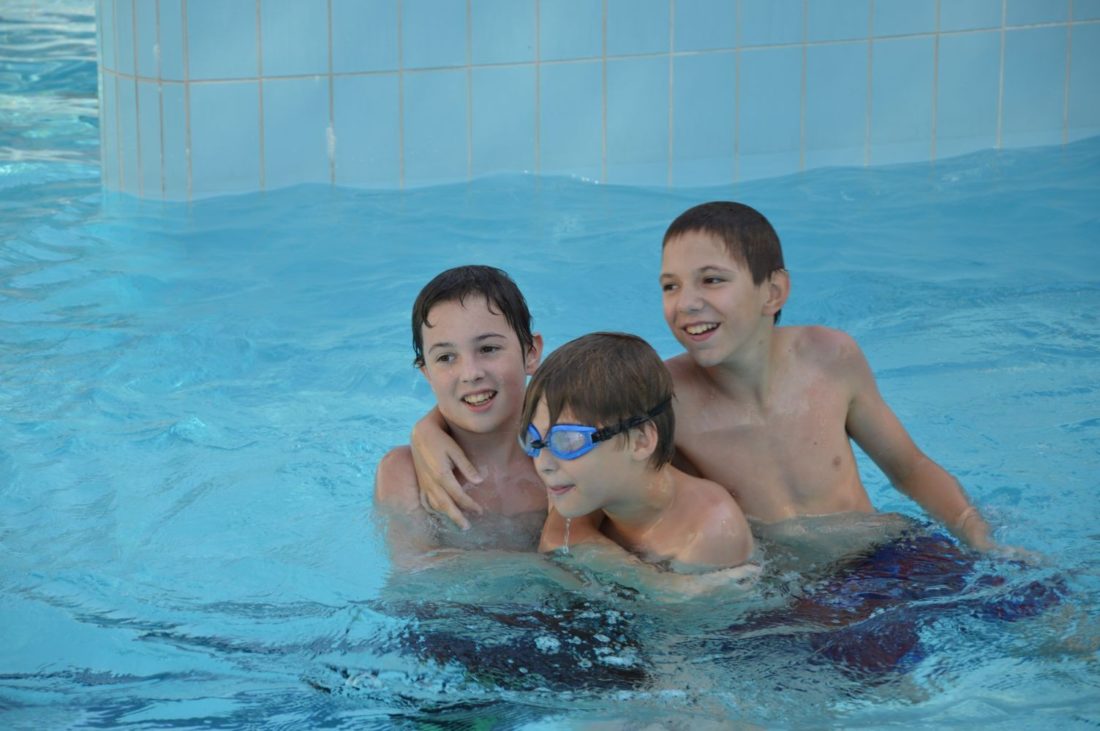 Swimming camp for group 2 in Mohacs
Today (24 August) the swimming camp started for group 2 in Mohács. After the long summer break the children greated each other and their mentor with great joy.
In the coming days they will acquire the basics of swimming from their trainer Csaba Czakó. On the first day they learned and practised the necessary arm and leg exercises and sliding for acquiring breast stroke. After their hard work they enjoyed the fun pools and the chute. The afternoon was spent together while enjoying some ice cream.
The second day of our swimming camp started with the revision of the exercises from yesterday. After this the group was divided into two teams. The more advanced swimmers could occupy the bigger pool, while the others were practising breast stroke in the smaller one. Unfortunately the weather did not allow the children to enjoy the outdoor pools today. The day was finished at the Busó court, where we got acquinted with the past and present of the Busó tradition.
Our third day started with some rain, so we skipped the outdoor fun pools from our program. After some warming ups, the children started the day with revising the exercises from the previous days. In the afternoon the sun started to shine so we did not have to go without some ice cream… Later on we visited the Kanizsai Dorottya museum, where we learned with the help of Éles Annamária about the culture, life and traditions of the different nationalities living in Mohács. It made everybody happy that Miklós bácsi was with us today, too.
The fourth day – This morning the sun was shining beautifully so after Csaba bácsi held his swimming lessons, it was a great experience to try out the outdoor chutes. After the two previous cloudy days it was a joy for everyone. The advanced swimmers could use the big outdoor pools for swimming and jumping. After the tasty lunch we visited the Memorial park in Sátorhely, where we learned in an interesting way about the history of the battle of Mohács.
The fifth day – Fortunatelly the last day of our swimming camp started with bright sunshine. After the warming up, Csaba bácsi organized a great swimming competition between the boys and the girls. It became a warm contest, where the kids were cheering for and encouraging eachother. (The boys asked me not to mention who the winner was…) The week reached its end very quickly, but everybody enjoyed it, and we were very happy that we could be together. We shall meet again at the family day in September!