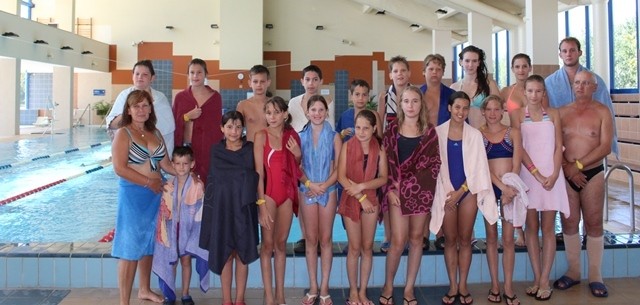 Swimming Camp in Kaposvár
Last days in the swimming camp
When we met for our week-long swimming camp, we had elevenses as a first act.Even though the weather wasn't for our liking (neither was it for swimming), we were happy to be together again and tell each other some of our summer stories. After that, we had tol isten to safety instructions, as we can't go into the water without knowing its dangers and what to take care of.So we headed for the leisure bath, where our 'junior mentor', Sára first took a look at how well we could swim (since some of us regularly go to competitions). When she saw that everybody was fit for 'deep water', we went over to the swimming pool to lern the different strokes and the correct movements. On the first day, unsurprisingly, we had to learn how to stay afloat, But Sára also managed to teach us the basics of the breaststroke as well as the front crawl. At the end of the day, as a reward of sorts, Sára even did a little bit of a synchronised swimming show, to our liking and amusement. All in all, the first day went by so quickly and in such high spirits that we can't wait to go back tomorrow. Hope the weather will be to our liking next time!
Gyurka Péter, Kaposvár 2.
In the last two days we got a lot of experience and tiredness in the swimming camp in Virágfürdő of Kaposvár. Everybody was at a different level of swimming when we started, but here we got everything straight. Our little mentors taught us proper freestyle, breast stroke and backstroke. We learnt the basics of synchronized swimming from Sára and immersion from Enikő. After swimming we had lunch together and then off  to the water park. This is what I liked the best, though I'm also happy about being better at swimming and feeling safer in the water than before. Mr Miklós was with us both days. He rooted for us at the pool and at the water slides too. Today he also saw when we jumped into deep water from up high. Today diving into the 4-meter-deep water was what I enjoyed the most. It was fantastic! In the swimming camp we are with the little mentors every day but today Dani, our volunteer came with us too. We got really exhausted with my mates, but we are happy to have a chance to learn how to swim. I'm already sorry that the swimming camp will come to an end in two days. Today we also got ice cream as a prize from Mr Miklós.
Nándor Dausek, Kaposvár 2.
We had a swimming camp with group Kaposvár 2 from August 22-26. Unfortunatelly this wonderful summer programme finished yesterday.
We had a specific daily routine during the week. We had a meeting point at the swimming pool at 12 and after changing our dresses we all got into the pool. We leant something new from the small mentors every day. We dived a lot, learnt how to swim well and breathe right. Our favourite was the diving lesson. After these we had lunch and have a rest in the  water park. We spent the time we had left, outside. We played with each other in the different pools. We played some kind of ball games and we were jumping in the water. It was special for us that next to Sasa, Miklós also took part in our adventure. We played together, swam and got a ball from Miklós. Our pleasure was when we got ice cream twice. Thank you for that!
In the end some oppinions from our mates:
– I am much more confident now, I am not afraid in deep water anymore (Dorci)
– I didn't give up, I was strong and did everything from the beginning till the end (Nándi)
We were in a swimming camp with the school too but it was much better for me.  (GyP)
It is good if we enjoy the sport, moving is a happiness. (Dodo)
We got some presents from our small mentors and they were proud of us. Thank you very much for being with us jn the hall camp and helped us. We are looking forward to the next health camp. Until that we have to "survive" only one year.
It was a really exciting and useful camp. Thank you very much for the Foundation.
Antal Dominik and Karácsony Áron