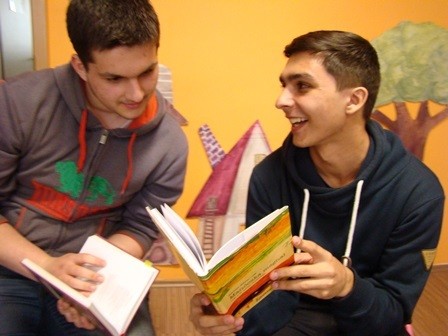 The day of poetry
One day after the official poetry day our mentor organised a poetry afternoon for us (11 April).
In our group hardly anybody tells poems, and to be honest neither do I, except the compulsory ones required in the school. But after this afternoon, I think I will read poems more often. Simply because I found that poems can make you laugh, cry and think about a problem at the same time. It was also very good that the group play together this afternoon. The first game made us laugh, we had to figure out the word that was glued onto our backs. The others helped us telling similes. Then we were selecting from books of poetry and we chose the poem we liked for the first sight and read out loud for the others. After this part, we played again, more precisely poem writing in a funny way. First, we didn't really like the task but then we enjoyed it very much and some of the poems were just brilliant. We had to work in pairs, the first person wrote four words on a piece of paper than the other one wrote four words under the previous line with rhyme at the end and so on.
It was a really nice afternoon with the group and our mentor.