Welcome to England!
The winners of the language contest have the opportunity to spend a week in England for an intensive language camp, where they will practice the target language in a native environment, while learning about the culture and customs of the country.
On Sunday, we set off for the misty Albion – and the first experience was waiting for us as soon as we entered the terminal, as many of us were flying for the first time. We took a bus from London airport to Bournemouth, which was exciting not only because of the real English scenery, but also because of the left-hand traffic, another characteristic of the country. After all this excitement, everyone finally settled down to rest at the host families where the children will be staying for the duration of the camp, giving them the opportunity to practise the language outside the classroom, where intensive language classes start on Monday.
The week has many exciting activities in store and we look forward to experiencing them all!
As the English would say, Welcome to England!
Bianka Járay, Pécs Group 2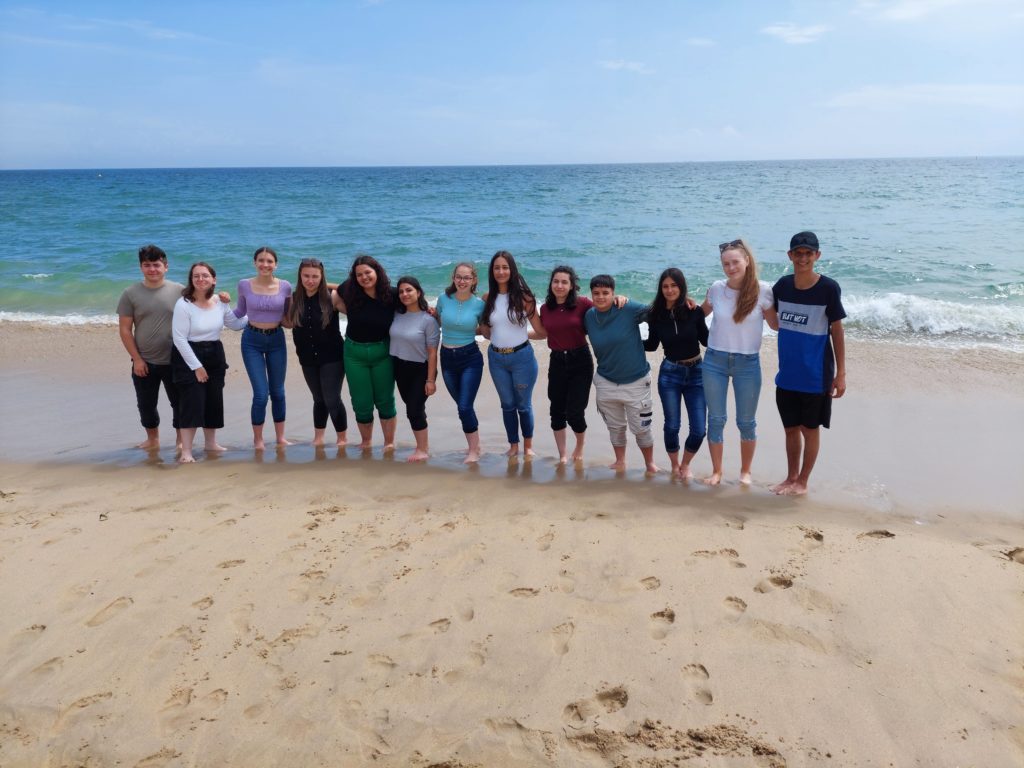 Monday, June 19
Today we started the second day of our adventure in England. In the morning, everyone from the family walked to the school as we met the team there. The older ones started their lessons, while the younger ones went out to explore the city: we walked along Southbourne Street, where there were lots of cafes and shops. After that we headed towards the beach. The route took us through a beautiful park where we even met squirrels. Finally we arrived at our destination: the sea. It was a fantastic feeling. Words cannot describe what we saw and felt. So many of us took off our shoes and walked along the waves. Some of us even tried to build a fort, with varying degrees of success. We also had the chance to play football, volleyball, Frisbee or just sit in the sand and admire the view. A lot of people also tried their hand at playing meta. It was extra exciting. There were lots of us playing, trying to understand the rules and do our best, so now we could say that it's not really an easy sport. After the great activities, we walked back to school. We had lunch in the school yard and then the English lessons started. Everyone went to their own group. During the lessons we talked a lot to get to know our peers, their homes and families. After the classes were over, everyone walked back to their families and had dinner. Afterwards, we gathered again in front of the school, as they took us for ice cream and we decided to admire the beach again. With group SZ3, we took advantage of the beach and had our grateful-sharing circle. Finally, everyone walked home with their partner and here we ended our day of lasting experiences. Ráchel Juhász and Eszter Tuba, Szeged Group 3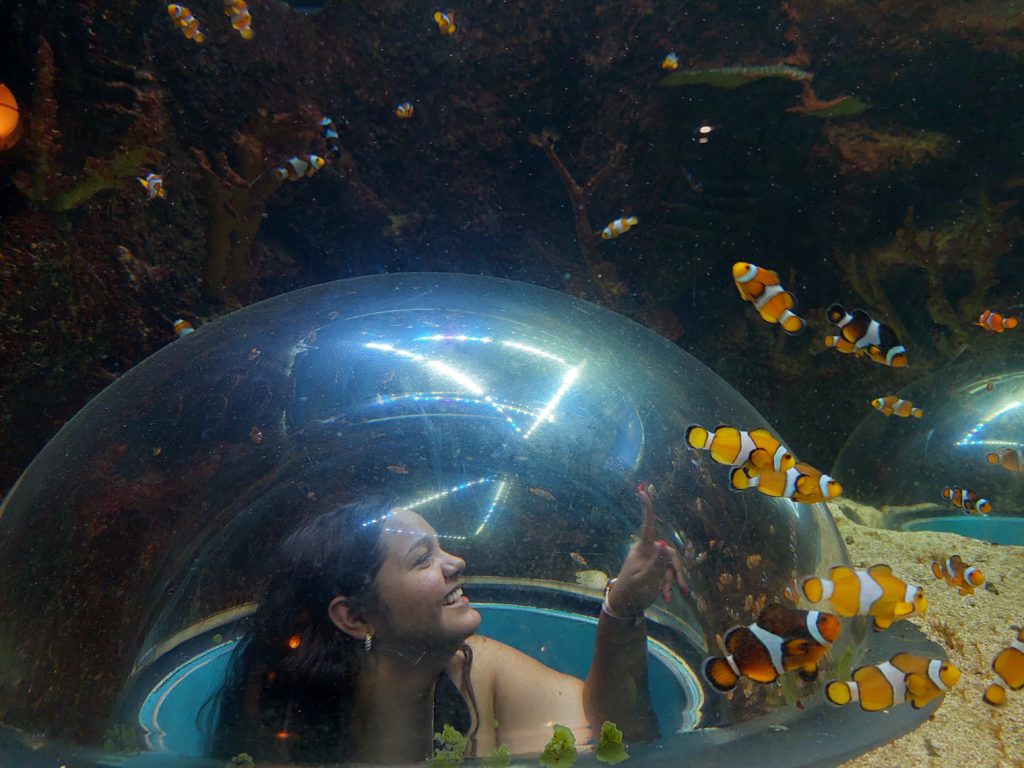 Tuesday, June 20
Today we visited several monuments, first the ruins of an 11th century Norman castle, then touring Southbourne's longest church, 900-year-old Christchurch. The church is special in that it still has a beam that was put in place 900 years ago. This beam carries a special meaning, the folklore is that the timber used to build it was very expensive, a beam was cut to a size shorter than the specified size and there was then no money to buy a new one. The men working on the construction site were very distressed and at a loss. But when they returned to the construction site the next morning, they found that the length of the beam was just right, which they attributed to God's handiwork. The church visit was followed by a short shopping trip, when everyone was able to buy souvenirs in the shops downtown, and during the shopping we also enjoyed speaking English with strangers, testing our acquired language skills. We really enjoyed the morning programme and thank the Csányi Foundation for the opportunity to participate in this English language camp in England. Burkus Lili Boglárka, Kovács Hanna, Sas Maja Anna, Jászság Group 4
After the excursion this morning, we attended an English class in the afternoon. In the English lessons we are divided into 4 groups, each one of us attends a language lesson in a separate classroom in a group according to our current language level. The English lessons are interesting and we develop our communication skills a lot. This afternoon our teacher, Bob, has chosen sport as the focus of the lesson. He also split us into further small groups within our language group and we worked together in small groups on tasks, getting to know our fellow foreign students. We also had the opportunity to give a small presentation to the class on sport. The next language lesson will be about technology and inventions. Kállai Regina, Mága Bianka, Jászság Group 4
To end the day, after dinner, we walked together down to the beach where, after a short preparation, we made "s'mores" (roasted marshmallows with chocolate biscuits). We put the marshmallows on skewers and roasted them over a fire. Once toasted and browned, we placed it between two chocolate biscuits, at which point the chocolate melted. Students from other countries also participated in this event, so we had the opportunity to get to know students of other nationalities better during this joint programme. During the evening programme we enjoyed the sunset, the rays of the sun were beautiful and we took many photos. The Italian boys invited the boys of Szeged Group 3 to play football, who were happy to play a football match against them in the home country of football. We had a great time that evening. Domján Letícia, Simon Ramóna Fruzsina, Jászság Group 4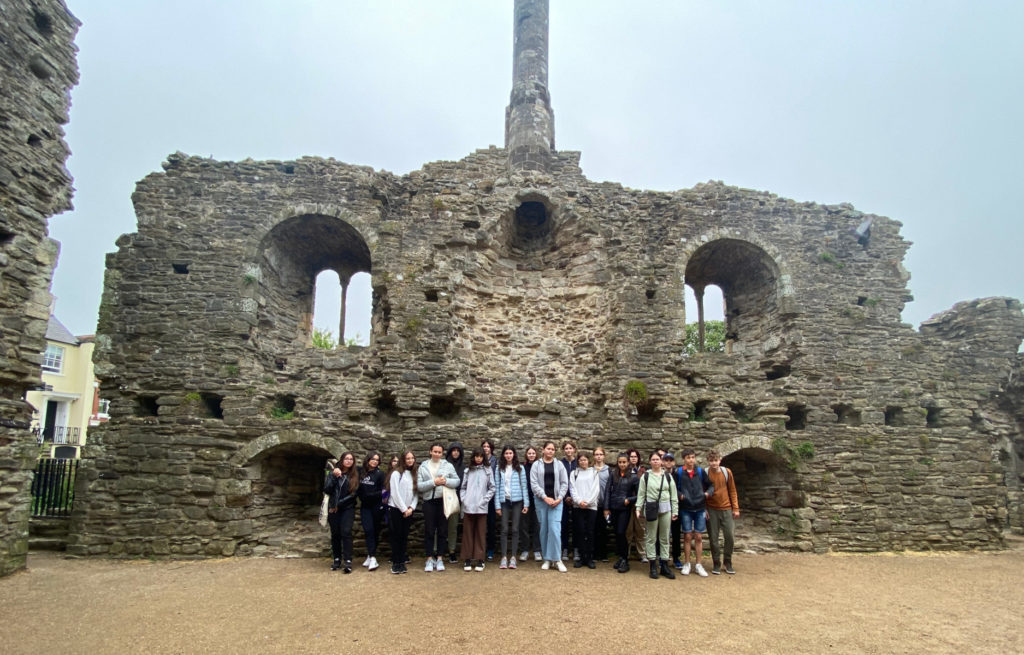 Wednesday, June 21
"On Wednesday, the junior and senior groups participated in the same programme. While one group improved their English language skills in intensive English lessons, the other group had a relaxing hour or two in the fabulous Moors Valley Country Park. The walk to school in the morning felt good, we were now routinely making our way from our host families to school. In the lessons we are taught a lot of English, so our knowledge is improving a lot. I'm really glad I came to England because when I applied for the competition I didn't start with a lot of confidence. We have a lot of new experiences, so we have a lot of thanks and gratitude. I also felt uplifted walking through the huge trees. During the hike we walked along many exciting climbs, bridges and various obstacle courses. The group spent the evening together, as every day. Tonight, the exciting game at the bowling alley shook our group together with great fun. We had a lot of fun." Lóránt-Lajos Gerebenes, Covasna County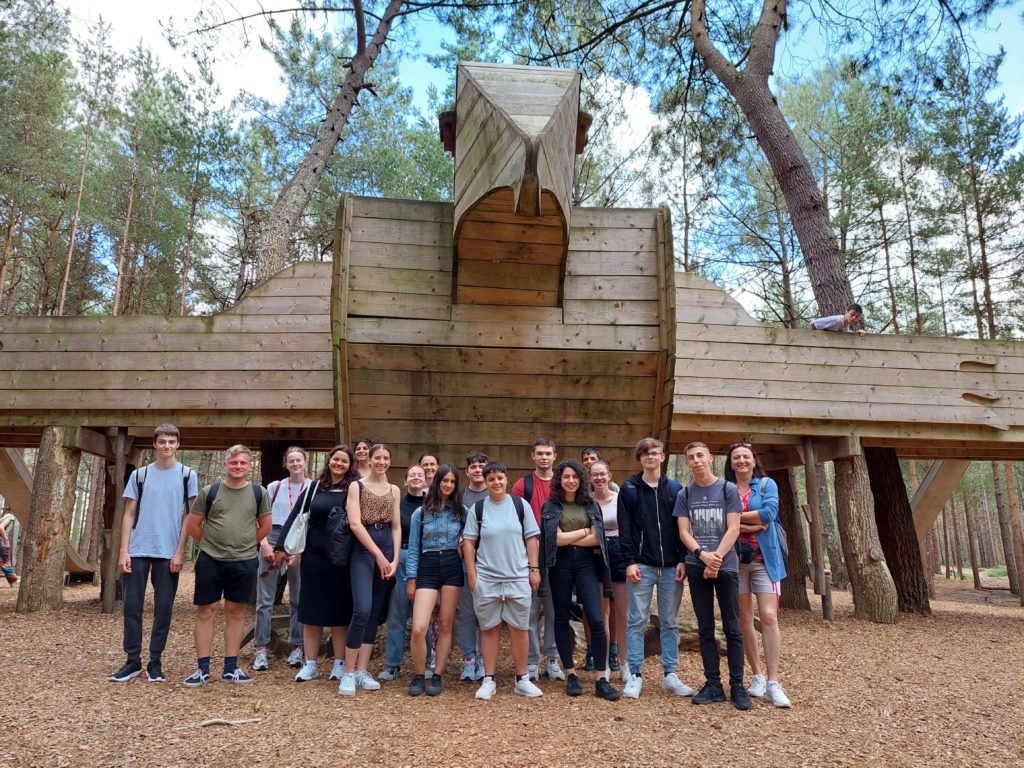 Thursday 22 June
"This morning we had the opportunity to visit the Ocenarium. It was a programme we were all looking forward to. After arriving, everyone set off at their own pace on their voyage of discovery. First we went up a staircase, next to which an artificial waterfall took our breath away. As we continued on our journey of discovery, we spotted more and more fish. We saw penguins with different coloured arm bands, which helped us to recognise the different individuals, and an information board telling us which penguin had which mate. We also saw sharks, crabs, crocodiles, fish, otters and turtles. For us, it was a special experience to see so many special aquatic animals up close at the Oceanarium and we are so glad we were able to come." Letícia Domján, Ramóna Simon, Jászság Group 4
"In the first lesson of today's English lessons, we checked our homework and then solved problems on conjunctions. In the second lesson, we worked together on our workbook which also focused on conjunctions. At the end of the lesson we started our project, which was to create a translator pen. In the third lesson, we finished our project with a poster which we decorated with coloured markers, and then all the project posters were displayed on the wall and we could see our peers' work. During this lesson we gained a lot of new useful knowledge about conjunctions. Lili Boglárka Burkus, Anna Maja Sas, Jászság Group 4
"Today we went to the cinema in Bournemouth in the evening, where everyone got a soft drink and popcorn. The movie we watched was "Flash". After the film screening I was looking forward to discussing with my peers who had what to say about the film. Everyone really liked it and despite the English dubbing, the film was still understandable. We are proud of our English language skills, which we owe a lot to the Csányi Foundation." Zsolt Kovács, Jászság Group 4