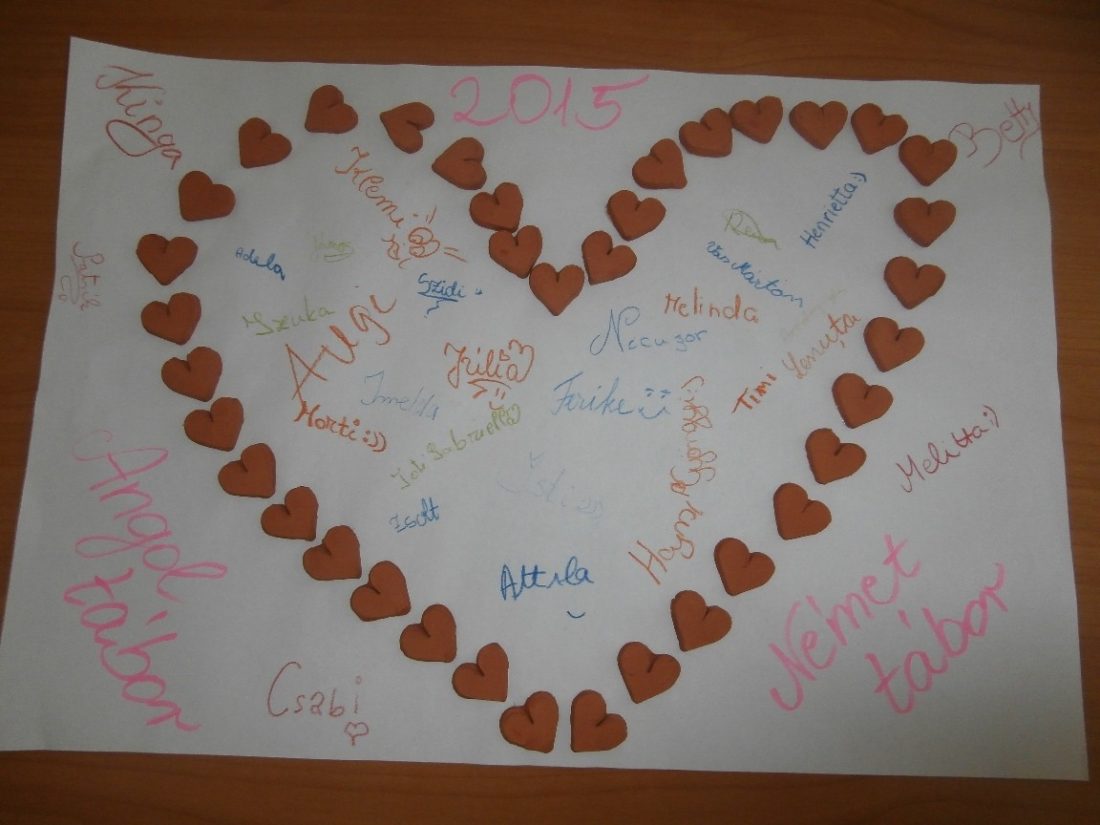 Farewell
Here we are again, a year has passed. We arrived safe and sound yesterday (19th July) evening round 7 pm in Csíkszereda, after a long tiring journey.
Csató Miklós welcomed us and let us feel at home. The camp is organised in a brand new place which is more than ideal for all of us. Király Kinga, Lévay Melitta, Bogdán Csaba and Lakatos Patrik as junior mentors are supporting the programme of the camp during this two weeks with their enthusiasm and diligent work.  This morning we greeted 26 children who came to spend two weeks from their summer devoting that for learning the English and German languages, playing together, reading books, having sport and other free time activities, making cakes, D.I.Y.s  and make new friend for life. Welcome everybody!
2nd day – Today (21st July) we had an eventful day again. English lessons were waiting for us. Our teacher is very attentive and pays attention to everyone. She is helpful and very kind. Ms Kinga was there for us during the lesson. If I did not understand something she was explaining it and that was so great. I feel that I am as important as the other members of the group. This empowers me and I can work harder.
This afternoon we had a new initiation. We started reading novels. How lovely. We were sitting in groups and we were listening to our mentors who were encouraging us to join in. We did not know that reading could be that much fun. Melitta made her group read too
In the afternoon Csaba and Patrik moved our joints and with the activities they have planned we became a real group, we had to work together by sharing our courage, thoughts and knowledge. After eating dinner Melitta's quiz night encouraged us to be more eager to learn and know more about the world around us. She kept asking questions in relation with History, Literature, Geography, EU and so on. Well, she is a smart girl. We said good bye to the evening with singing and playing some music. The togetherness was so innate. It is lovely to be here. Vas Márton, Keresztúr
3rd day – Today (22nd July) we started with the daily routine. After having the points for our rooms we went for having P.E. and eat some breakfast. The English lessons were today as well in two groups with Ms Judit and Kinga. They both are so great, however they are very strict. At the end of the morning we always have to learn by heart what we have learnt during the morning. Well that is not easy but useful. After lunch we also had to do some grammar exercises where the needed support from our two teachers' side was present. In the late afternoon Csaba and Patrik surprised us with funny activities which were useful and we could master our skills 🙂 The weather was nice so we decided to read some novels outside. While Melitta, Kinga and Ms Judit were reading us we could have a rest as listening to them. The last part of the day was for sport.  Jakab Henrietta, Székelykereresztúr, Lévai Attila, Székelykeresztúr
4th day – (23rd July) It was a fantastic camp with good programs during the week. We all took part in several team building activities and we think we became a pretty good group. Unfortunately, the English lessons are finished but we are still having a good time here with our favourite English teachers and helpers. Today we were making cookies, playing music, watching films and in the evening we were playing different games. The children from the Csányi foundation hade chance to see our programs. Gráncsa Ferenc, Czine István, Varga Zsolt
5th day – Today is Friday (24th July) We had a day off. I love this camp. I have been in this camp for years and I enjoy it a lot because here I have friends around me. This morning after breakfast we were chasing for sweets and you won't believe our group won!  I cannot write about every bits of what had happened today because this day was full of programmes: we were dancing, singing, were greeting Kinga, who had name day, than we had D.I.Y with Melitta and also made some presents to our loved ones, were reading books, had some sport and also had the chance to watch a movie. To tell the truth today we did not work in the way we usually do during the week, but on Monday we will continue our diligent job. Till then we enjoy our days off. In the evening some of our friends we were attending the previous years' cams were visiting us and we had a lovely chat! It was a lovely day! Majlát Renáta, Csíksomlyó
6th day – (25th July) We had two opportunities this morning, too. While the others were painting junks, I was watching a film, which was very interesting and I really liked it. I've made some dream catchers to Melitta, Kinga and Miss Judit. I gave them during the walk to Csobotfalva where we visited a spring. We liked Csobotfalva so much and we had a great time there, and it was the first time I could climb a tree. It was a great pleasure to all of us. Unfortunately, I didn't say thank you to Miss Betty and Miss Judit, but I will when I'll have time for that. While we were walking home, I was not walking but running. At home we also had a good time, we were playing card games, eating really delicious food. It was nice to relax, part of the day.
János Hönig, Bögöz
7th day – Sunday (26th July) was our last day off, before the working everyday starting on Monday. In the coming days we are going to learn German. Therefore today we went to Nyerges where we spent a splendid day playing with ball and dominos, singing, eating, reading and enjoying each others company. The place where we went is called Nyerges, which is one of the favourite destination of pilgrims. We returned home late in the afternoon as it started to rain. Oh how fun it was after the extreme heat. Arriving home we wrote the placement tests and after dinner we had the results. On Monday we are going to learn in three groups, where Miss Judit, Kinga and Melitta are going to teach us the basics of the German languages. We hardly can wait for it. Kalányos Imelda, Rugonfalva
8th day – (27th July) The German week started for me like an irregular one, because I got a group thus I could start teaching the children. We are a little group but I think, it is quite ideal for a beginner group. It was nice to have the looks of the children and that they could pay attention to me and I was talking about. In the morning we had vocabulary lessons and in the afternoon we had grammar lessons. After the lessons, Csabi and Patrik made fun for us and then the children could show how talented are they in a group. In the evening, we could be part of kind of a concert, because a little musician band and they performed really well. Melitta Lévay, junior mentor
9th day – (28th July) This day was just perfect. After waking up I was more than happy. The P.E goldened my day, hereby I would like to thank to my teachers and Ms Betty to be here for us, to have ears for us and to support us in every way. I did not learn German before, but I have to tell you that I enjoyed every bits of the lessons. Miss Judit teaches us in a very special way. We play a lot and during this time I don't know how but we just memorise everything. By the way you have to know that she is very strict but has a great big heart. We also played a game which was fun. Unfortunately I lost it which made me cross. I also discovered that I can talk to Patrik, who also shows great interest for UFOs and science. The day went by and after lunch Miss Judit made us think and work again. The song we learnt at the end of the day was funny and relaxing. In the afternoon Melinda baked with us a cake. She is a great cook. I hardly can wait to eat it tomorrow on the farewell party. After this programme Csaba surprised us with a film which made us laugh. One of my eye is smiling because I am going to travel home the day after tomorrow where I can swim and sleep in my own bed, but on the other hand I am so blue because I have to leave here my friend, all of my memories and my teachers who became important and special to me. The evening was closed by dancing traditional Hungarian dances with Kinga. Thank you for the day. Hönig János, Bögöz
As we saw it
Lakatos Patrik: When Ms Judit first asked me to participate in this camp as a junior-mentor I was scared, but in the end it made me pleasure to be here, because they guys are very nice and kind and we got on well. For me, this camp was really enjoyable.
Király Kinga: It could be difficult to write these feelings in words, because these children are very friendly and loveable. Crying with 26 children when saying goodbye is very touching. I'd really like to come again to be part of this miracle. Thank you!
Lévay Melitta: I think, the feeling when saying goodbye, cannot be written but felt. The two weeks just passed very fast and we want more of this kind of love but we have to say goodbye to it.
Bogdán Csaba: The last day came and I could say that I have lots and lots of experience for going home. I could not imagine how many things I could learn from these guys, but I am really happy that I was part of this whole camp. I hope that I could come again.