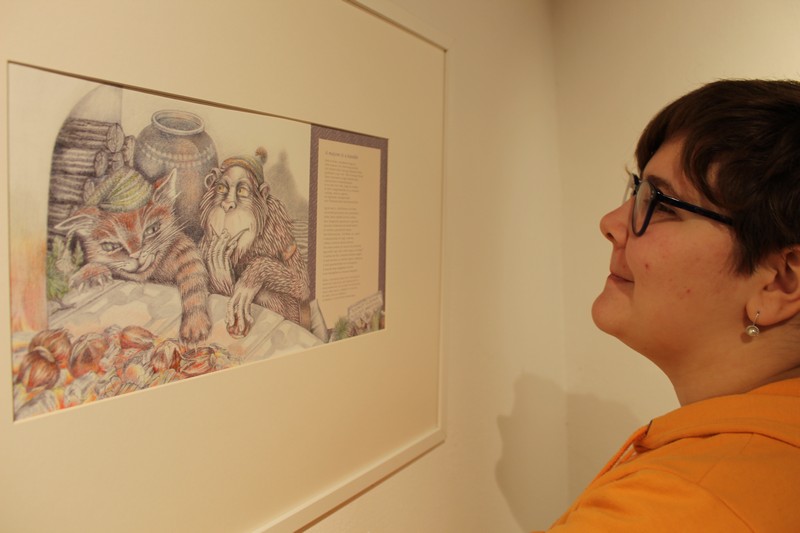 Book launch exhibition in Jászság
"Today a new exhibition opened in the Gallery of Déryné 6 in the Jászság Community House, which was also a book launch. The storybook La Fontaine: The Ambitious Frog was published last month, and this event was organised to mark the occasion.
Andrea Demény, a graphic artist, was born in Jászberény, where she spent her school years, and then continued her higher education in Budapest, at the Hungarian University of Applied Arts, Department of Visual Communication. The Foundation considers it important to give local artists the opportunity to showcase their work, thus broadening the vision and sense of beauty of the students studying here.
Viki Füle, a student supported by the Foundation, opened the opening with a beautiful song. This was followed by an opening speech by Dr. Miklós Radoszáv, who welcomed the creators, and then a story from the new storybook, courtesy of Viki. Andrea Hábenciusné Balla introduced the translator of the storybook, Lilla Zsidányi, and Andrea Demény, the illustrator of the stories, as moderator. We were given an insight into how they got to their current careers and what else they do. We also had the chance to ask them questions and talk to them, creating a much more direct atmosphere. Then Kinga Bartos, a painter from Jászság, spoke about Andrea's work. Before viewing the exhibition, the curious audience was given a common task. At the end, the door opened and we were allowed to enter the exhibition hall, where we were greeted by more and more beautiful graphics. Looking at the works, you could see the years of experience and the graphic designer's highly individual style. As mentioned above, the artists wanted to portray the fairy tales from a humorous and personal point of view, which is noticeable.