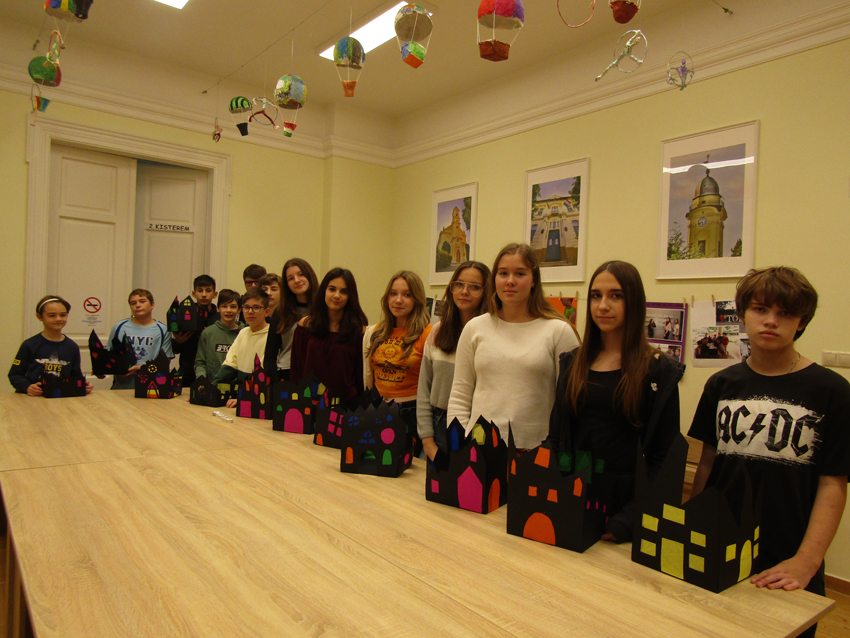 Art and experiences in Szentes
On 11 November 2022, after the classes, we stayed in the Community House to spend the evening and night together, and then Saturday with the Szentes 2 group. Our girls took on the task of preparing dinner, and we decided together to make Pizza. Some of the boys prepared a Kahoot quiz in line with the project for the school year 2022-23, which is themed Health and Environment. So, we set the questions for the quiz accordingly. Our peers were excited to see what the questions would be. Our theme was environmental awareness. After the quiz and then dinner, we ended the Friday evening with a film together. On Saturday morning, Márti held a mentoring session, we discussed our current academic results and those who needed to improve promised to do their best. Some of our peers need help in physics, so our mentor is organising help from university students. On Saturday, we continued with art teacher Mária Beke, who gave us a task requiring manual dexterity, but first she told us about folk traditions in connection with Martin's Day. The evening together brought us closer together, we look forward to the next one! Zalán Mácsai, Balázs Nagy Szentes Group 2.
The craft on 12 November was related to both the traditions of Martin's Day and the Christmas celebrations.
We began by recalling the person and life of St. Martin, discussing his human virtues, by which he is revered as a saint and an example for people today.
The craft theme was lantern making, which we drew on black photographic cardboard in a flat pattern with the sides spread out. The task was to create the atmosphere of a city, so that the folded up sides in the space would form houses, a castle, a church. Windows and doors were added to the walls, first by drawing on them and then by cutting them out with a scalpel, using freehand or a ruler. Inside the cut-out windows, coloured, thin transparent paper applications were applied. Finally, the four sides of the lantern were glued together spatially, with a candle holder in the middle, and then the lanterns were lit up with candles in the darkened room, evoking Christmas with coloured lights shining through the evening windows in a variety of colours. The task required great attention and manual dexterity. Once again we ended our craft day with a spectacular product. Mária Beke art teacher, Márta Őzéné Törőcsik Szentes Group 2 mentor
For more picutres, visit our Gallery.